Message from the Dean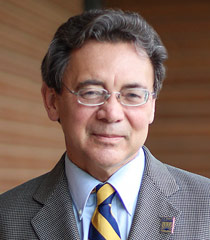 As dean of UC Davis School of Law, I have the privilege of welcoming you to one of the world's leading law schools. We are extremely proud of the excellent record of scholarship, teaching, and service we have attained since our founding more than 50 years ago.
UC Davis Law finishes high in every ranking of note, but we value diversity, equity and inclusion as highly as academic excellence. Our world-class "majority-minority" faculty consists of scholars whose expertise ranges from constitutional and criminal law fundamentals to the latest takes on intellectual property and big data. Friendly, accessible and deeply committed to teaching, our faculty lead the way in cultivating a uniquely supportive learning environment.
UC Davis Law offers an exceptionally well-rounded legal education. Students gain firsthand knowledge through externships, clerkships, skills classes, moot court, law reviews and our world-renowned clinics. UC Davis Law's Immigration Law Clinic, Family Protection and Advocacy Clinic and Civil Rights Clinic, all directed by staff attorneys at the top of their fields, allow students to represent real people with real problems before real courts.
At UC Davis, you will find a vibrant student community with more than 50 active student organizations, six law journals and an atmosphere of cooperation unrivaled by other law schools. Intellectual life thrives at UC Davis Law, which invites leading scholars from around the country and world to weigh in on the most urgent legal and social issues of our time. Our Racial Justice Speaker Series, started in fall 2020, is now a permanent part of our academic calendar.
Supporting our students' academic and career goals is our highest priority. Our success is evident in our high bar-passage and job-placement rates and our vast network of alumni engaged in rewarding, meaningful work. Our graduates' professional lives are marked by high ethical standards and dedication to public as well as private service. UC Davis Law graduates lawyers of conscience, regardless of practice area.
As the beneficiary of a public university education, I know how important it is for UC Davis Law to offer a public legal education that is of the highest quality and accessible to students from all backgrounds. We at King Hall are dedicated to upholding these ideals, and we consistently enroll one of the most diverse student bodies in the United States.
On behalf of our faculty, students, staff and alumni, I invite you to seriously consider UC Davis School of Law, where curiosity meets community. If you are admitted and come to our law school, you will join a community ready to help you succeed.

Kevin R. Johnson
Dean