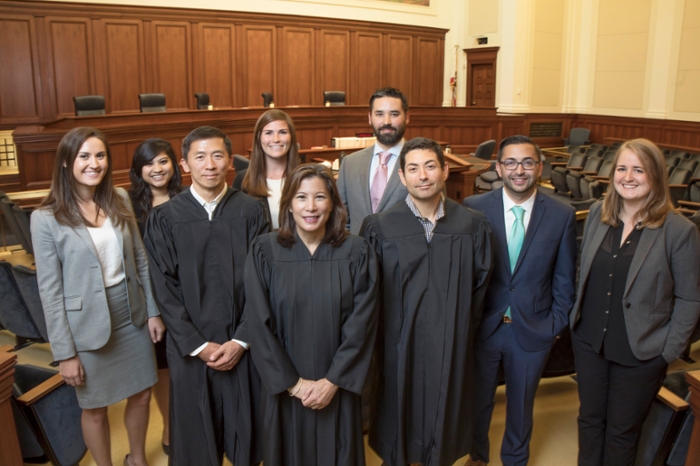 UC Davis School of Law students regularly extern at the California Supreme Court.
The deadline for externship applications is 5:00 pm on the first day of the semester. All students must have previously met with the externship director and any new placements must been approved by the director.
Students in the King Hall's Externship Program expand on their legal education outside "the four walls" of the school by earning academic credit for field placements in a government, judicial or public interest law office. Field supervisors provide close supervision as students hone their competencies in legal research and writing, client communication, and other essential lawyering skills. An essential part of the externship program is the faculty oversight during the semester. King Hall faculty provide guidance through meetings and written reflective assignments to help students create a strategic plan for their experience and maximize what they are learning in the "real world."
Students may choose part-time or full-time externships depending on their interests and schedules. Many opportunities are posted in Symplicity but students are free to research elsewhere. Through their work, students learn to make more informed and strategic decisions about their career path. At the most basic level, externships are a unique platform for students to learn how they will become competent and ethical legal professionals.  
King Hall externship placements have included District Attorney and Public Defender Offices, Judicial Chambers (both state and federal), the California Legislature, and a wide range of government offices, public interest, and public policy organizations.
Why Extern?
Like clinics, externships allow you to build your portfolio with practical, guided experience, and employers recognize their value. The externship program provides students with meaningful opportunities for these learning outcomes:
An intentional, strategic and reflective approach to learning from experience;
The ability to explore career interests and paths and build professional networks;
Hone legal and professional management skills;
Explore "what it means to be a lawyer" – their professional identities;
Reflect and build on previous externships, clinics and work prior to law school; and
Become keen observers of the workplace with the ability to understand and critique the legal profession
King Hall Externship Programs
Currently, King Hall offers these classes:
Judicial Process (Law 425) (2 to 6 or 12 units)
Employment Relations (Law 455) (2 to 6 units)
Federal and State Taxation (Law 430) (2 to 6 units)
Public Interest (Law 460) (2 to 6 units)
Administration of Criminal Justice (Law 470) (2 to 6 or 12 units)
Intellectual Property (Law 465) (2 to 6 units)
Environmental Law (Law 450) (2 to 6 units)
Capital Law Scholars (Law 446) (2 to 6 or 12 units)
UCDC Law Program (10 unit externship + 3 unit seminar)
All placements must be approved by the Director of Externships and, with the exception of the UCDC program, are limited to the Northern California-Nevada geographical area to facilitate faculty on-site visits. Students must meet with the externship director, Professor Bauman, as part of the application process.  All externs are required to participate in an externship seminar or faculty-guided tutorial as part of their externship experience (see "Enrollment" page for additional details). ABA Standard 304(d) governs externship classes .
Note: Fall and Spring semester externships are for academic units only; students may not receive pay for hours worked.
Application & Placement Information
If you have questions after reviewing these guidelines, you may contact Dena Bauman or Rena Contreras. Please submit completed externship applications to Rena Contreras in room 1380A, or via email to: externships@law.ucdavis.edu