UC Davis consistently has been ranked among the top ten public universities by U.S. News and World Report and is listed as 15th in research funding among all U.S. ranked public universities by the National Science Foundation. Recently, UC Davis was listed first among "America's Coolest Schools," a ranking of the nation's greenest universities undertaken by the Sierra Club's Sierra magazine. The campus is a member of the prestigious Association of American Universities, one of just 62 institutions of higher learning to be admitted to this distinguished group.
Unlike many law schools, whose facilities are located apart from the main campus, UC Davis School of Law is located on the UC Davis campus, affording students the benefits and opportunities that are a part of a vibrant college community.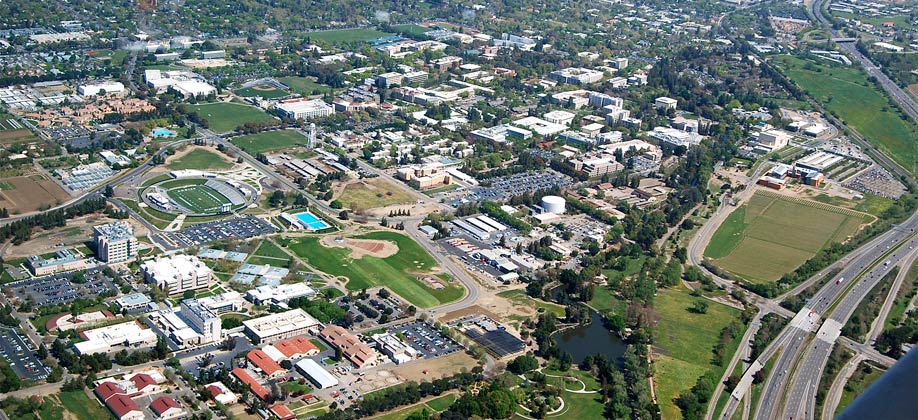 Aerial view of the UC Davis Campus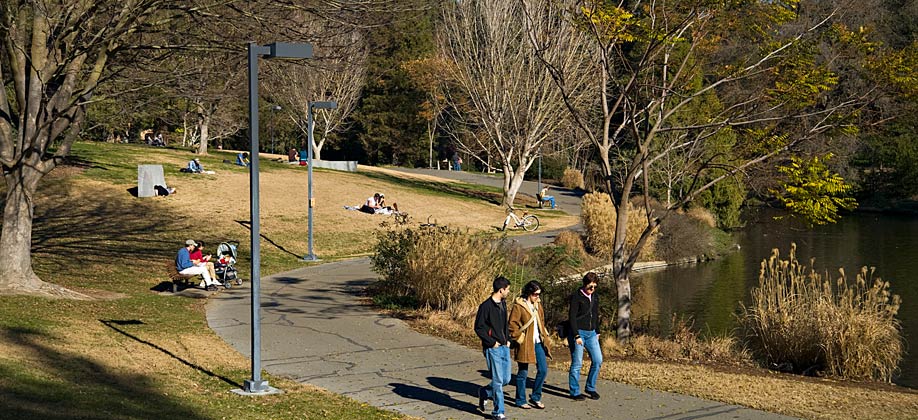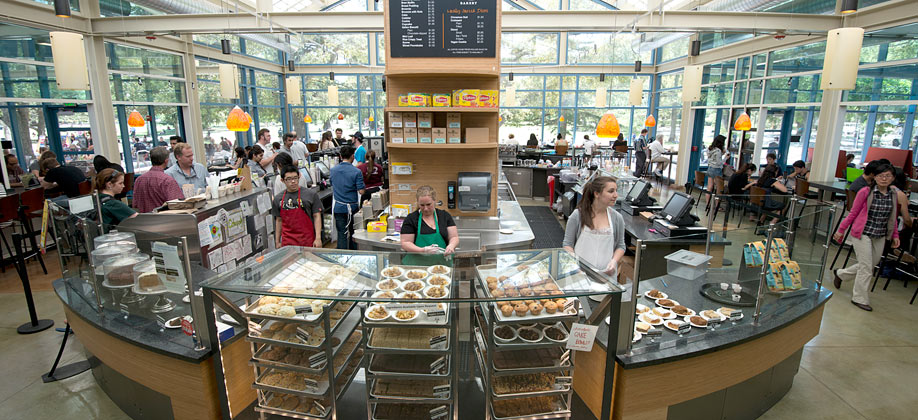 Student-Run Coffee House on the UC Davis Campus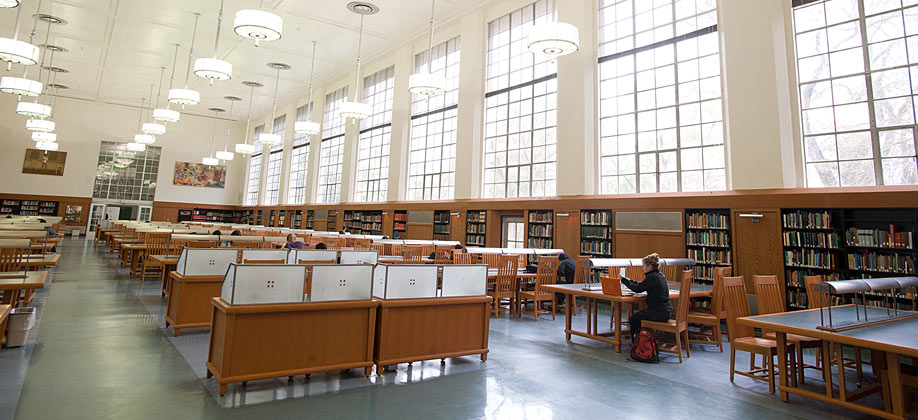 Reading Room in the Shields University Library
Bicycling is a popular method to travel on campus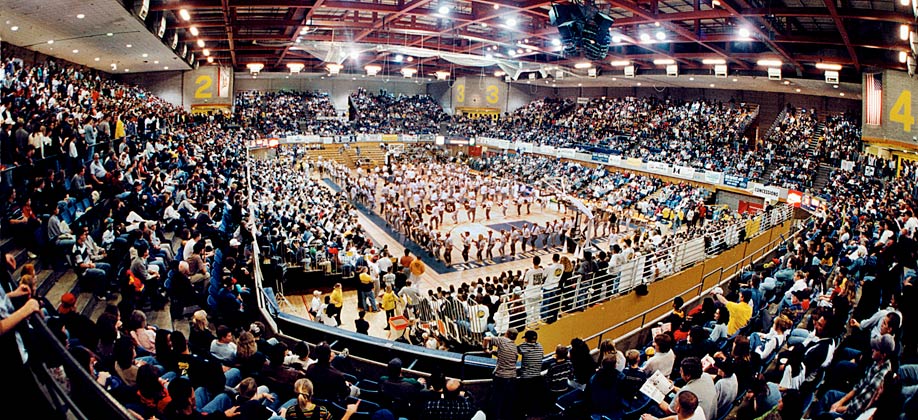 Pavilion at the Activities and Recreation Center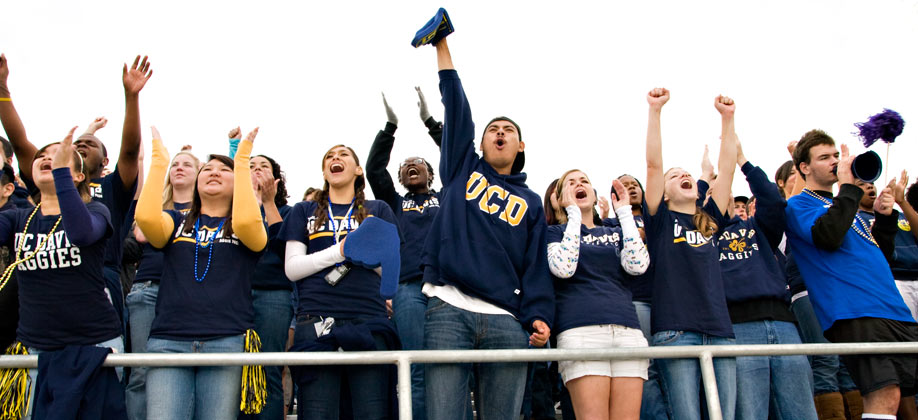 UC Davis is home to one of the largest athletics programs in the country
At the School of Law, the lively and energetic student body enjoys a wide variety of student-run events. They include:
King Hall Softball League
Every Fall, King Hall students gather together on Friday afternoons to play softball. No experience is necessary!
King Hall Bowling League
In the Spring, student teams compete at the on-campus bowling alley.
Dr. Ives Basketball Tournament
The 5-on-5 refereed basketball tournament is open to any and all students, alumni, faculty, and friends of King Hall. Played in a round-robin format, each team plays a minimum of 3 games. The tournament is named for Eric Iverson '79, who, according to Law School legend, jumped over three defenders to toss in a spectacular scoop shot at the buzzer to win the first tournament's championship game. The annual competition has become a King Hall tradition and regularly draws a great group of King Hall students, alumni, and professors.
Steve Boutin Invitational Golf Tournament
Supporters of King Hall, including faculty, alumni, students, and friends take part in this annual benefit event for the King Hall Legal Foundation. All skill levels are welcome!
Aokirama
Alumni regularly note the Aokirama talent show as one of their fondest memories of King Hall. Every spring semester, students, administration, and faculty entertain the audience with improv, singing, dancing, and music acts. The highlight of the evening is the debut of the "3L Movie," written, starring, filmed, and directed by King Hall students and faculty. A great way to showcase the unique talents of both the professors and students of King Hall!
King Hall Legal Foundation Annual Auction
The KHLF Spring Charity Auction began as a small affair, drawing a small, dedicated group of students, faculty and staff supporters. Since then, the auction has become an important King Hall tradition and a major source of funding for King Hall students dedicated to the public interest. In 2009, more than 600 students, faculty, alumni, and local community members attended the auction at Freeborn Hall, helping the Foundation raise almost $30,000.
The Lorenzo Patiño Banquet
Held annually to honor of one of UC Davis School of Law's most distinguished Latino graduates, the Lorenzo Patiño Awards Banquet is always one of the most anticipated events of the year at the Law School. Each year, the Patiño Award is presented to one or two students who exemplify extraordinary service and dedication, not only to the Latino community, but the legal community at large. Students, alumni, faculty, and friends enjoy a full buffet, drinks, live music, and dancing.
Student Organizations
Over 50 student organizations and five student-run journals give King Hall students the opportunity to get involved in extracurricular activities and explore varied interests. More information at the student organizations website.