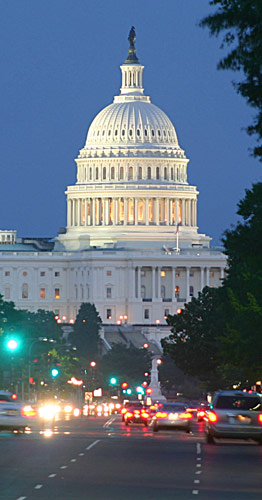 The UCDC Law Program is a uniquely collaborative semester-long externship program in Washington, D.C., combining a weekly seminar with a full-time field placement to offer law students an unparalleled opportunity to learn how federal statutes, regulations, and policies are made, changed, and understood in the nation's capital. During a semester's total immersion in a structured environment that integrates the theory and practice of Washington lawyering, students will have contact with all three branches of the federal government, independent regulatory agencies, advocacy nonprofits, and the media. The Program will also help students connect with Program alumni and alumni of the participating schools who have made their careers in Washington, D.C.
UCDC participant Jordy Hur '14 worked at the Federal Trade Commission. She said:
" UCDC was one of the highlights of my law school education. Through this program, you have the opportunity to immerse yourself in the most vibrant city in the country and establish a network in the nation's capital.  Interning at the Federal Trade Commission, I worked on many substantive projects and gained significant practical legal experience. While the assignments were challenging, the support and advice I received from the attorneys in my office were invaluable. Not only can you improve your legal skills, but through the UCDC program you develop relationships with attorneys in DC who will advise and mentor you. I highly recommend any law student with an interest in the public sector to participate. This will be one of the best choices you will make in your legal career. "
The program currently includes law students from UC Davis, UC Berkeley, UC Hastings, UCLA, and UC Irvine. The program is housed at the University of California Washington Center, a UC facility centrally located just minutes from the White House and most government departments and agencies. The address is:
UCDC Law Program
University of California Washington Center
1608 Rhode Island Avenue, N.W., Rm. 342
Washington, D.C. 20036
(202) 974-6392
(202) 974-6250 (fax)
For the latest on the UCDC Law Program:
Website: http://www.ucdc.edu/academic/law
Watch this UCDC information session video.