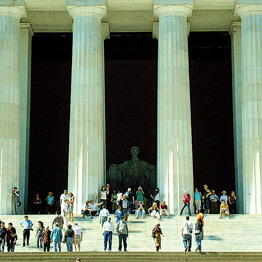 Students will receive 13 units for successful completion of the Program
10 units (Satisfactory/Unsatisfactory) for the full-time field placement and 3 units (graded) for the required companion seminar, "Law and Lawyering in the Nation's Capital." The Program is open to second year and third year students. Currently, there is no cap on enrollment. The program typically enrolls between 15 and 35 students.
Full Time Externship - 10 Units
The Program helps students identify quality placements and apply to them. Through the UCDC Program, UC Davis law students have been placed in offices including:
The White House
Department of Justice
Department of Homeland Security
Securities & Exchange Commission
Department of Education, Office for Civil Rights
International Intellectual Property Institute
Environmental Protection Agency
Fair Elections Legal Network
FDA, Center for Drug Evaluation and Research
Federal Communications Commission
American Council on Education, Office of General Counsel
Human Rights Watch
Robert F. Kennedy Center for Justice and Human Rights
Native American Rights Fund
National Public Radio
NOTE: The Law School Regulations, and all policies and procedures pertaining to King Hall externships generally, will pertain to the UCDC Program.
Seminar - 3 Units
All UCDC students must attend "Law and Lawyering in the Nation's Capital," a 3-credit once-a-week evening seminar with frequent guest speakers and lively class discussions. Students will be required to write a major paper on a legal topic relevant to their externship. A sample syllabus for the seminar is available.