Law Library News
Posted Nov 20, 2017
The Mabie Law Library  will be observing Recess hours on Wednesday, November 22, 2017.
The Law Library will be closed from Thursday, November 23-Sunday, November 24, 2017.
Standard hours resume Monday, November 27, 2017.
---
Posted Nov 20, 2017
Any non-Reserve Law Library books that you have checked out are due Friday, December 1, 2017.
Please return these materials or renew them for the Spring Semester at the Circulation Desk.
All items kept in your carrels are required to be checked out to you and have an updated Spring Semester green carrel flag placed inside.
---
Posted Nov 17, 2017
Our latest Collection Highlights are on display in the glass case in the library lobby. We are featuring highlights from our collection in honor of National American Indian Heritage Month (also known as American Indian and Alaska Native Heritage Month) in November.
"The month is a time to celebrate rich and diverse cultures, traditions, and histories and to acknowledge the important contributions of Native people. Heritage Month is also an opportune time to educate the general public about tribes, to raise a general awareness about the unique challenges Native people have faced both historically and in the present, and the ways in which tribal citizens have worked to conquer these challenges."    
- www.ncai.org/initiatives/native-american-heritage-month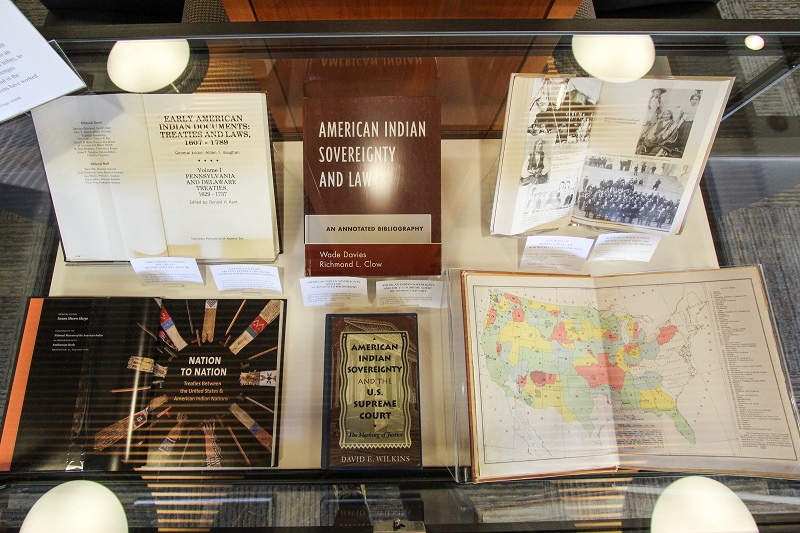 The items on display are: