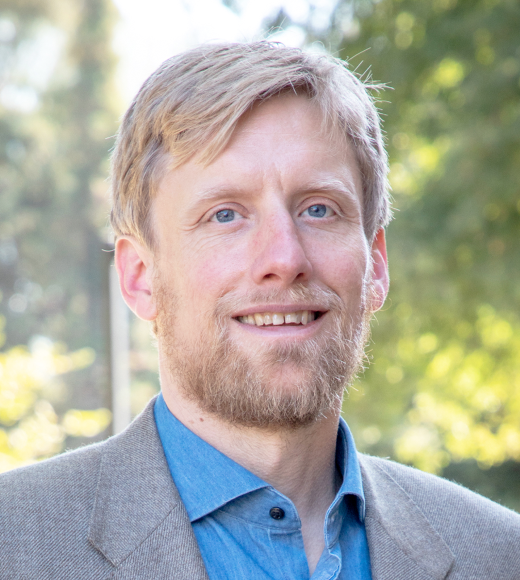 Position Title

Martin Luther King Jr. Professor of Law
Bio
Professor Elmendorf's varied teaching and research interests include election law, property and land-use law, statutory interpretation, and administrative law. He has published widely in top law journals, including the  Yale Law Journal, Columbia Law Review, University of Chicago Law Review, New York University Law Review, University of Pennsylvania Law Review, California Law Review, Duke Law Journal, and Cornell Law Review, as well as leading peer-reviewed political science journals such as American Journal of Political Science, Political Analysis, Political Research Quarterly, and Political Behavior. His work has been funded by the National Science Foundation, the MIT Election Science & Data Lab, and an Interdisciplinary Research Grant from the UC Davis Committee on Research.
Education and Degree(s)
B.A. Economics, With Highest Honors, Oberlin College, 1994
J.D. Yale Law School, 2001
Honors and Awards
Law Clerk, Judge Guido Calabresi, United States Court of Appeals for the Second Circuit, 2002-2003.
Research Interests & Expertise
Election Law
Administrative Law
Statutory Interpretation
Constitutional Law
Natural Resources
Publications
Making It Work: Legal Foundations for Administrative Reform of California's Housing Framework, 47 ECOLOGY L.Q. (2021) (with Eric Biber, Paavo Monkkonen & Moira O'Neill).
Auctioning the Upzone, 70 C ASE W ESTERN R ES. L. R EV. 513 (2020) (with Darien Shanske).
Beyond the Double Veto: Housing Plans as Preemptive Intergovernmental Contracts, 71 H ASTINGS L.J. 79 (2019), https://ssrn.com/abstract=3256857.
Racial or Spatial Voting? The Effects of Candidate Ethnicity and Ethnic Group Endorsements in Local Elections, 63 A M. J. P OL. S CI. 5 (2019) (with Cheryl Boudreau & Scott Mackenzie).
Roadmaps to Representation: An Experimental Study of How Voter Education Tools Affect Citizen Decision Making, 41 P OL. B EHAVIOR 1001 (2019) (with Cheryl Boudreau and Scott MacKenzie).
Elite Political Ignorance: Law, Data, and the Representation of (Mis)Perceived Electorates, 52 UC D AVIS L. R EV. 571 (2018) (with Abby K. Wood).
From Educational Adequacy to Representational Adequacy: A New Template for Legal Attacks on Partisan Gerrymanders, 59 W M. & M ARY L. R EV. 1601 (2018) .
"Solving Problems No One Has Solved": Courts, Causal Inference, and the Right to Education, 2018 U. I LL. L. R EV. 693 (with Darien Shankse).
Labels vs. Pictures: Treatment Mode Effects in Experiments About Discrimination, 26 P OL. A NALYSIS 20 (2018) (with Marisa Abrajano & Kevin Quinn).
Racially Polarized Voting, 83 U. C HI. L. R EV. 587--692 (2016) (with Kevin Quinn & Marisa Abrajano).
Administering Section 2 of the VRA After Shelby County, 115 C OLUM. L. R EV. 2143--2217 (2015) (with Douglas M. Spencer).
Lost in Space? Information Shortcuts, Spatial Voting, and Local Government Representation, 68 P OL. R ES. Q 843--55 (2015) (with Cheryl Boudreau and Scott MacKenzie).
Advisory Rulemaking and the Future of the Voting Rights Act, 14 E LECTION L.J. 260--277 (2015).
Informing Electorates Via Election Law: An Experimental Study of Partisan Endorsements and Nonpartisan Voter Guides in Local Elections, 14 E LECTION L.J. 2 (2014) (with Cheryl Boudreau & Scott MacKenzie)
The Geography of Racial Stereotyping: Evidence and Implications for VRA Preclearance After Shelby County, 102 C AL. L. R EV. 1123 (2014) (with Douglas M. Spencer)
Are Ballot Titles Biased? Partisanship in California's Supervision of Direct Democracy, 3 U.C. I RVINE L. R EV. 511 (2013) (with Douglas M. Spencer)
Informing Consent: Voter Ignorance, Political Parties, and Election Law, 2013 U. I LL. L. R EV. 363 (with David Schleicher)
Districting for a Low-Information Electorate, 121 Y ALE L. J. 1846 (2012) (with David Schleicher).
What Kind of Discrimination Does the Voting Rights Act Target?, 160 U. P A. L. R EV. PENN UMBRA 357 (2012).
Making Sense of Section 2: Of Biased Votes, Unconstitutional Elections, and Common Law Statutes, 160 U. P A. L. R EV. 377 (2012).
Why Party Democrats Need Popular Democracy and Popular Democrats Need Parties, 100 C AL. L. R EV. 69 (2012) (with Ethan J. Leib).
Empirical Legitimacy and Election Law, in RACE, REFORM, AND REGULATORY INSTITUTIONS: RECURRING PUZZLES IN AMERICAN DEMOCRACY (Heather K. Gerken, Guy-Uriel E. Charles, & Michael S. Kang eds. 2011)
Refining the Democracy Canon, 95 C ORNELL L. R EV. 1051 (2010).
Gatekeeping vs. Balancing in the Constitutional Law of Elections: Methodological Uncertainty on the High Court, 17 W ILLIAM & M ARY B ILL R TS. J. 507 (2008) (with Edward B. Foley) (symposium on "How We Vote").
Undue Burdens on Voter Participation: New Pressures for a Structural Theory of the Right to Vote?, 35 HASTINGS CONST. L. Q. 643 (2008) (symposium on "Frontiers of Democracy").
Structuring Judicial Review of Electoral Mechanics: Explanations and Opportunities, 156 U. P A. L. R EV. 313 (2007) .
N.Y. State Bd. of Elections v. Torres : Is the Right to Vote a Constitutional Constraint on Party Nominating Conventions?, 6 E LECTION L. J. 399 (2007).
Advisory Counterparts to Constitutional Courts, 56 D UKE L. J. 953 (2007). Paper selected for the 2006 Stanford-Yale Junior Faculty Forum.
Election Commissions and Electoral Reform: An Overview, 5 E LECTION L. J. 425 (2006).
Representation Reinforcement Through Advisory Commissions: The Case of Election Law, 80 N.Y.U. L. R EV. 1366 (2005).
Securing Ecological Investments on Other People's Land: A Transaction-Costs Perspective, 44 N AT. R ESOURCES J. 529 (2004) (symposium on "Private Lands Conservation: Institutions and Instruments").
Ideas, Incentives, Gifts, and Governance: Toward Conservation Stewardship of Private Land, In Cultural and Psychological Perspective, 2003 U. I LL. L. R EV. 423.
State Courts, Citizen Suits, and the Enforcement of Federal Environmental Law by Non-Article III Plaintiffs, 110 Y ALE L. J. 1003 (2001).
Tags