UC Davis Law Event Explores Racism in Western Academy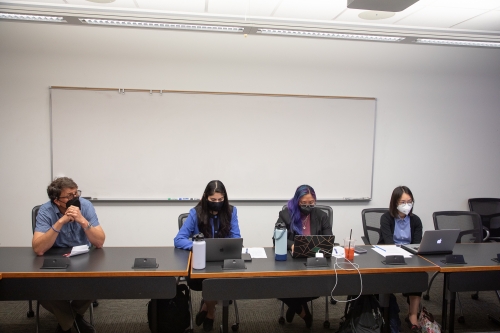 On April 20, UC Davis Law hosted the panel discussion "Looking in the Mirror: Exploring the Racial History of the Western Academy." The event was sponsored by the Aoki Center for Critical Race and Nation Studies and UC Davis' Department of History and Humanities Institute.
The discussion featured distinguished scholars who have entered the terrain of investigating racism in western U.S. universities, exploring topics including antisemitism at Stanford and the naming of buildings at public universities after oppressors of Tribal Nations and Black and Asian people.
Dean Kevin R. Johnson moderated the panel discussion, which was organized by Professor Gabriel "Jack" Chin, UC Davis History Professor Greg Downs and former Aoki Center Director Mary Louise Frampton.
Panelists were Charles Petersen, Cornell University (History); Charles Reichmann, UC Berkeley (Law); Beth Rose Middleton, UC Davis (Native American Studies); Virginia Scharff, University of New Mexico (History), and Stacey Smith, Oregon State (History).
UC Davis Law students Khrystan Nicole Policarpio '22 and Wendy Garcia-Nava '23 and UC Davis Department of History student Yutong Zhan served as commentators.
Primary Category
Secondary Categories