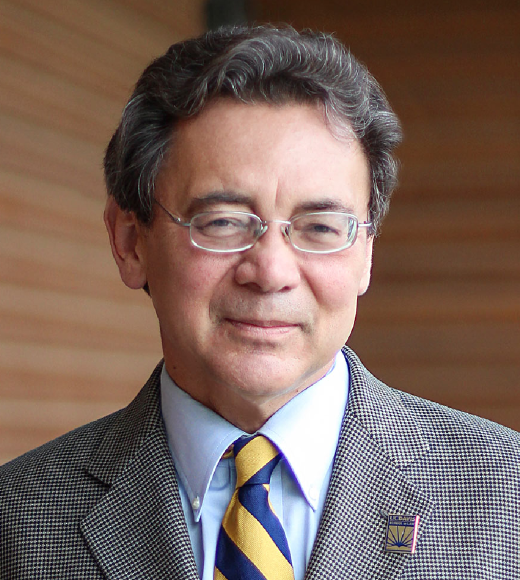 Position Title

Dean and Mabie-Apallas Professor of Public Interest Law and Chicana/o Studies
Bio
Kevin R. Johnson is Dean, Mabie-Apallas Professor of Public Interest Law, and Professor of Chicana/o Studies. He joined the UC Davis law faculty in 1989 and was named Associate Dean for Academic Affairs in 1998. Johnson became Dean in 2008.  He has taught a wide array of classes, including immigration law, civil procedure, complex litigation, Latinos and Latinas and the law, and Critical Race Theory.  In 1993, he was the recipient of the law school's Distinguished Teaching Award.
Dean Johnson has published extensively on immigration law and civil rights. Published in 1999, his book How Did You Get to Be Mexican? A White/Brown Man's Search for Identity was nominated for the 2000 Robert F. Kennedy Book Award. Dean Johnson's book, Immigration Law and the US-Mexico Border (2011), received the Latino Literacy Now's International Latino Book Awards – Best Reference Book. He is co-author of two editions of Immigration Law and Social Justice (2d ed. 2022). Dean Johnson blogs at ImmigrationProf.
A regular participant in national and international conferences, Dean Johnson has also held leadership positions in the Association of American Law Schools and is the recipient of an array of honors and awards. He is quoted regularly by the New York Times, Los Angeles Times, and other national and international news outlets.  
A magna cum laude graduate of Harvard Law School, where he served as an editor of the Harvard Law Review, Dean Johnson earned an A.B. in economics from UC Berkeley, graduating Phi Beta Kappa. After law school, he clerked for the Honorable Stephen Reinhardt of the U.S. Court of Appeals for the Ninth Circuit and worked as an attorney at the international law firm of Heller Ehrman White & McAuliffe. Dean Johnson has served from 1996-2022 on the board of directors of Legal Services of Northern California and as President of the board. From 2006-11, he served on the board of directors of the Mexican American Legal Defense and Education Fund, the leading Mexican-American civil rights organization in the United States.
Dean Johnson is the recipient of many awards and honors, including the Association of American Law Schools Minority Groups Section Clyde Ferguson Award (2004), the Hispanic National Bar Association Law Professor of the Year award (2006), the National Association of Chicana and Chicano Studies Scholar of the Year award (2008), the Central American Resource Center (CARECEN) Romero Vive Award (2012), and the Centro Legal de la Raza Outstanding Achievements in the Law Award (2015). In 2003, he was elected to the American Law Institute.
Education and Degree(s)
A.B. Economics, University of California, Berkeley, Phi Beta Kappa, Omicron Delta Epsilon
J.D. magna cum laude, Harvard University
Honors and Awards
Reappointed Dean of the School of Law, 2018
American Bar Foundation Fellow, 2016-
Editorial Board, California Lawyer magazine, 2014-15
Latino Law Professors Distinguished Service Award, 2017
Award for Outstanding Leadership in Presidential Initiatives, 2015
Insight Into Diversity Magazine Visionary Award, 2015
Outstanding Achievement in the Law Award, Centro Legal de la Raza, 2015
25 Most Influential People in Legal Education, National Jurist, 2012, 2013
Romero Vive Award, CARECEN (Central American Refuggee Center)
National Association of Chicana and Chicano Studies Scholar of the Year, 2008
Professor of the Year, Hispanic National Bar Association, 2006
Appointed Dean of the School of Law, July 2008
Editor of the Harvard Law Review, volumes 95-96
Central American Resource Center (CARECEN) Romero Vice Award, 2012
Immigration Policy Group, 2008 Presidential Campaign of Senator Barack Obama
2008 Scholar of the Year, National Association for Chicana and Chicano Studies
Professor of the Year, Hispanic National Bar Association, 2006
Clyde Ferguson, Jr. Award for Oustanding Professor of the Year, Minority Groups Section of the Association of American Law Schools, 2004
Mabie-Apallas Public Interest Law Chair, 2004
Clyde Ferguson Jr. Award for Outstanding Professor of the Year, Minority Groups, 2004 Section of the Association of American Law Schools, 2004
Elected to the American Law Institute, 2003
Research Interests & Expertise
Immigration Law And Policy
Refugee Law
Complex Litigation
Civil Procedure (Including Civil Litigation And Complex Litigation)
Civil Rights
Critical Race Theory
Critical Latina/o Theory
Publications
Books
Immigration Law and Social Justice (with Bill Ong Hing and Jennifer Chacón), Wolters Kluwer, Aspen Casebook Series, 2d ed. (2021)
"Trump's Latinx Repatriation," UCLA Law Review (2019)
Understanding Immigration Law, Lexis-Nexis (2009) (with Raquel Aldana, Bill Ong Hing, Leticia Saucedo, Enid F. Trucios-Haynes) (third edition, 2019)
Immigration Law and Social Justice (Aspen Casebook Series Wolters Kluwer, 2017) (with Bill Ong Hing and Jennifer M. Chacón) (and Teacher's Manual)
Understanding Immigration Law, Lexis-Nexis (2009) (with Raquel Aldana, Bill Ong Hing, Leticia Saucedo, Enid F. Trucios-Haynes) (second edition, 2015)
Immigration Law and the US-Mexico Border (University of Arizona Press, 2011) (with Bernard Trujillo) (Latino Literacy Now's International Latino Book Awards – Best Reference Book)
Complex Litigation:  Cases and Materials on Litigating for Social Change, Carolina Academic Press, 2009 (with Catherine A. Rogers & John Valery White)
Opening the Floodgates:  Why America Needs to Rethink Its Borders and Immigration Laws, NYU Press, 2007 (Critical America Series)
The "Huddled Masses" Myth:  Immigration and Civil Rights, Temple University Press, 2004
Mixed Race America and the Law:  A Reader, New York University Press, 2002 (Critical America Series)
A Reader on Race, Civil Rights, and American Law:  A Multiracial Approach, Carolina Academic Press, 2001 (with Timothy Davis & George A. Martínez)
How Did You Get to Be Mexican?:  A White/Brown Man's Search For Identity, Temple University Press, 1999 (nominated for 2000 Robert F. Kennedy Book Award) 
Articles and Book Chapters
Amici brief in the DACA rescission appeal in the U.S. Supreme Court
"Lessons About the Future of Immigration Law from the Rise and Fall of DACA," 52 U.C. Davis Law Review 342 (2018) (symposium)
"How Political Ideology Undermines Racial and Gender Diversity in Federal Judicial Selection:  The Prospects for Judicial Diversity in the Trump Years," Wisconsin Law Review 345 (2017) 
"Back to the Future?  Returning Discretion to Crime-Based Removal Decisions," 91 N.Y.U. Law Review Online 115 (2016)
"Doubling Down on Racial Discrimination:  The Racially Disparate Impacts of Crimmigration Law," 66 Case Western Law Review 993 (2016) (symposium issue)
The Beginning of the End:  The Immigration Act of 1965 and the Emergence of the Modern U.S.-Mexico Border State, in The Immigration and Nationality Act of 1965:  Legislating a New America 116 (Gabriel J. Chin & Rose Cuison Villazor editors, Cambridge University Press, 2015)
"An Immigration Gideon for Lawful Permanent Residents," 122 Yale Law Journal 2394 (2013)
"Sweet Home Alabama? Immigration and Civil Rights in the "New" South," 64 Stanford Law Review Online 22 (Dec. 5, 2011) (published as adapted Huffington Post (Dec. 6, 2011))
"The Importance of Student and Faculty Diversity at Law Schools:  One Dean's Perspective," 96 Iowa Law Review 1549 (2011) (symposium)
"An Essay on the Nomination and Confirmation of the First Latina Justice of the U.S. Supreme Court:  Sonia Sotomayor:  The Assimilation Demand at Work," 30 Chicano-Latino Law Review 97 (2011)
"How Racial Profiling in America Became the Law of the Land: United States v. Brignoni-Ponce and Whren v. United States and the Need for Truly Rebellious Lawyering," 98 Georgetown Law Journal 1005 (2010)
"The Intersection of Race and Class in U.S. Immigration Law and Enforcement," 72 Law & Contemporary Problems (Duke) 1 (2009)
"A Handicapped, Not "Sleeping," Giant: The Devastating Impact of the Initiative Process on Latina/o and Immigrant Communities," 96 California Law Review 1259 (2008)
"Minorities, Immigrant and Otherwise," Yale Law Journal Pocket Part (Oct. 2008)
The Story of Whren v. United States: The Song Remains the Same, in Race and Law Stories 419 (Rachel F. Moran & Devon Carbado editors., Foundation Press, 2008)
"Protecting National Security Through More Liberal Admission of Immigrants," 2007 University of Chicago Legal Forum 157
"The Immigrant Rights Marches of 2006 and the Prospects for a New Civil Rights Movement," 42 Harvard Civil Rights-Civil Liberties Law Review 99 (2007) (co-authored)
"Taking the 'Garbage' Out in Tulia: Racial Profiling and the Taboo on Black/White Romance in the 'War on Drugs'", 2007 Wisconsin Law Review 239
"Immigration Reform, National Security After September 11, and the Future of North American Integration," 91 Minnesota Law Review 1369 (2007) (co-authored)
"The Legacy of Jim Crow: The Enduring Taboo of Black-White Romance," 84 Texas Law Review 739 (2006)
"National Identity in a Multicultural Nation: The Challenge of Immigration Law and Immigrants," 03 Michigan Law Review 1347 (2005) (co-authored)
Maria and Joseph Plasencia's Lost Weekend:  The Case of Landon v. Plasencia, in Immigration Stories 221 (David A. Martin & Peter H. Schuck editors, Foundation Press, 2005)
"Hernandez v. Texas:  Legacies of Justice and Injustice," 25 UCLA Chicano-Latino Law Review 153 (2005) (symposium) (reprinted in "Colored Men" and "Hombres Aqui": Hernandez v. Texas and the Emergence of Mexican American Lawyering 53 (Michael A. Olivas ed., Arte Público Press, 2006))
"Roll Over Beethoven: A Critical Examination of Recent Writing about Race," 82 Texas Law Review 717 (2004)
"The Last Twenty Five Years of Affirmative Action?," 23 Constitutional Commentary 171 (2004) (symposium) (reprinted as adapted in 29 Aztlán:  A Journal of Chicano Studies 171 (2004) and The Chicana/o Education Pipeline:  History, Institutional Critique, and Resistance 356 (Michaela J. L. Mares-Tamayo & Daniel Solórzano eds., 2018)
"Integrating Racial Justice into the Civil Procedure Survey Course," 54 Journal of Legal Education 242 (2004) (excerpted in Dorothy A. Brown, Critical Race Theory:  Cases, Materials and Problems 304-09 (2d edition 2007))
"Open Borders?" 51 UCLA Law Review 193 (2003)
"The End of 'Civil Rights' as We Know It?: Immigration and the New Civil Rights Law," 49 UCLA Law Review 1481 (2002) (reprinted in 23 Immigration & Nationality Review 587 (2003))
"Race, Civil Rights, and Immigration Law After September 11, 2001:  The Targeting of Arabs and Muslims," 58 NYU Annual Survey of American Law 295 (2002) (symposium) (reprinted, as adapted, in 24 Immigration & Nationality Review 3 (2003), "Civil Rights in Peril: The Targeting of Arabs and Muslims" 9-25 (Elaine Hagopian editor, 2004 (2004 Myers Outstanding Book Award)), Anti-Terrorist Measures and Human Rights (Wolfgang Benedek & Alice Yotopoulos-Marangopoulos editors, 2004), David Ray Papke et al., Law and Popular Culture: Text, Notes, and Questions 389-400 (2007), and International Migration and Human Rights:  The Global Repercussions of U.S. Policy 98 (Samuel Martínez editor, 2009))
The Moral High Ground?  The Relevance of International Law to Racial Discrimination in the U.S. Immigration Laws, in Moral Imperialism:  A Critical Anthology 285 (Berta Esperanza Truyol-Hernández editor, New York University Press, 2002)
Race and the Immigration Laws:  The Need for Critical Inquiry, in Crossroads, Directions, and a New Critical Race Theory 187 (Francisco Valdes, Jerome McCristal Culp, & Angela P. Harris, editors, Temple University Press, 2002)
"On the Appointment of a Latina/o to the Supreme Court," 5 Harvard Latino Law Review 1 (2002) (symposium) (published concurrently in 13 Berkeley La Raza Law Journal 1 (Boalt Hall) (2002)) (reprinted as adapted in 1 Hispanic National Bar Association Journal of Law & Policy 20 (2008))
"The Case Against Racial Profiling in Immigration Enforcement," 78 Washington University Law Quarterly 675 (2000) (published in adapted form in Human Rights, Winter 2001, at 23)
"Race Matters:  Immigration Law and Policy Scholarship, Law in the Ivory Tower, and the Legal Indifference of the Race Critique," 2000 University of Illinois Law Review 525 (symposium)
"Race, The Immigration Laws, and Domestic Race Relations: A 'Magic Mirror' Into the Heart of Darkness," 73 Indiana Law Journal 1111 (1998)
"'Melting Pot' or 'Ring of Fire'?: Assimilation and the Mexican-American Experience," 85 California Law Review 1259 (1997)
"The New Nativism:  Something Old, Something New, Something Borrowed, Something Blue," in Immigrants Out! The New Nativism and the Anti-Immigrant Impulse in the United States 165 (Juan F. Perea editor, NYU Press, 1997)
"Some Thoughts on the Future of Latino Legal Scholarship," 2 Harvard Latino Law Review 101 (1997) (symposium) (excerpted in The Latino/a Condition:  A Critical Reader 198, 488 (Richard Delgado & Jean Stefancic editors, 1998))
"Public Benefits and Immigration: The Intersection of Immigration Status, Ethnicity, Gender, and Class," 42 UCLA Law Review 1509 (1995)
"An Essay on Immigration Politics, Popular Democracy, and California's Proposition 187:  The  Political Relevance and Legal Irrelevance of Race," 70 Washington Law Review 629 (1995) (symposium) (excerpted in The Latino/a Condition:  A Critical Reader 110 (Richard Delgado & Jean Stefancic, editors, 1998))
Tags