Five Students from Class of 2024 Win CEB Writing Awards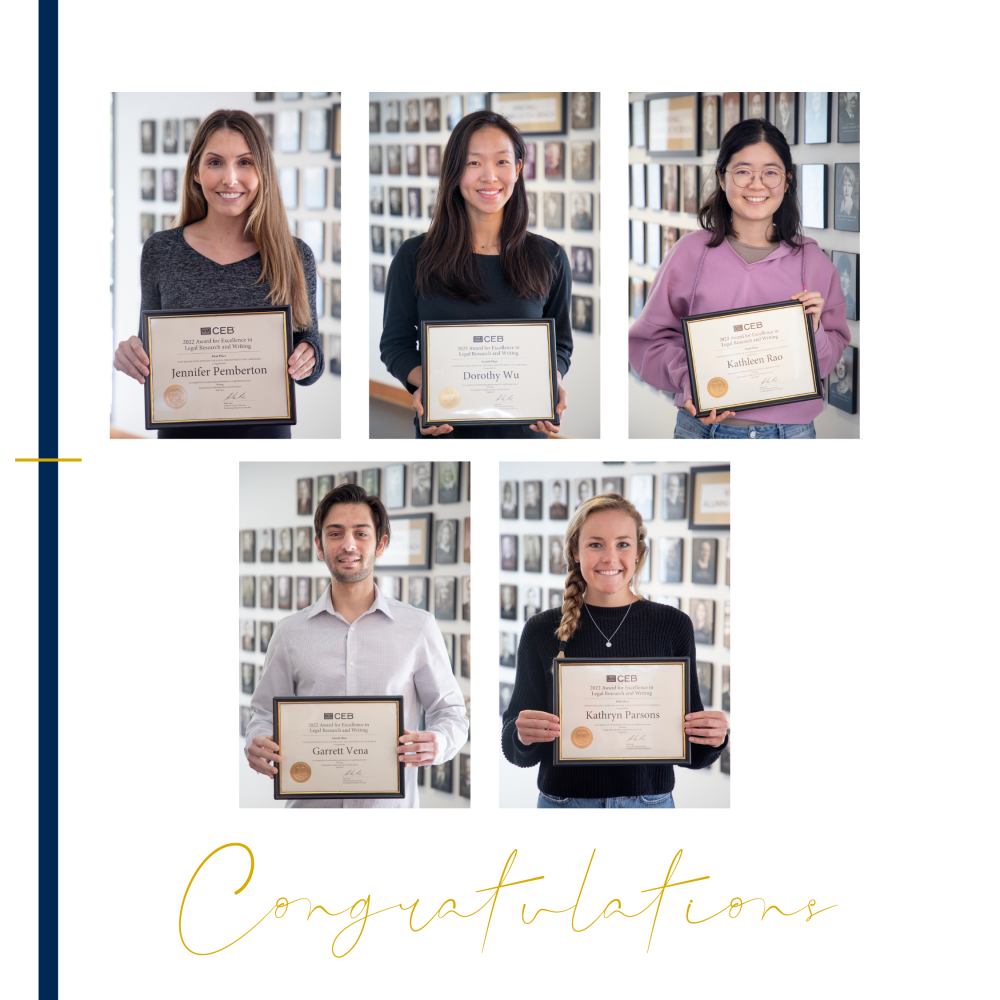 Continuing Education of the Bar (CEB) presented its annual awards for outstanding 1L Legal Research and Writing briefs during a Sept. 19 ceremony at King Hall. Five members of the Class of 2024 were recognized for briefs written during the previous academic year. 
Jennifer Pemberton received the first-place award and $2,000. Dorothy Wu placed second and received $1,500. Kathleen Rao, Garrett Vena and Kathryn Parsons placed third, fourth and fifth, and received $750, $500 and $250, respectively. 
Judge Troy Nunley of the United States District Court for the Eastern District of California addressed the award recipients. He recounted his path to becoming a judge and spoke about the importance of comprehensive, professional research and proofreading in legal writing. 
A self-supporting nonprofit program of the University of California, CEB, according to its website, "seeks to improve access to justice and the delivery of legal services to underserved communities in California by educating attorneys and law students in human-centered lawyering skills, and by promoting inclusivity in California's legal industry."   
CEB's AccessLaw™ Program offers UC Davis Law students free CEB accounts throughout law school and 18 months after graduation. These accounts offer access to Practitioner and CLEPassport. Practitioner is an all-in-one practical guidance and legal research solution, complete with a primary law research tool and powerful case citator, comprehensive set of curated practice guides, and resources such as how-to guides, annotated sample documents, and workflows intended to facilitate the practice of law. CLE Passport provides students access to more than 600 California-specific CLE courses across over 20 practice areas.  
"Whether students are learning the fundamentals of legal research and writing or preparing to transition from law school to practice, CEB has legal solutions relevant to all stages of the law school experience," CEB Academic Program Manager Griffin Ferry said. "CEB's AccessLaw™ Program allows students to use the same resources that California lawyers use to navigate their daily work needs and to draw from the expertise and guidance of our 19,000+ strong contributing community of California practitioners. Our California focus is unique and makes CEB a must for students preparing to practice in California."
Primary Category