Sister Simone Campbell '77 to receive Distinguished Alumna of the Year award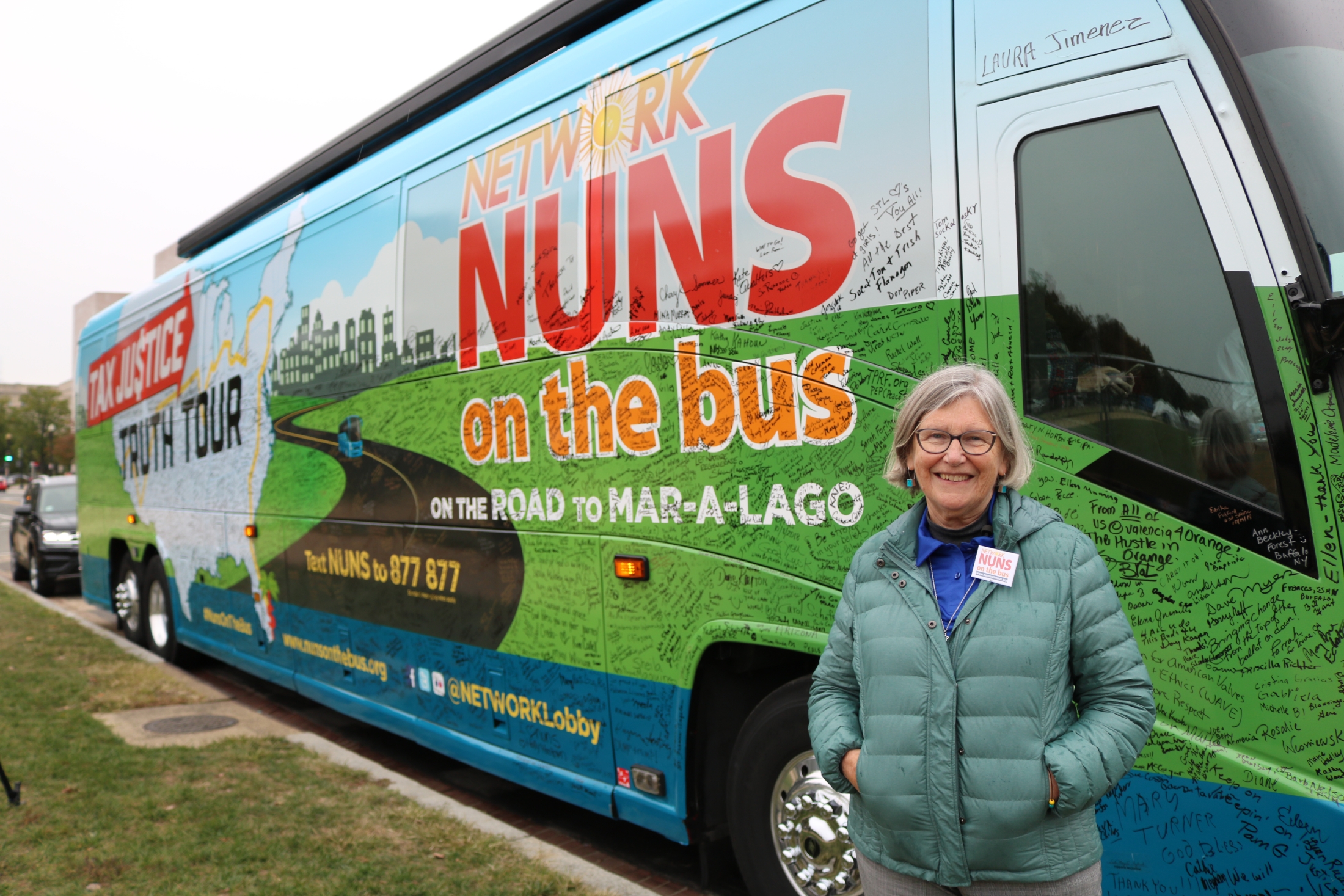 Sister Simone Campbell '77, executive director of NETWORK Lobby for Catholic Social Justice in Washington, D.C., will receive the UC Davis School of Law 2019 Distinguished Alumna Award. Campbell will return to UC Davis on March 14 for the awards ceremony. "Celebrating King Hall" also recognizes scholarship recipients, King Hall donors, and the winner of the Distinguished Teaching Award.
Campbell, who joined the Sisters of Social Service in 1964, had a long history of social activism before she became a national celebrity in 2010 following the publication of the "Nuns' Letter," which she wrote in support of the Affordable Care Act. Fifty-nine different organizations, including the Leadership Conference of Women Religious, signed on, drawing widespread media attention and prompting a controversy that included a Vatican investigation.
During the summer of 2012, she led Nuns on the Bus, a NETWORK-organized tour of the United States in which sisters criticized federal budget cutbacks in services for the poor, again drawing criticism from the church hierarchy. She was invited to speak at the 2012 Democratic National Convention and became a regular interview subject for national media including 60 Minutes, The Daily Show, The Colbert Report, CNN, and National Public Radio.
Born in Santa Monica, Campbell worked as a community organizer in Portland during the '70s until she realized she needed a legal education in order to best serve underrepresented communities. UC Davis School of Law, with its strong commitment to public service, was her first choice. As a law student she served as editor of the UC Davis Law Review, did legal aid work in the community, and served an externship working with the California Assembly Committee on Water, Parks, and Wildlife.
Campbell founded the Community Law Center in Oakland, practicing as the lead attorney there from 1978 until 1995, when she became general director of Sisters of Social Service, overseeing the religious community's activities in the United States, Mexico, Taiwan, and the Philippines. She went on to serve as executive director of the interfaith advocacy group Jericho before assuming her present role as director of NETWORK in 2004.
Campbell's book, A Nun on the Bus, was published in 2014. That year, the American Bar Association's Human Rights magazine profiled her as a "Human Rights Hero." In 2016, Barnard College, the prestigious women's college affiliated with Columbia University, awarded her the 2016 Barnard Medal of Distinction. Campbell has many honorary degrees including those from Church Divinity School of the Pacific, Loyola University Chicago, and Trinity Washington University. The Roosevelt Institute also honored her work with the Roosevelt Freedom Award and she is the recipient of the Defender of Democracy Award from the International Parliamentarians for Global Action. In her role at NETWORK, Campbell continues to work on issues of immigration reform and healthcare.
In 2017, Campbell delivered the commencement address for the UC Davis School of Law graduation ceremony.
Primary Category
Tags