Kevin Johnson: New Law School Dean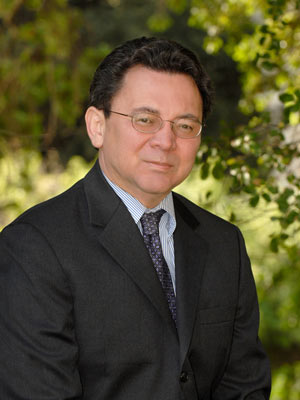 Kevin R. Johnson, formerly associate dean for academic affairs, and a noted international expert on immigration, race, and civil rights law, assumed the role of dean of the UC Davis School of Law on July 1, 2008. 
Johnson, 49, is the first Latino to lead a law school in the University of California system. He assumed his new responsibilities at King Hall on July 1, replacing Rex Perschbacher, who led the school since 1998 and has since returned to the faculty.
"Kevin's academic credibility is the essence of his popularity among our faculty and students, but those of us who know him well recognize much more," said Chancellor Larry Vanderhoef. "Most notably, he cares deeply about those who need, but have no access to, legal assistance. He pays special attention to the first-hand experience our students receive in their free clinics."
Vanderhoef added, "The law school is certain to flourish under Kevin's guiding hand."
Established in 1965, the UC Davis School of Law currently enrolls approximately 600 students, has 36 faculty members and more than 6,000 alumni. The school, housed in Dr. Martin Luther King, Jr., Hall, is noted for its emphasis on social justice and human rights, environmental and natural resources law, international law, intellectual property, and business law.
It maintains one of the highest bar-passage rates in the state.
"UC Davis School of Law has an excellent faculty, staff, and student body," said Johnson. "Dean Perschbacher did a truly outstanding job in overseeing an intellectual renaissance at the law school, hiring an extraordinary group of the most diverse faculty in the United States."
"My modest hope is to build on his achievements while maintaining the King Hall community that we all know and love," Johnson added.
"Specifically, we must do all within our power to remain a top public law school in times of tight budgets and increasing fees. I am committed to doing what it takes to keep the best and brightest faculty and students from a diversity of backgrounds and perspectives. In my mind, this is what a public law school should strive for."
Johnson, who also is the Mabie-Apallas Professor of Public Interest Law and Chicana/o Studies, joined the UC Davis law faculty in 1989 and was named associate dean for academic affairs in 1998. He has taught a wide array of classes, including civil procedure, immigration law, refugee law, and critical race theory. In 1993, Johnson was honored with the law school's Distinguished Teaching Award.
Johnson currently serves as president of the board of directors of Legal Services of Northern California, the largest legal services provider in Northern California. He also is on the board of directors of the Mexican-American Legal Defense and Educational Fund, the nation's leading Latino civil rights organization. He is serving on the Immigration Policy Group of U.S. Sen. Barack Obama's presidential campaign.
Along with Professor Bill Hing, Johnson manages the ImmigrationProf blog, which analyzes issues of immigration law and policy. With more than 300,000 visits, it is among the most popular legal blogs.
Johnson's book How Did You Get to Be Mexican? A White/Brown Man's Search for Identity, was published in 1999 and was nominated for the 2000 Robert F. Kennedy Book Award.
He also has published Race, Civil Rights, and American Law: A Multiracial Approach and Mixed Race America and the Law: A Reader and The "Huddled Masses" Myth Immigration and Civil Rights (2004).
Johnson's latest book, Opening the Floodgates: Why America Needs to Rethink Its Borders and Immigration Laws, was published by NYU Press in 2007. He is co-author of two amicus curiae briefs submitted to the U.S. Supreme Court in immigration cases.
A 1983 graduate of Harvard Law School, where he served as an editor of the Harvard Law Review, Johnson earned his undergraduate degree in economics from UC Berkeley. After graduating from law school, he clerked for Judge Stephen Reinhardt of the 9th U.S. Circuit Court of Appeals and worked as an attorney with the international law firm of Heller Ehrman White & McAuliffe in San Francisco.
Johnson has held leadership positions in the Association of American Law Schools. He also has been honored with many awards, including the 2008 National Association for Chicana and Chicano Studies Scholar of the Year and the 2006 Professor of the Year from the Hispanic National Bar Association. In 2003, Johnson was elected to the American Law Institute.
Primary Category
Tags