Women Lawyers of Sacramento 50 Year Celebration
Posted By Kevin R. Johnson, Dec 6, 2012
I had the pleasure of honoring the Women Lawyers of Sacramento (WLS) group at its 50 year celebration on Tuesday evening. Assistant Deans Hollis Kulwin and Jean Korinke and I attended the event at the Elks Tower in downtown Sacramento. The evening's honoree was Justice Kathleen Butz '81 of the California Court of Appeal, Third District Appellate District.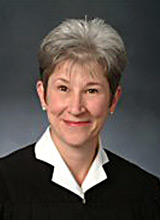 Justice Butz was honored with the Frances Newell Carr Achievement Award. I was able to personally congratulate Justice Butz, who, as an alum, has long has been a wonderful supporter of King Hall. 
Among others, I talked with Professor Marty West and alums Jill Peterson '85 (former Assistant Dean for Student Affairs), Amal Abu-Rahma '97, Melissa Jones '99, Kim Lucia '09, Jeff Leacox '88, Carol Livingston '80, and Charity Kenyon '77, and Windie Scott '77. Kara Ueda '00, Stacy Boulware Eurie '95, Judge Judy Holzer Hersher '84, and Sara Granda '09 were in attendance. I also caught-up with a number of friends of King Hall, including Judges James Mize and Emily Vasquez and Justice Vance Raye.
Charity Kenyon gave part of the introduction of the award for Justice Butz. Interestingly, Justice Butz used to be a fact checker for special collections at UC Davis before coming to law school.  Windie Scott narrated a presentation (a brief skit) on the history of the Women Lawyers of Sacramento. 
Justice Butz offered a gracious acceptance speech and mentioned the challenges of raising a son during law school.
UC Davis School of Law was proud to support WLS, even placing this special message in the event program.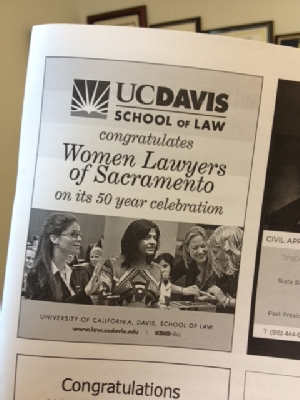 Congratulations on 50 years of excellence, WLS!