Sue Jones Profiled in UC Davis Magazine
Posted By Kevin R. Johnson, Feb 15, 2013
Have you seen the latest issue of UC Davis magazine? Our own Sue Jones, publications coordinator for the UC Davis Law Review, is profiled as a featured alumna!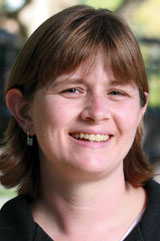 Sue Jones
Sue Jones M.A. '98
Sue Jones keeps involved through student mentoring and advocacy programs.
A former CAAA staff member who now works as an editor for the School of Law, Jones helps lead the Davis Network and serves on a Scholarship Committee, screening high school applicants from Yolo County.
She is also an AggieAdvocate, taking part in the UC Day legislative conference, where alumni from all 10 UC campuses meet elected officials.
Jones enjoys Aggie Diner, a dinner connecting students and alumni in a professional setting, and the more personal Take an Aggie to Lunch. "I try to get involved with the mentoring things with the students. It's fun to talk to them. I feel like I have a responsibility to give back."
The mother of a 9-year-old boy, she also volunteers for the Woodland Schools Foundation in her hometown. Before getting her master's degree in creative writing at UC Davis, she earned a bachelor's degree from Harvard University.
She encourages other Aggies to get involved. "They are going to get to meet a lot of interesting people, work on skills maybe they didn't know they had, and find out a lot more about the campus."
And the commitment isn't overwhelming. For the Scholarship Committee, the bulk of it is one long evening meeting, she said. "You feel a lot better about our future when you see these high school students."
***
Congratulations on your well-deserved recognition in the magazine, Sue!