Revisiting King Hall: Milestone Reunions 2009
Posted By Kevin R. Johnson, Sep 28, 2009
More than 250 people attended the UC Davis School of Law Milestone Reunions this weekend.  Alumni from the Classes of '69, '74, '79, '84, '89, '94, '99, and '04 gathered at the Mondavi Center for a sunny (and hot!) afternoon of food, drink, and memories about their days at King Hall.  It was a hugely successful event!  We seemed to have alums from all over the country.  Everyone had a great time catching up with faculty and fellow alumni.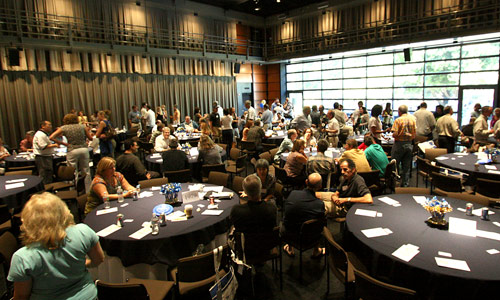 King Hall alumni gather at the Mondavi Center's Studio Theatre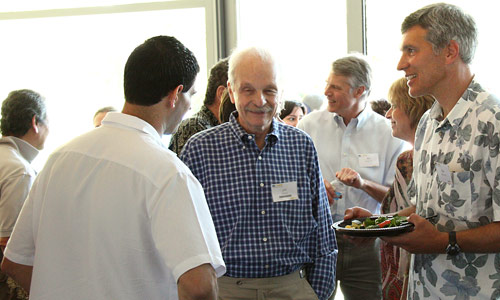 Professor Joel Dobris visits with alumni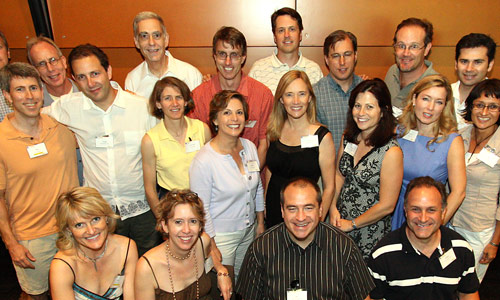 Members of the Class of 1994
The alums in attendance began their reunion with a luncheon at the Mondavi Center's Studio Theatre.  Alumni Board President Steve Boutin '72 and I extended them a warm welcome.  That was followed by some great tours of the King Hall Expansion and Renovation Project.  The new wing is quickly going up, with its completion slated for May 2010.  After the tours, folks had refreshments back at the Mondavi Center.  Later, some alums would go on to join their classmates for a special dinner, while others cheered on the Aggie football team in its home game against Western Oregon. 
Former Dean Rex Perschbacher and I enjoyed the game alongside Chancellor Linda Katehi and her husband Spyros Tseregounis, an engineering professor at UC Davis.  Steve Boutin and Keith Allen-Niesen '89 were there, too.  Before the game, I visited with Scott Judson '12, whose dad - Craig Judson '84 - was in Davis for the reunion earlier in the day.  Some of our students arranged for the UC Davis School of Law logo to flash on the big screen at the game... which the Aggies won 29-13!