President of Mexico Visits Sacramento
Posted By Kevin R. Johnson, Aug 26, 2014
I had a King Hall reunion of sorts at the luncheon today at the Leland Stanford Mansion held by Governor Edmund "Jerry" Brown and First Lady Anne Gust Brown in honor of the President of Mexico Enrique Peña Nieto.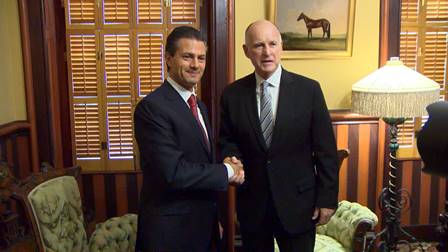 President Peña and Governor Brown at the Stanford Mansion. Photo courtesy of Marcelino Navarro/KCRA-TV.
Many School of Law alums were in attendance, including Chief Justice of California Tani Cantil Sakauye '84, Senate President pro Tem  Darrell Steinberg '84, Melinda Guzman Moore '88, Griselda Begines Trujillo '99,  and Assembly Member (and former co-chair of La Raza Law Students Association) Luis Alejo '01 (D-Salinas).  Luis introduced me to Assembly Member Al Muratsuchi (D-Torrance), who was very interested in higher education and increasing law school fees.  I also ran into UC Davis Vice Chancellor for Student Affairs Adela de la Torre and Professors Cruz Reynoso and Amagda Perez.  Governor Brown and President Peña both offered wonderful toasts honoring the illustrious group.  I had the pleasure of sitting at a table with Assembly Member Melissa Melendez (R-Lake Elsinore), and we were able to exchange our contrasting views on immigration.