Patino Banquet 2017
Posted By Kevin R. Johnson, Mar 13, 2017
La Raza Law Students Association hosted the annual Lorenzo Patino Banquet last Saturday night.  Honoring an alum who was the first Latino judge in the Sacramento area, the banquet is one of the highlights of the school year.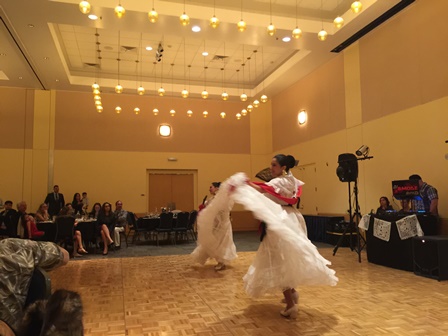 Danzantes del Alma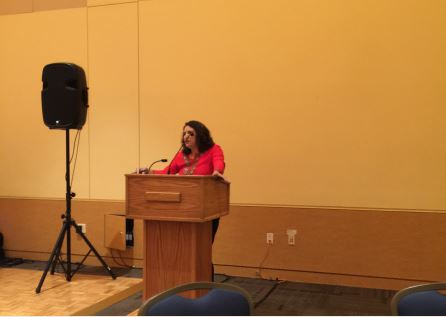 Professor Jasmine Harris
The program began with a performance by the UC Davis ballet folklorico group Danzantes del Alma. Then Frankie Guzman of the National Center for Youth Law gave an inspiring keynote speech about his journey as a gang member through the California juvenile criminal justice system to UC Berkeley and UCLA Law School.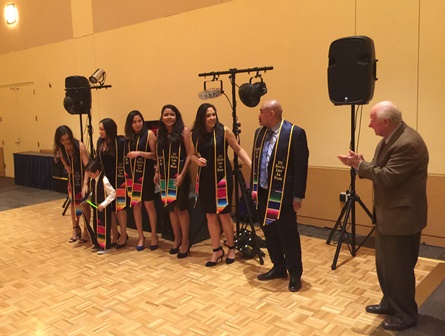 Class of 2017 members with Professor Emeritus Reynoso
Professor Cruz Reynoso recognized the Class of 2017, which included Lizette Gomez, Aldo Martinez-Gomez, Stephanie Medina, Rachel Hiatt, Lesley Sedano, and Sarah Woolston.  (Students Rudy Orozco and Stephanie Hay also are part of the graduating class but could not attend the dinner.)  And the Lorenzo Patino Community Service Award winner went to Stephanie Medina, who spent countless hours working to protect worker and immigrant rights and as a leader in La Raza Law Students Association (she was co-chair last year).
The event was sold out with many faculty, students, alums and others in attendance.  Previous Patino award winners, including Melinda Guzman '88, Miguel Martin '84, and Professor Amagda Perez '91 enjoyed the evening.  Senior Assistant Dean for Student Affairs Hollis Kulwin and Professors Cappy White, Alan Brownstein, and Leticia Saucedo also were in attendance.
Earlier in the day, La Raza Law Students Association held a Cesar Chavez Day of Service, participating in a naturalization workshop at the Mexican Consulate in Sacramento.  Under the guidance of Immigration Law Clinic co-director Amagda Perez, many students, ten law alumni, and others provided free help to scores of immigrants seeking naturalization and other immigration assistance.