King Hall's Tom and Meg Stallard to Lead Picnic Day Parade
Posted By Kevin R. Johnson, Feb 23, 2010
Exciting news about two of King Hall's most enthusiastic and dedicated supporters: Tom Stallard '75 and Meg Stallard will serve as parade marshals for Picnic Day 2010!
As the official announcement states, "Tom Stallard was a member of the Picnic Day Board of Directors in 1967 and was the Chair in 1968. His future wife at that time, Meg, was also on the board in 1968. Tom is a past President of the UC Davis School of Law's Alumni Association Board and still regularly contributes and volunteers there.   Meg Stallard is the current Chair of the Board of Advisors at the UC Davis School of Education and is the Past Chair of the UC Davis Foundation Board of Trustees."
Faculty, staff, and students see the Stallard name every day as they walk past room 2064.  The Stallard Family Conference Room honors the Stallards as a family in order to also recognize their son, David, who is a 2004 graduate of UC Davis School of Law.  When it's finished in a few short months, the new wing of the law school will house the Stallard Family Conference Room.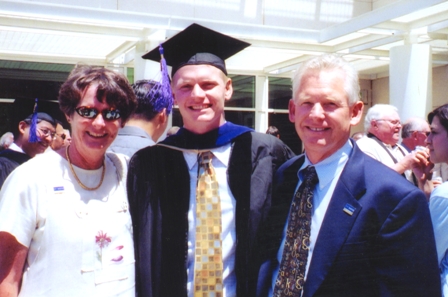 Meg Stallard, David Stallard '04, and Tom Stallard '75
The Daily Democrat's coverage of the parade marshals is here.  And check out the new profile of Tom Stallard on the School of Law website.
Picnic Day is on Saturday, April 17.
Congratulations, Tom and Meg!  We look forward to seeing you on Picnic Day!