Dedicating the James Hogan Group Study Room
Posted By Kevin R. Johnson, Dec 18, 2014
We had a lovely gathering to celebrate the late Professor Jim Hogan by dedicating a group study room on the second floor of King Hall in his honor yesterday.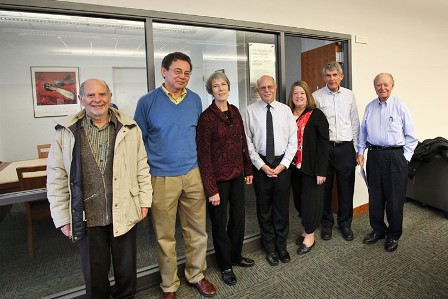 L to R: Professor Rabin, me, Jan Hogan, and Professors Imwinkelried, Johns, Feeney, and Reynoso in the newly dedicated Hogan Study Room.
His wife Jan Hogan and nine family members (including six children and two grandchildren) along with and Professors Ed Imwinkelried, Margaret Johns, Cruz Reynoso, Floyd Feeney and Ed Rabin were in attendance.  Professor Imwinkelried made a few remarks about Jim's love of teaching, camaraderie with students, and love of the law school.  We had a wonderful lunch after the gathering and reminisced about Jim.  Jan mentioned that she still had the Irish flag that had adorned Jim's faculty office.  We all agreed that it would be a wonderful addition to the Jim Hogan group study room!