Capitol Reception for the Class of 2017
Posted By Kevin R. Johnson, Sep 12, 2014
I was pleased to attend one of my favorite annual law school events yesterday – the Capitol Reception to welcome the new first-year class.
The event began with a tour of the grand State Capitol building. Students also heard from alumni speakers including Sacramento Superior Court Judge Lawrence Brown '89 and Deputy Director of Legal Affairs for the Governor's Office of Business & Economic Development Grace Arupo Rodriguez '02. Students also were greeted by LSA President Hayes Hyde '15. First-year students then gathered on the Capitol's north steps for their class picture.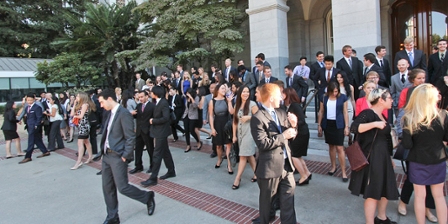 Members of the Class of 2017 moments after taking their class photo
Then everyone headed to the Sheraton Grand Ballroom for a reception with dozens of judges, faculty members, members of the King Hall Alumni Board, and many other distinguished members of the Sacramento legal community. I made the event's opening remarks and gave the students an assignment: to practice networking and collect at least five business cards. From what I observed, they were doing a good job!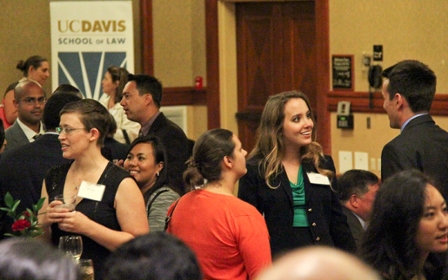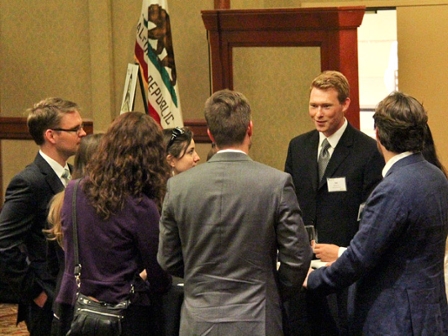 Thanks to the sponsors who helped to make this year's Capitol Reception a success!
Platinum:
Cota Cole LLP
Greenberg Traurig LLP
Silver:
Boutin Jones, Inc. 
Locke Lord LLP
Olson Hagel & Fishburn LLP
Orrick Herrington & Sutcliffe LLP
Bronze:
Best Best & Krieger LLP
California Business Properties Association & Rex Hime
Delfino Madden O'Malley Coyle & Koewler
Ellison, Schneider & Harris L.L.P.
Liebert Cassidy Whitmore
Stoel Rives LLP
Wilke, Fleury, Hoffelt, Gould & Birney, LLP