Boxer Robert "The Ghost" Guerrero at King Hall
Posted By Kevin R. Johnson, Jun 7, 2012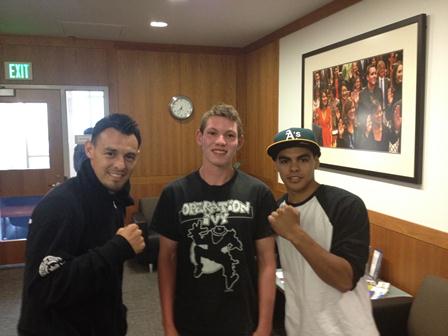 Here's a photo of my son Tomas standing between boxer Robert "The Ghost" Guerrero (left) and boxer Randy Guerrero (right) in the Dean's Office at UC Davis School of Law.  On July 28, Robert fights an unbeaten fighter at HP Pavilion (to be televised on Showtime); younger brother Randy makes his pro debut the same night.
King Hall graduate Ryan Maquiñana '12 recently interviewed the two boxers for a TV broadcast on Comcast Sportsnet.  The interview was held in the Dean's conference room!
See the TV interview here!