AALS Annual Meeting 2016 in New York City
Posted By Kevin R. Johnson, Jan 8, 2016
Hello from midtown Manhattan!
I am at the Association of American Law Schools (AALS) annual meeting, which has become a showcase of UC Davis School of Law faculty.  Jasmine Harris presented her research on a panel on the Americans with Disabilities Act on its 25th anniversary.  I was on a panel for the road to tenure success for faculty members of color. Rose Cuison VIllazor was on a panel about marriage equality in American Samoa. Angela Harris spoke on Animal Law. And Afra Afsharipour moderated a discussion on transactional lawyering and contractual innovation.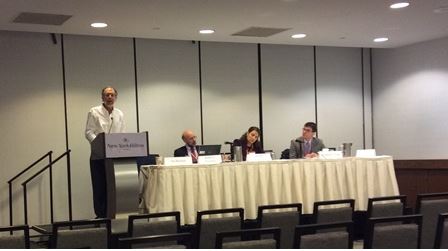 Professor Jasmine Harris (seated, center) on a disability law panel.
As for leadership positions in AALS, Rose Cuison Villazor was elected chair of the Minority Groups Section; Senior Assistant Dean Hollis Kulwin was elected as a member of the executive committee of the Section of Student Services; Afra Afsharipour held AALS leadership positions this year in the Transactional Law and Skills Section and the Law and South Asian Studies Section.
We also had a wonderful reception for alumni and friends of King Hall.  Professors Brian Soucek, Afra Afsharipour, Rose Villazor, Jasmine Harris, Tom Joo, Gabriel "Jack" Chin, and Carlton Larson were in attendance.  A wonderful group of faculty from around the country attended, including my good friends Professor Angela Onwuachi-Willig (Iowa), Ruben Garcia (UNLV), Sahar Aziz (Texas A&M), Nora Demleitner (former Dean, Washington & Lee), and Michael Waterstone (Loyola LA).  New York alums in attendance included Rob Smits '88, Monica Feltz '10, Maryam Sayyed '10 (one of my former research assistants), Professor Jay Carlisle '69 (Pace), J.J. Mulligan '15, Rebecca Hayes '10, and others. 
UC Davis was one of the law schools that co-sponsored the Minority Groups Section annual reception.  This one was at China Grill on Seventh Avenue.  After the reception, I attended, along with Professor Jasmine Harris, the annual reception of the Latina/o law professors.  It was a wonderful reunion of a tight-knit group of law professors, who honored with an award former law professor and Court of Appeals of the State of New York Justice Jenny Rivera.
I had a chance to catch up over breakfast with our former Associate Dean Vik Amar, now the dean of the University of Illinois College of Law.  He is doing great things at the helm and learning to love Big 10 basketball.
I've enjoyed the chance to catch-up with many friends and colleagues, as well as spend a few days in chilly New York City.