A King Hall Friday
Posted By Kevin R. Johnson, Mar 4, 2016
We had an action packed end of the week at UC Davis School of Law.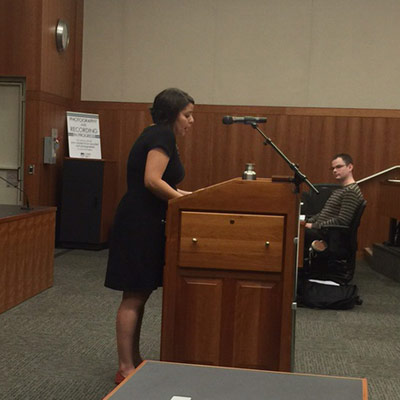 The UC Davis Journal of Juvenile Law and Policy hosted an amazing conference on unaccompanied minors who migrate to the United States. The keynote speaker was Ariana Flores, pictures above, who is the Oakland School District's Unaccompanied Minors Support Services Specialist. Flores talked about the services the District supplies to unaccompanied immigrant students and had a full house of attendees. Other UC Davis participants in the conference included Professors Cruz Reynoso, Rose Villazor, Jasmine Harris, and Holly Cooper. Students organized a great group of panelists, including Jennifer Chacón (UC Irvine), Karen Musalo (UC Hastings), Kate Jastram (UC Berkeley), Annie Lia (UC Irvine)  Rachel Ray (King Hall '11), and Carrie Rosenbaum (King Hall '02).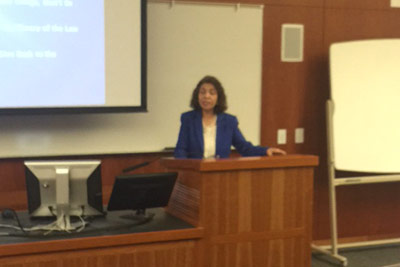 Across the hall, Judge Emily Vasquez of the Sacramento County Superior Court takes to La Raza Law Students Association as part of their Cesar Chavez week. Judge Vasquez is a dear friend of King Hall and is the president of the local Inn of Court, which counts many of our law students, alums, and faculty as members.