Posted By Kevin R. Johnson, May 4, 2021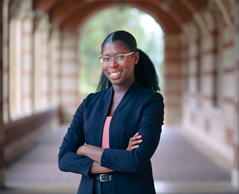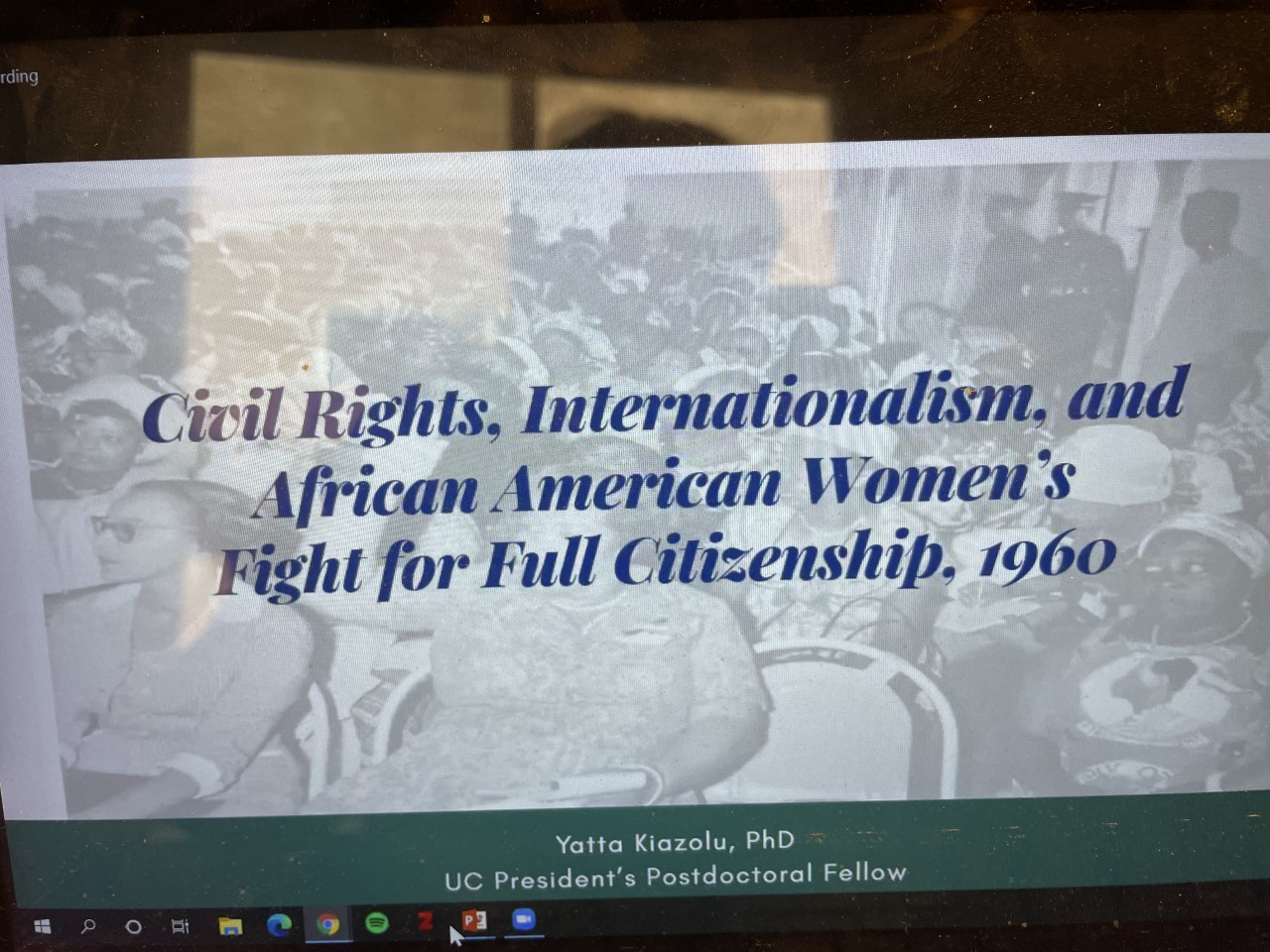 (Dr. Yatta Kiazolu, UC San Diego)
This year, the Free People of Color Lecture Series has been hosted by the UC Davis School of Law Aoki Center on Critical Race and Nation Studies and the Department of History. The lectures explore the rights of people of color in the United States after the Civil War and inquire how that history continues to shape our thinking today. The series has brought in leading scholars from around the country.
This week, the Free People of Color Lecture Series featured Dr. Yatta Kiazolu, who is a UC President's Postdoctoral Fellow in Ethnic Studies at UC San Diego.  Her research interests are at the intersection of contemporary African diaspora history, African American history, and Women and Gender studies.
The title of Dr. Kiazolu's talk was  "Civil Rights, Internationalism, and African American Women's Fight for Full Citizenship, 1960." Here is the abstract of her paper:
"By 1960, African decolonization on the world stage presented greater opportunity to actualize new political terrain in the interest of people of African descent. African American leaders made connections between the struggles for desegregation at home and decolonization abroad. Committed to this cause, the National Council of Negro Women (NCNW) under the tenure of then-President Dorothy Height, emphasized travel to Africa for both its leaders and members, many of whom were traveling for the first time. 
"This included Height's tour of five West African countries, along with Jeanne Noble and Dorothy Ferebee's participation in the inaugural Conference of Women of Africa and African Descent held in Accra, Ghana, in July of 1960. Through solidarity with African women nationalists preparing for new roles in emerging societies, this research demonstrates how their on-the-ground interactions helped Council women advance their case for Black women's inclusion in public life at home, and more broadly, for full citizenship. These experiences offer an entry point into Black women's global struggle for self-emancipation in the age of decolonization, civil, and human rights."
It was a fascinating talk, showing the full breadth of civil rights and gendered struggles across borders. 
---
Posted By Kevin R. Johnson, May 3, 2021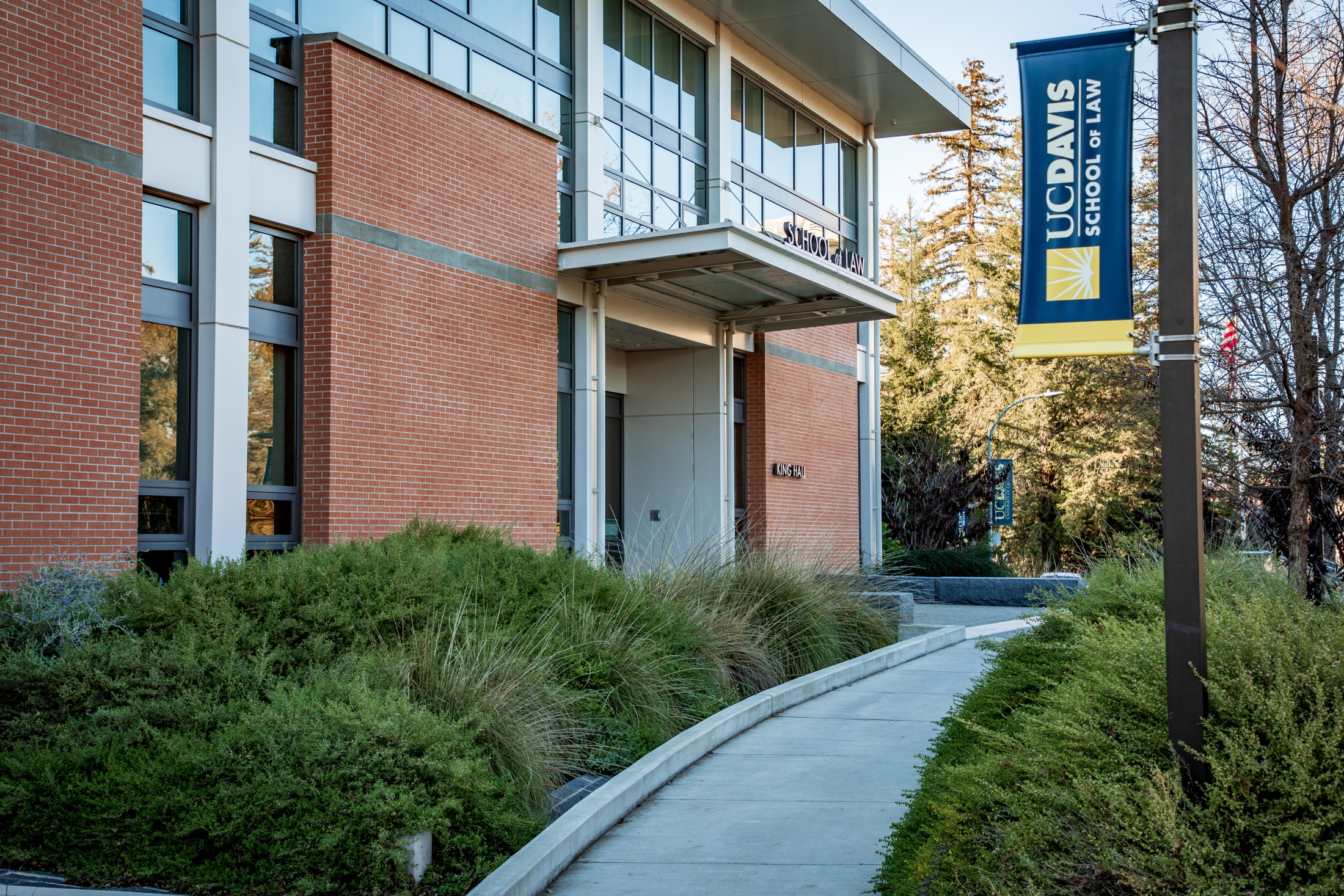 Celebrating 2020/21
It is an understatement to say that the 2020/21 academic year was most challenging. Besides the global pandemic requiring a full year of Zoom instruction and events, the senseless police killings of African Americans, hate violence directed at persons of Asian ancestry, and a white supremacist-led effort to take over the U.S. Capitol left us all shocked and dismayed.
Our unshakable sense of community unquestionably carried us through 2020/21. Students, faculty, and staff adapted with a flourish to the ever-changing circumstances. Thank you all.
Better days are on the horizon. As previously announced, we plan to return to primarily in-person instruction this fall. Expect periodic updates on our progress.
Commencement
Congratulations to our 2021 J.D. and LL.M. graduates! At our virtual commencement at 11 a.m. on Saturday, May 15, we will hear from Chancellor Gary S. May, Professor Jasmine E. Harris, and Viktoriya Chebotarev '21. On Friday, May 14 from 10 a.m.-noon, we will have a socially distanced in-person photo opportunity for graduates. Contact Events Manager Onell Berrios (oaberrios@ucdavis.edu) for details.
On April 22, we honored the Class of 2021's dedication to helping others at the Public Service Graduation. Congratulations to Martin Luther King Jr. Service Award recipient Jeanette Boykins '21, a student leader who worked with a great many organizations. She also received the Alumni Association Award for outstanding service.
An Amazing Year
King Hall had an amazing year. After weathering incredible uncertainty about the exam, the Class of 2020 recorded an extraordinary 87% pass rate for the October 2020 California Bar Exam – the highest since 2009. What grace under pressure.
The beginning of the year brought the amazing J.D. Class of 2023, with 56% students of color; 71% women; 19% LGBTQ; 20% first generation. We also welcomed 67 LL.M. students from 14 countries. All our new students have amazing credentials and experience.  
Amid racial trauma and social tension, we introduced a Racial Justice Speaker Series with civil rights scholars, public defenders, and political leaders addressing the stunning systemic racial inequality in the United States. The series returns next year.
The Black Law Students Association, Law Students Association, and Martin Luther King Jr. Day Working Group (chaired by Senior Assistant Dean Emily Scivoletto) organized the law school's MLK Day of Service and Celebration in January with socially distanced options, including a blood drive and a government benefits webinar and clinic.
UC Davis Law rose to No. 35 in the U.S. News & World Report rankings, landing at No. 23 in the key category of peer reputation. In November, preLaw Magazine named us No. 3 among the "top schools for racial justice." The law school this year added Diversity, Equity, and Inclusion fellow Alexis Elston to its Student Affairs office.
Student Success
More than 90% of the Class of 2020 was employed 10 months after graduation; more than 86% secured full-time, law-related employment. To help current students, the Career Services office will be staffed fully this summer. The first round of virtual on-campus interviews will be in August, and will be held throughout the year.
Other highlights:
King Hall's top oral advocates Caroline Perris, Abby Miles, Vannalee Cayabyab, and Lauren Murvihill, four women from the Class of '22, exhibited premier oral advocacy skill in the Neumiller Memorial Moot Court Competition.
Storm Brandenburg, Aileen Chong, Haley De Genova, Meghan Eaton, Delanie Hausner, Sean Kennedy, Eric Leroy, Niharika Sachdeva, Nora Williams, and Brennan Zoellner were selected for the Order of Barristers, a national honorary organization of the best student trial and appellate advocates.
Students elected Nathan Searcy '22 president of the Law Students Association for 2021/22.
UC Davis Law Review's Cameron Gable '21 received the Patrick J. Hopkins Memorial Writing Award.
Latinx Law Students Association honored Joana Peraza Lizarraga with the Lorenzo Patiño Community Service Award.
Faculty Achievements    
Our faculty members continue to publish in leading law reviews and news outlets. Other highlights:
UC Davis Law welcomed Professors Eric Fish and Alix Rogers and the transition of Raquel Aldana to the law school full-time. Legal Research and Writing instructor Jennifer Elowsky, Water Justice Clinic Director Robert Mullaney '84 and Tribal Justice Project Director Chad Smith also joined UC Davis Law.
Aldana and Christopher Elmendorf were elected to the American Law Institute, the leading U.S. law reform organization.
Katherine Florey received the 2021 Distinguished Teaching Award.
Brian Soucek was selected as a UC Davis Chancellor's Fellow.
Professor Carlton Larson is an ABA Silver Gavel Award finalist for his book On Treason: A Citizen's Guide to the Law.
Andrea Cann Chandrasekher was named a director of the American Law and Economics Association and Professor of the Year by the Western Region of the Black Law Students Association.
Professors Karima Bennoune, Ashutosh Bhagwat and Carlton Larson drew a crowd for "Insurrection and the Rule of Law," a virtual discussion of the violence at the U.S. Capitol. Professor Bennoune gathered international experts in April for the event "Far Right Extremism and Human Rights in the United States: Global Perspectives," moderated by Professor Elizabeth Joh. Last fall, Professor Bennoune presented a report on climate change to the United Nations General Assembly.
Professor Mary Louise Frampton received a UC Davis Chancellor's Achievement Award for Diversity and Community. She has informed us that she will retire after four years of steadfast leadership of the Aoki Center on Race and Nation Studies and many years at UC Berkeley Law.

Congratulations,

Professor Frampton.
The faculty strengthened King Hall's international ties: Dean Kevin R. Johnson spoke in an O.P. Jindal (India) Global University conference and Professor William Dodge lectured virtually at Renmin University (China).            
Special Events
UC Davis Law hosted many outstanding virtual visitors and events in 2020/21:
The Chief Justice of California, Tani Cantil-Sakauye '84, delivered the keynote at a conference commemorating 50 years of the California Environmental Quality Act.
Our named lectures included John Inazu (Washington University) (Central Valley Foundation/James B. McClatchy Lecture on the First Amendment); Robin Lenhardt (Georgetown) (Bodenheimer Lecture on Family Law); and Paul Butler (Georgetown) (Barrett Lecture on Constitutional Law).
The Aoki Center and UC Davis Department of History presented the Free People of Color Lecture Series.
The Tribal Justice Seminar Series gathered leading scholars, attorneys and judges to discuss important issues pertaining to tribal courts.
Fundraising for Scholarships, Alumni Recognition and Accolades
The Mabie Law Foundation gave $1 million for a new student scholarship. The law school has raised more than $15 million toward its $25 million goal as part of the campus campaign. Well-attended alumni reunions went virtual in 2020. Monika Kalra Varma '00 received the Distinguished Alumna Award. Errol Dauis '11 won the Rising Star Alumnus Award. Alumni Kara Ueda '00 (Sacramento County), Jose Castillo '06 (San Diego), Keith Fong '90 (Alameda), and Ryan Wells '08 (Fresno) were named California Superior Court Judges.
In Memoriam
On a very sad note, Professor Emerita Leslie Kurtz, a dedicated member of the King Hall community, passed away last fall after a long illness. See here. A faculty member for more than 30 years, Professor Kurtz is sorely missed.
****
Good luck on exams and papers.
---
Posted By Kevin R. Johnson, Apr 29, 2021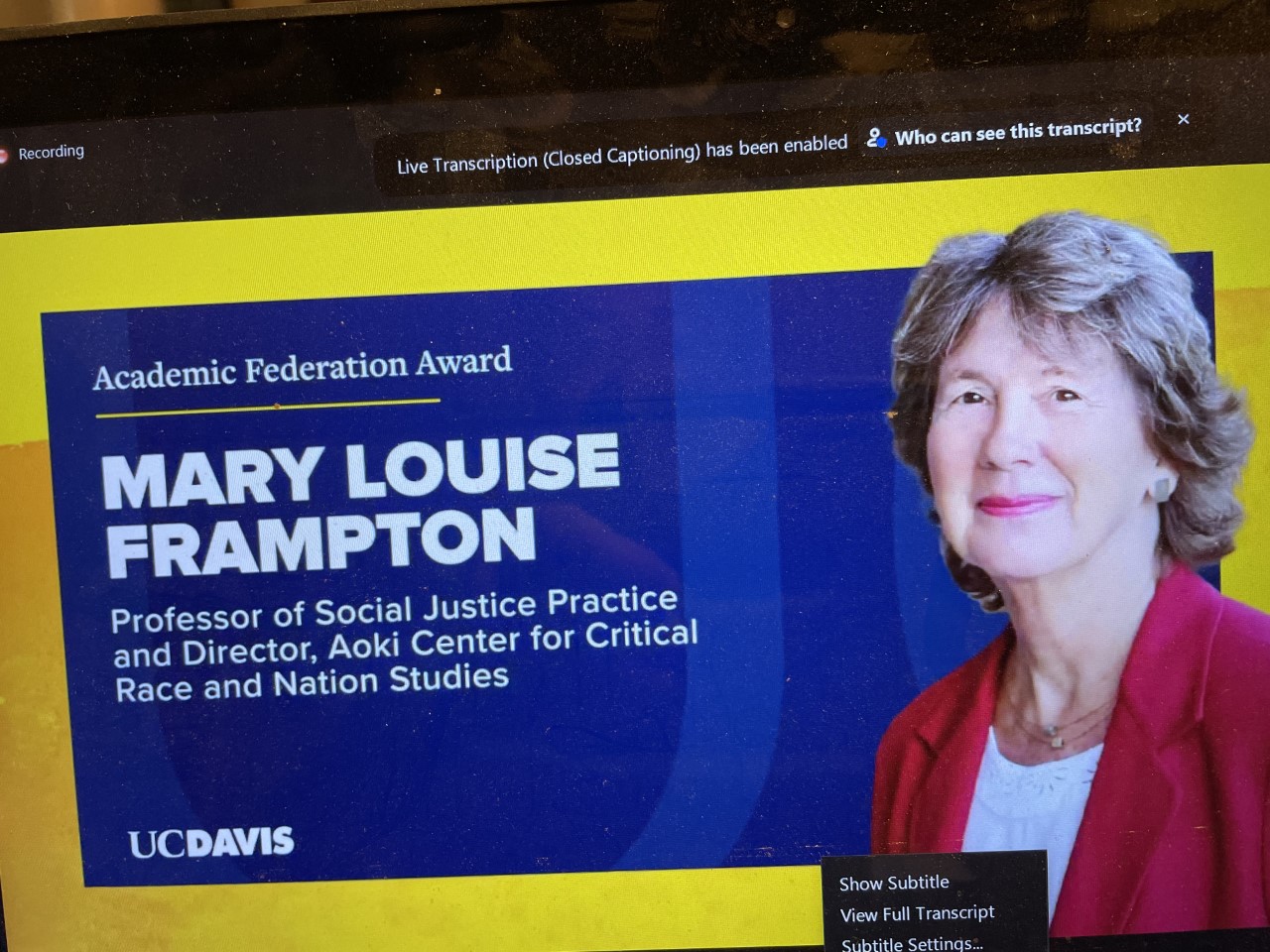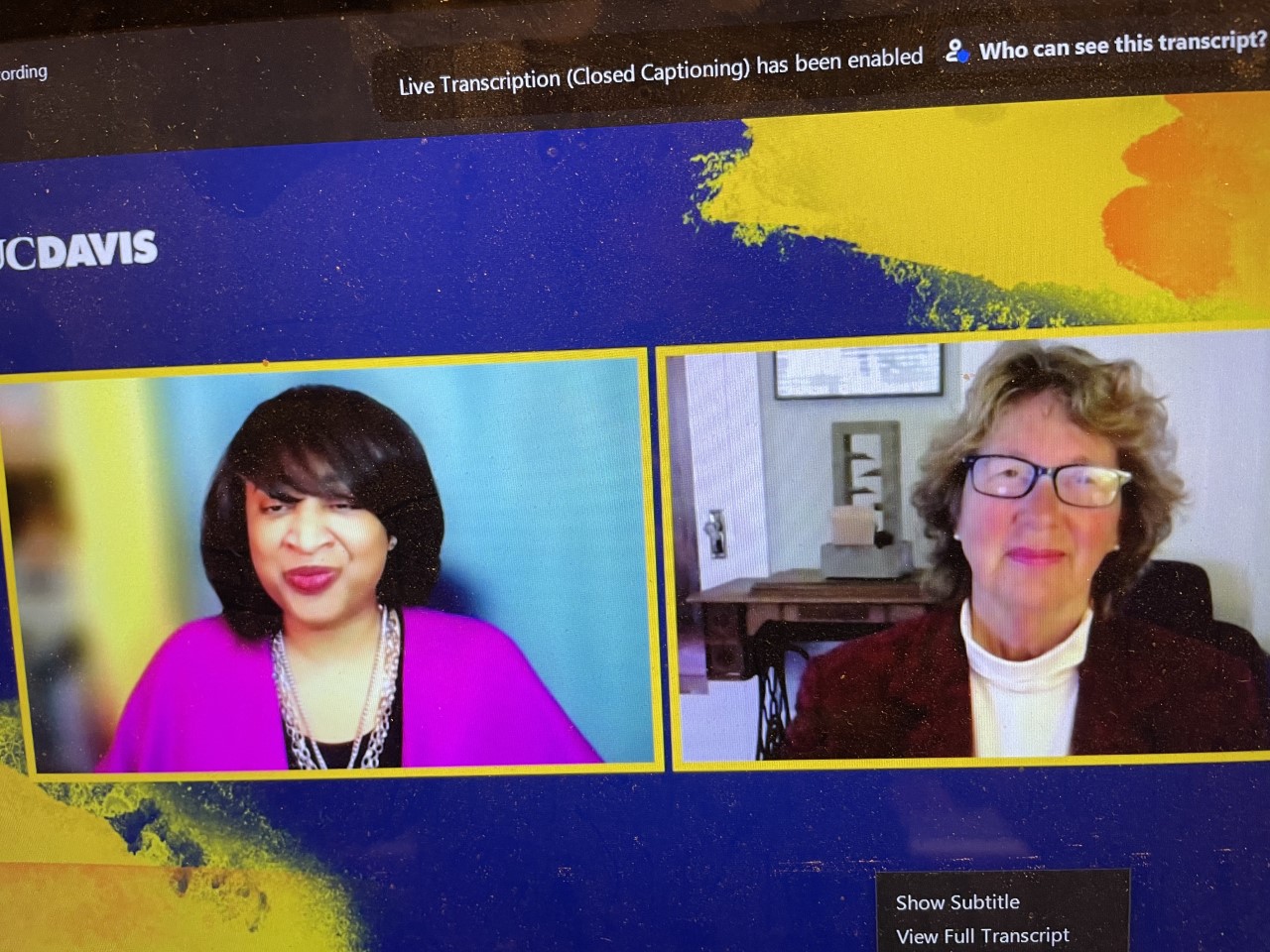 (photo: Vice Chancellor for Diversity Equity and Inclusion, Renetta Garrison Tull and Professor Mary Louise Frampton)
On April 28, the UC Davis campus held a major event, the Chancellor's Achievement Awards for Diversity and Community.  Our community prides itself on its commitment to diversity, equity, and inclusion.  This event honors faculty, students, and staff who have dedicated themselves to DEI activities.  I feel honored to have received one of the first awards many years ago.
Chancellor Gary May welcomed the participants to the event.  It was wonderful to see the law school's own Professor Mary Louise Frampton be honored with the Academic Federation Award for Diversity and Community.  After many years at UC Berkeley School of Law, Professor Frampton has directed the Aoki Center for Critical Race and Nation Studies and put together wonderful racial justice programming (as well as continuing scholarly research).  Throughout her time at UC Davis, Professor Frampton has committed herself to our social justice law students.    
It was a celebratory night for social justice warriors!