Posted By Kevin R. Johnson, Dec 2, 2016
This week's swing through Southern California included a visit to Riverside, where I saw many King Hall alums. I joined alumni for a wonderful lunch at Best Best & Krieger.

Richard Egger '92, our host Mark Easter '89, me, Rina Gonzales '02, and Mona Nemat '04
Mark Easter '89 hosted the lunch and had each alum share a favorite memory of King Hall. We heard great stories about Ed Imwinkelried's memory of students' names, friends made at King Hall, and the like. It was a great time!
Earlier in the day, I had visited with Rina Gonzales '02 and saw her secret Scrapbook Girl crafting studio in downtown Riverside. It always is great seeing Rina!  I have blogged about her scrapbooking prowess before. :)
---
Posted By Kevin R. Johnson, Dec 2, 2016
We had a delightful alumni reception for King Hall alums in Orange County earlier this week.
Paul Couchot '87 hosted the reception at his law firm's luxurious Newport Beach offices. We had a great group of alums in attendance. Linda Schilling '87, Linda Somers Smith '86, Bob Barton '88, Judge Layne Melzer '87, Frank Rugani '78, and many other alums made it to hear about recent successes of their law school.  

Our host Paul Couchot, me, Judge Layne Melzer, and Bob Barton
Thanks to our OC alums for a great gathering!
---
Posted By Kevin R. Johnson, Dec 2, 2016
We visited Alex Gutierrez '82 at his law firm in Ventura. He has three King Hall grads at his firm, including Brett McMurdo '13. Alex, who played lots of basketball during his law school days, has a successful plaintiffs class action employee practice.
For lunch, we joined an exuberant group of King Hall faithful on the sunny Carlito's restaurant patio in downtown Santa Barbara. Among others, Judge Frank Ochoa '75 (retired), Steve Zipperstein '83, and others had an energetic lunch discussion of the issues of the day and the great goings on at King Hall.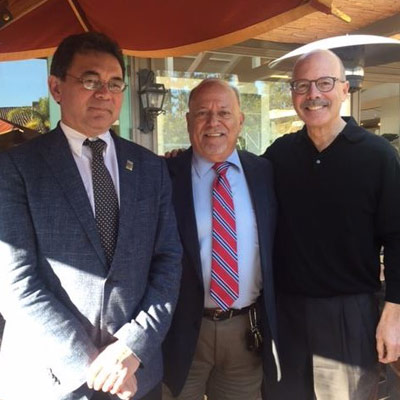 Me, Judge Ochoa, and Steve Zipperstein in sunny Santa Barbara