Posted By Kevin R. Johnson, Sep 4, 2015
We hosted a very special guest at the School of Law this week.
Congressman John Garamendi (D) spoke to an audience of more than one hundred at an event organized by the Sacramento chapter of the World Affairs Council and held at UC Davis School of Law on Wednesday evening. The event was also co-sponsored by the California International Law Center (CILC) and the students of the King Hall International Law Association. I had the pleasure of introducing the Congressman to the audience.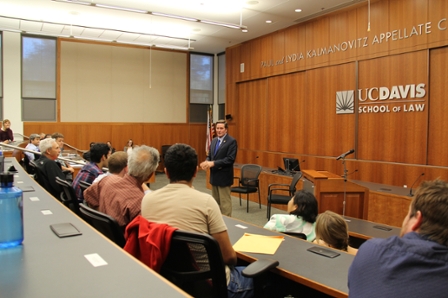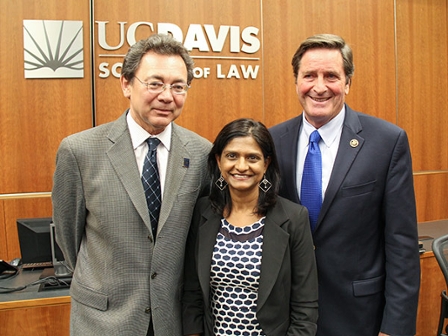 Me, Senior Associate Dean Madhavi Sunder, and Congressman John Garamendi
A member of the House Armed Services Committee, Congressman Garamendi was very generous with his time, answering many audience questions on foreign policy issues ranging from the Trans-Pacific Partnership (he's against it) to the Iran nuclear deal (he's for it). He also discussed terrorism and international human rights. A former Deputy Secretary of the Interior, he also spoke about his opposition to oil drilling in the Arctic. He was very encouraging of our students who wish to practice international law!
After his talk, he chatted with members of the audience including our own Professor Karima Bennoune, who gave him a copy of her book Your Fatwa Does Not Apply Here, nonfiction winner of the Dayton Literary Peace Prize.
You can read more about the Congressman's remarks in the Fairfield Daily Republic and on the Law School website.
Thanks to Congressman Garamendi for visiting UC Davis School of Law!
---
Posted By Kevin R. Johnson, Aug 28, 2015
The first full week of classes has come to a close. It was an eventful week at the School of Law!
Some highlights:
Tuesday – Our 50th anniversary cake-cutting at King Hall.
See the more photos on Facebook. Our event also received coverage in The Davis Enterprise!
Thursday – Members of the State Assembly, including King Hall alumni Luis Alejo '01 and James Gallagher '07, presented the School of Law with a resolution recognizing our 50th anniversary. Read the story on our website.
Today – Leading scholars from across the region visited King Hall for the Northern California International Law Scholars Works-in-Progress workshop. The participants discussed and debated articles from top scholars, including our own Professor William S. Dodge. Thanks to Professor Anupam Chander, Director of our California International Law Center, for inviting me to deliver welcome remarks this morning.
It was a great first week of the 2015-2016 academic year!
---
Posted By Kevin R. Johnson, Aug 27, 2015
Last night, I visited the California Court of Appeals in Sacramento for the orientation of new members of the Schwartz/Levi Inn of Court. 
The Inn, which has been affiliated with UC Davis School of Law since its formation in the early 1990s, is a group of lawyers, judges, and UC Davis School of Law faculty and students who meet monthly to eat dinner and discuss topical legal issues.  We had a stellar group of third-year law students at the orientation.  Inn President Judge Emily Vasquez welcomed them and told the group just how impressed the membership committee was with their credentials, achievements, and ambition.  A number of King Hall alums were also in attendance, including Justice Kathleen Butz '81 (past Inn President) and new members Lee Seale '01 and Diana Glick '07. 
As always, I was proud of our students and alums and happy to be around a supportive group of friends of UC Davis School of Law!