Posted By Kevin R. Johnson, Feb 27, 2017
Former Cal Bears men's basketball player Brenden Glapion is headed to law school next year.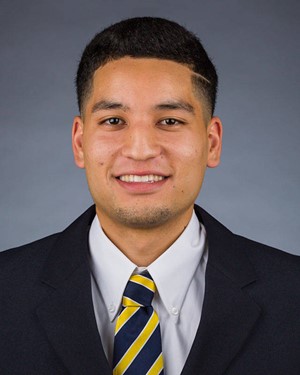 I visited Brenden before the recent Cal/Oregon State basketball game to talk to him about UC Davis School of Law. He has been admitted to King Hall and is seriously considering becoming a part of our community. After we talked, Brenden introduced me to his old coach, Cuonzo Martin.  

Meeting Cuonzo Martin, head coach of the University of California Golden Bears men's basketball program
As a season ticket holder, I enjoyed talking basketball, law school, and the University of California with Coach Martin. He seemed insistent that his Cal Bears would be invited to the "March Madness," the NCAA tournament.   Coach Martin also told Brenden that he should think hard about attending UC Davis, especially because the dean came out to recruit him!
It was a fun visit and Cal beat the Oregon State Beavers, to cap off a nice visit to Berkeley.  Hopefully, we can convince Brenden Glapion to come to UC Davis!
---
Posted By Kevin R. Johnson, Feb 23, 2017
Earlier this week, I returned to Barrows Hall on the UC Berkeley campus where I had taken classes as an undergraduate many years ago.  The Latino Pre-Law Students of UC Berkeley invited me to talk about UC Davis School of Law, the law school application process, and life as a lawyer.  It was a delightful group of enthusiastic students, including an alum of our King Hall Outreach program Luz Murillo (who coincidentally hails from Esparto in Yolo County).  I greatly enjoyed telling the group about the legacy of Dr. Martin Luther King Jr., at King Hall, the origins of the King statue, and the unique sense of community that students, faculty, staff, and alums have created at King Hall. The students had excellent questions about law school, the application process, and the practice of law. I left the evening impressed with these great students.  The group plans to visit King Hall in April.
To top off a wonderful night, I stopped by my favorite hot dog place in the world, Top Dog, and enjoyed a tasty meal.
---
Posted By Kevin R. Johnson, Feb 23, 2017
It was just another day in paradise for the King Hall alums who met for lunch with me at the upscale Puesto restaurant on the San Diego waterfront. For me, however, it was a wonderful relief from the rain we had been seeing for several days in Davis.

Blue skies over Puesto restaurant

The restaurant printed welcome messages for alums on its menu.
I greatly enjoyed talking with our alums, including a Robert Brownlie '88, a high powered litigator at DLA Piper.  I also caught up with my former research assistant Serena Salinas '12, Josefina Carrillo '06, Mike Van Horne '75 (a former King Hall alumni board member), Jeremy Warren '95, Calvin Fan '95, Mike Wexler '73, Sandra Chong '99, and Michelle Betancourt '01. Alumni Board member Jose Castillo '06 (January's Alum of the Month) helped organize the event and ensured that we had the tastiest tacos in town.
I was able to fill the group in on the great things happening at their King Hall, including the outpouring of support for immigrants in need.  I also told them about our stellar students, amazing faculty, and dedicated alums. It always is exhilarating to see the pride in our alums' eyes as I relay the news.  
It always is great feeling the enthusiasm and support of UC Davis School of Law alums.  They remain vibrant parts of our community.