Posted By Kevin R. Johnson, May 26, 2016
Our alum Dan Torres '02, Governor Jerry Brown's Director is Immigrant Integration invited me to the State Capitol today to comment on a report by the National Academies of Sciences, Engineering, and Medicine on the integration of immigrants in the United States.  You can read the study here.  I was pleased to discuss the subject, which is a hot-button, cutting-edge civil rights issue.  Governor Brown's Council Room, with a bronze California Brown Bear in front, was the setting of the panel discussion. 

The bear stands guard in front of the Governor's office.

From my viewpoint. Dan Torres '02 makes opening comments.
Many state and local government officials were in attendance. 
It is always nice to see how impactful our King Hall alums are.  Thanks to Dan for the opportunity!
---
Posted By Kevin R. Johnson, May 23, 2016
UC Davis School of Law held a wonderful alumni/admitted students reception in Southern California last week. The setting was the Screen Actors Guild (SAG-AFTRA) offices in Los Angeles.
Three King Hall faithful -- Duncan Crabtree-Ireland '98, Chief Operating Officer and General Counsel; Delia Aparicio '06, one of my former research assistants; and Evan Sherman '09 -- along with SAG-AFTRA attorneys hosted an extraordinary event.  We had a great group of alums from the greater Los Angeles area and admitted students from UCLA, UC Berkeley, UCSB, the Air Force Academy, and many more great schools.  
I enjoyed seeing the movie-themed art throughout the SAG-AFTRA office.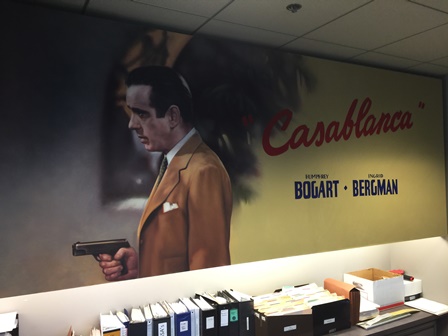 One of my favorites!

An amazing collage of movie scenes
It was a warm and wonderful evening that reminded us all of just how special the King Hall community is.
(BTW, the day started off on a special note. California Governor Jerry Brown was on the flight with us from Sacramento to Los Angeles!)
---
Posted By Kevin R. Johnson, May 17, 2016
Cross-posted from Immigration Prof Blog.
UC Davis School of Law was proud to have Congressman John Lewis, an iconic leader of the 1960s Civil Rights movement who has remained at the vanguard of progressive social movements throughout his long career, deliver the Commencement Address for the graduating UC Davis School of Law Class of 2016.

Congressman Lewis and me in front of King Hall
Lewis, who has served as U.S. Representative for Georgia's Fifth Congressional District since 1986, is considered one of the "Big Six" leaders of the Civil Rights movement. Born in 1940 to Alabama sharecropper parents, he was inspired by Dr. Martin Luther King, Jr. and the Montgomery Bus boycott to join the fight against segregation. Since that time, he has dedicated his life and career to civil rights and social equality activism.

Shooting a portrait with Acting Chancellor Ralph J. Hexter before the ceremony
Congressman Lewis was generous with his time, having breakfast with African-American alumni, faculty, students, and friends of UC Davis School of Law.  He gave an inspirational talk at the breakfast about the long struggle for civil rights in America and how he had made "good trouble" in seeking to move the nation in the right directions.  He mentioned that he had been arrested for civil disobedience in protesting for the passage of comprehensive immigration reform, which he sees as a new and important civil rights issue. 
Congressman Lewis delivered a stirring commencement address, which can be viewed on-line here. See a photo gallery here.