Posted By Kevin R. Johnson, Aug 19, 2019
Professor Chris Elmendorf, second from left, chats with students at the 1L Welcome Barbecue.
Welcome to the Class of 2022, transfer students, international students and visiting scholars, and LL.M. students from around the world.  And welcome back to our second- and third-year students, and continuing LL.M. students, and our faculty, all energized by a productive summer recess.
As we embark on a new academic year, UC Davis School of Law remains committed to academic excellence and upholding the ideals of Dr. Martin Luther King Jr.  Leading the way is our outstanding majority-minority faculty, which exemplifies our deep and enduring commitment to diversity and excellence.  Besides moving up in the U.S. News rankings, UC Davis Law ranks No. 2 on National Jurist's list of "Most Diverse Law Schools," and made The Princeton Review's top-10 lists for faculty diversity and resources for women and minority students.
Class of 2022:  Excellence, Diversity and Community
The Class of 2022, like last year's, is of the highest academic quality, with a 162 median LSAT score and 3.6+ median GPA.  Students hail from Brown, Princeton, Columbia, Penn, all the UC campuses, and many other top tier universities.  The Class is the most diverse in the law school's history.  Students of color compose 57 percent of the class, and women make up 58 percent.  A quarter of the students are the first in their families to graduate from college.  About 40 percent will receive need-based aid.  Nine students are alumni of the King Hall Outreach Program, an award-winning program that prepares socioeconomically disadvantaged and first-generation students for the highly competitive law school admissions process.  The extraordinary Class of 2022 includes ten military veterans, three Division I athletes, and students who have worked as teachers, in precious metals trading, in the artificial intelligence technology industry, with FEMA, and with the United Nations High Commissioner for Refugees, the Peace Corp (Liberia) and the United Farm Workers Foundation.
As explained in the attached FAQ, the Class of 2022 is larger than last year's class.  Despite making fewer offers of admission, our acceptance rate increased by 12%.  The uptick in our U.S. News ranking, as well as earlier notification of admission and financial aid decisions, no doubt contributed to our resounding admission success.
We have adjusted the first-year sections to accommodate the 1L class.  This includes adding (1) two legal writing instructors; (2) an extra tutor for most of the first year classes; (3) a small section in the spring; and (4) a tutor to the Academic Success Program to assist with workshops and individual meetings.
We also welcome 38 new students in our Master of Laws class.  The students come from Brazil, China, Colombia, Egypt, Indonesia, Italy, Japan, Kazakhstan, Korea, Pakistan, Poland, Saudi Arabia, United Arab Emirates, and Uzbekistan.  They join 19 continuing LL.M. students.
Faculty News
We are delighted to welcome our new law faculty.  
Professor Stacy-Ann Elvy arrives from New York Law School, where she was a professor of law and associate director of the Center for Business and Financial Law.  Her scholarship, which has been published in the nation's leading law reviews, focuses on the commercial law of privacy and its relationship to emerging technology and human rights.  She holds a J.D. from Harvard Law School and a B.S. from Cornell.  This year, Professor Elvy will teach Civil Procedure, Commercial Law, and Privacy, Technology & the Law.
Professor Karrigan Börk, a scholar in environmental and natural resources law, previously taught at the University of the Pacific's McGeorge School of Law and Department of Earth and Environmental Sciences.  He has taught environmental classes at UC Davis and is returning to the campus where he completed his Ph.D. in ecology.  Professor Börk, who holds a J.D. from Stanford Law School, this year will teach Property and Water Law.
This year, to ensure that we are able to meet our curricular needs, the law school will search for two additional tenure-track faculty members.  Law students, of course, will participate in the search process.
Expanding our Legal Research and Writing Program, the law school added instructors Clarisa Sudarma '12, a Solano County deputy county counsel, and Lisa Klotz, a longtime UC Davis undergraduate writing instructor.
On a somber note, the law school this summer hosted a celebration of the life of founding faculty member Floyd Feeney.  Scores of family, friends, faculty, and students attended the uplifting celebration of the life of a King Hall legend.
Assistant Dean for Student Affairs
Emily Scivoletto joins UC Davis Law as senior assistant dean for student affairs.  She previously served in the same general position at UCLA School of Law, overseeing student affairs management, diversity and inclusion, curriculum and pedagogy, and student academic success.  A few years back, Dean Scivoletto served as UC Davis Law's inaugural director of Academic Success.  She holds a J.D. from McGeorge School of Law, a master's from Sacramento State, and a B.A. from UC Irvine.
Fundraising Success:  More Fellowships, Scholarships, and Hammocks
Development has had a stunning start to the 2019/20 fiscal year, raising more than $1.15 million in July alone for the Immigration Law Clinic to fund attorney fellowships and further serve immigrants.  Last year's development success – nearly $2 million in total funds – made possible the award of scholarships of more than $360,000 to 71 students.  The Class of 2019 helped bring hammocks to King Hall – you can find them on the arboretum side of the building.
UC President Janet Napolitano informed us this summer that the UC Office of the President will continue funding the UC Presidential Public Service Fellows program.  With the support of the program, students have recently worked at the ACLU Immigrants' Rights Project, South Texas Pro Bono Asylum Representation Project (ProBAR), Federal Defender (Eastern District of California), Legal Services of Northern California (LSNC), and many other prestigious public service employers.
Securing Employment
More than 70 percent of the Class of 2019 already has secured jobs, an increase from the Class of 2018 at the same time last year.  More than 110 employers, an increase from last year, are participating in the law school's On-Campus Interviewing and resume-collection programs.  Many firms will attend the Small and Midsize Firm Fair and Government and Public Interest Jobs Fair.
Career Services is making changes to increase student services.  Associate Director Lisa Carlock moved from a half-time to a full-time position, and the office is in the process of hiring another counselor for students interested in public interest and government employment.
LRAP
For the past several years, the law school committee of faculty, administrators, students, and alumni have engaged in a process of updating and making financially sustainable the Loan Repayment Assistance Program (LRAP).  We want to ensure that the school supports our current students with adequate financial aid while also assisting our alums pursuing public service careers.  Several years ago, the law school released a proposed revised program and received faculty, student, staff, and alumni input; the proposal has been revised to respond to the comments.  A reform proposal approved by our LRAP committee will be made available in the coming weeks.  A town hall will be scheduled in the fall to discuss the proposal.
New Courses
We have added new courses to the schedule:  Business Fundamentals for Lawyers; Child Welfare and Dependency Externship; Comparative Study of Forced Migration; Corporate Responsibility: Case Studies in (Un)Ethical Leadership; Farmworkers and the Law; Implicit Bias and the Law; Law and Sexual Assault; National Security Law; Privacy, Technology and the Law; and Representing Spanish-Speaking Clients.
Upcoming Events
Sept. 18:
Central Valley Foundation/James B. McClatchy Lecture on the First
Amendment, with Annette Gordon-Reed, Charles Warren Professor of American Legal History, Harvard Law School.
Sept. 25: The 26th Capitol Reception at the Golden One Center for first-year students,
            alumni, and faculty.
Oct. 24: Small and Midsize Firm Jobs Fair.
Nov. 6: Edward L. Barrett Jr. Lecture on Constitutional Law, with Michele Bratcher
Goodwin, Chancellor's Professor of Law, UC Irvine School of Law.
Nov. 14: Public Interest and Government Jobs Fair.
****
I am looking forward to a great year!
---
Posted By Kevin R. Johnson, Aug 19, 2019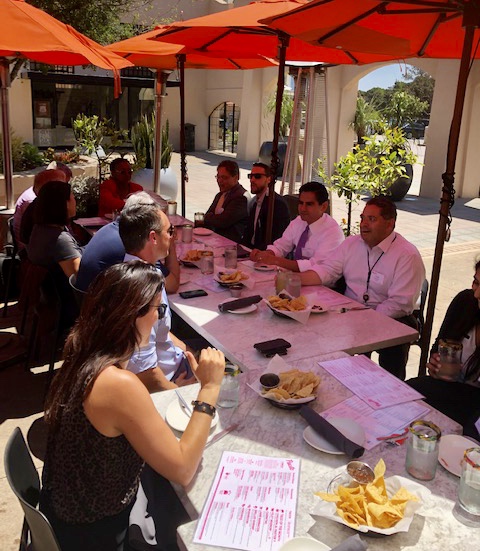 We had a great alumni lunch at the elegant Puesto's restaurant on the waterfront in San Diego.  With the help of Alumni Board member Jose Castillo '06, we had an enthusiastic group of King Hall alums in attendance, including Mike Van Horne '75, Sean Ponist '99, Michele Betancourt '01, Eric Olah '13, Susan Acquista '07, Charlie Arguello '91, Jeremy Warren '95, and many more.  Once again, I was able to brag about the amazing incoming Class of 2022, the $1 million plus gift for the Immigration Law Clinic, and our amazing majority-minority faculty.
Executive Director of Development and Alumni Relations Karen Charney and Assistant Dean for Career Services Craig Compton also traveled to beautiful San Diego to enjoy the 70 degree weather, which was a bit cooler than that in Davis.
---
Posted By Kevin R. Johnson, Aug 16, 2019
During the 2019 ABA Annual Meeting in San Francisco I participated on a panel "Suppressing Public Protests in America: Do Free Speech and Free Assembly Matter Anymore?"
Below you can find my full remarks from the August 9 meeting:
Free Speech on College Campuses
Free speech has long been an issue on the nation's university campuses.  The Free Speech Movement across the Bay at UC Berkeley in the 1960s made international news.  Revered in many corners, the movement today holds iconic status in the national imagination.  In essence, students challenging the Vietnam War took to the streets en masse and demanded respect for their First Amendment rights.  In Berkeley, that literally meant resistance to tanks on Telegraph Avenue.
Free speech again is a hot issue on college campuses today.  The most controversial speakers on campuses today – at least those attracting national attention – often, but not always, have been conservative.  Violence, including recently in Berkeley, has resulted in a number of instances as conflict between warring political ideologies hit a fever pitch.  Protests and counter protests in Charlottesville in 2017 in response to the removal of statues honoring Confederate soldiers show the potential for violence, tragedy, and chaos.
Today, the costs of ensuring safety of the campus community – of facilitating free speech – can be formidable.  For example in 2017, UC Berkeley was to be the site of a conservative Free Speech Week, featuring among others, Milo Yiannopoulos, a controversial and to many offensive, conservative speaker.  A student group organized the event. 
Although the students ultimately decided to cancel this week of conservative speakers, UC President Janet Napolitano promised that the central Office of the President would help UC Berkeley with the costs of security, which would likely have amounted to hundreds of thousands of dollars.  As Napolitano emphasized, "It's a cost that the university is bearing to protect the speakers but also to protect the value of free speech."  Some object to public monies being spent in this way or at least think that there should be limits on the expenditures.
As this event suggests, free speech on campus raises a complicated set of issues.  Erwin Chemerinsky and Howard Gillman's book Free Speech on Campus (2017) speaks to these issues, falling squarely on the side of a robust conception of free speech and a narrow view of what kind of expression can be restricted.  
College administrators, especially at a public university, have a variety of practical issues to consider when it comes to free speech, public protest, and conflict between angry students and members of the community.  I can speak with some experience on those issues, having chaired two campus committees of faculty, staff, students, and campus leaders seeking to address freedom of expression issues on the UC Davis campus.  Much of the time was spent on educating the committee on the speech protections of the First Amendment, as interpreted and applied by the U.S. Supreme Court.  The education included discussing the constitutional protections for speech, the obligation of the prohibition of the university as a public entity to not discriminate based on the content of speech, and the university having the authority under Supreme Court decisions to engage in reasonable time, place, and manner regulations of speech.  Two of the recurring issues of discussion on those committees were (1) opponents of a speaker disrupting events involving people whose ideas they oppose; and (2) a desire to regulate "hate speech" directed at people of color.
To give an idea of the complexities, consider some of the players in the free speech debates:
            Free Speech Advocates encourage free expression and create places for the robust exchange of ideas.  In my experience, few campus administrators would disagree.  Many of the administrators are children of the 1960s and experienced a time when government and universities sought to stifle dissent.
            Proponents of Hate Speech:  A group of students, including many students of color, on campuses call for bans on "hate speech."  Such regulations face formidable First Amendment challenges, including, most fundamentally, how to objectively and clearly define "hate speech."  As a result, enforcement of some kind of hate speech code would be challenging.  At the same time, universities have an obligation to ensure a supportive learning environment for all students, including minority students who are underrepresented at the university.  
            University Administrators:  Besides protecting freedom of expression, Universities have an obligation to ensure the safety and security of the students.  Parents of our students understand and take this obligation most seriously.  Whether we like it or not, in the political climate in which we live today, some speakers may spur violent resistance.  Preparation to protect student safety is critically important. 
I tend to see campuses as more tolerant of free speech than critics proclaiming that free speech at our universities is in "crisis" and that conservative voices are stifled.  Still, we have seen, and will see, sporadic free speech controversies. 
To this point, I have not talked about academic freedom for professors.  But such freedom can at times generate controversy.  The latest academic freedom fracas involves Professor Amy Wax of the University of Pennsylvania Law School.  More than 1,000 people, including many Penn Law students and alumni, signed a petition calling for Professor Wax to be relieved of her teaching duties or fired.  The outcry comes after she reportedly told attendees at the National Conservatism Conference that the United States should favor immigration from Western nations over all others.  (She previously sparked controversy by claiming that she never saw an African American student at Penn Law who excelled academically.).  Although Professor Wax is not an immigration scholar, she attributed an increase in litter to immigrants and opined that the country would be "better off" with more white immigrants.  President Trump at various times has said basically the same things. 
In addition to the demand that Professor Wax no longer teach at Penn, the petitioners demanded the school to denounce her comments and hire more minority professors.    The dean of Penn Law released a statement saying that Professor Wax did not speak for the school and criticized her views.  
Free Expression in Immigration
Another area in which free expression has recently arisen is immigration.  One of the most exciting social justice movements in recent years has been the immigrant rights movement.  Undocumented immigrants, particularly young people, have become increasingly politically active.  The recent spate of activity could be seen as beginning in 2006, with mass marches in cities across the country protesting a tough immigration bill passed by the House of Representatives. 
The DREAMer movement has grabbed the national imagination and transformed the nature of the current debate over immigration.  Rather than residing "in the shadows," many young Dreamers have been active in protests and political activity for immigration reform.
There long has been debate about the free speech rights of immigrants.  Do undocumented immigrants have the same free speech rights as U.S. citizens?  Can they be removed from the United States for political speech?  We have a history of deporting politically unpopular legal immigrants, such as communists, anarchists, and today "terrorists," which can include noncitizens who provide money to certain designated political groups.  The immigration laws broadly define "terrorist activity."  More generally, parts of our immigration laws continue to be in tension with the First Amendment.
There also have been claims of selective enforcement of the immigration laws to punish political dissidents.  Last year, after being taken into custody by Immigration and Customs Enforcement (ICE), Ravi Ragbir was ordered released by the courts, following an outcry from elected officials, advocacy groups, and others.  The U.S. Court of Appeals for the Second Circuit ruled that Ragbir cannot be deported for now because it is possible ICE tried to silence his immigration advocacy by deporting him.  
Claims have been made that the Trump administration has more generally used the deportation laws to remove politically active immigrants, including DACA activists.  The Supreme Court has held that the U.S. government has broad discretion in deciding which immigrants to remove from the United States.  In Reno v. Am.-Arab Anti-Discrimination Comm. (1999), the Court rejected a claim that the INS was selectively enforcing the immigration laws against them in violation of their First and Fifth Amendment rights.  The noncitizens had given money and distributed leaflets endorsing "terrorist organizations" and leafletting.  The Court would "not rule out the possibility of a rare case in which the alleged basis of discrimination is so outrageous" that it might appropriately be considered.  However, "[w]hen an alien's continuing presence in this country is in violation of the immigration laws, the Government does not offend the Constitution by deporting him for the additional reason that it believes him to be a member of an organization that supports terrorist activity."
****
On college campuses and in our political sphere, free speech is a subject of fervent debate and controversy.  That long has been the case in U.S. history and will not likely change anytime soon.