Posted By Kevin R. Johnson, Sep 20, 2017
Yesterday, King Hall students and faculty had the opportunity to hear from Dr. Mindy Romero, Founder and Director of the California Civic Engagement Project (CCEP), in a lunchtime talk presented by the Aoki Center for Critical Race and Nation Studies. (You can view slides of the presentation here , courtesy of Dr. Romero.)
I stopped by to say hello to Mindy (our daughters were once in Girl Scouts together) and listened to her informative talk.  She presented research on our nation's changing demographics and their impacts on recent elections, and looked ahead to the 2018 midterm vote.
Dr. Romero's analysis focused on minority and young voters in the 2016 election. In the presidential election, about a quarter of the eligible voters voted for Donald Trump. The turnout was about the same as the last election. Minority and youth turnout went down from past elections.
Dr. Romero's talk was part of the Aoki Center's excellent Fall 2017 Interdisciplinary Research Seminar Series. Professor Keith Aoki, our colleague who passed away a few years ago, for whom the Aoki Center is named, would have enjoyed the presentation.  He was an elections junkie and loved the political rough-and-tumble.
Next up in the series on Tuesday, September 26 is Professor and former California Supreme Court Justice (and civil rights legend) Professor Cruz Reynoso. See you there!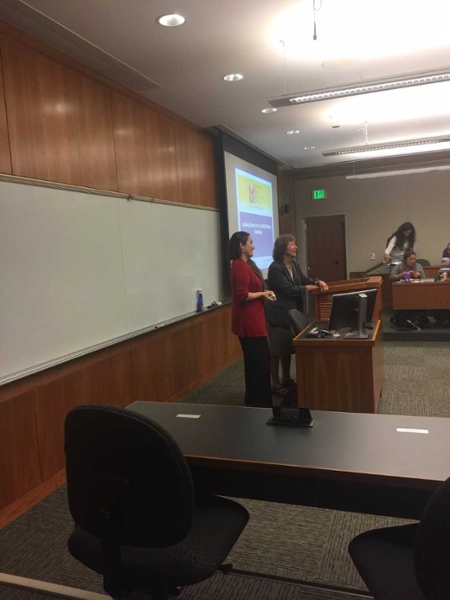 Dr. Mindy Romero and Professor Mary Louise Frampton, Director of the Aoki Center.
---
Posted By Kevin R. Johnson, Sep 19, 2017
It is always wonderful to see former students return "all grown up." Former editor-in-chief of the UC Davis Law Review and now a partner of the international law firm of DLA Piper, David A. Richardson`07, returned to King Hall this week to talk with our students about careers in international law and business.  
David earned his J.D. and B.A. from UC Davis and is a very active alum, with a membership in the Schwartz/Levi Inn of Court and on the Advisory Board for the UC Davis Graduate School of Management Institute for Innovation and Entrepreneurship. He has extensive experience in global mergers and acquisitions and financing transactions, including representing:
·         Clorox in multiple acquisitions
·         AIG, Euclid and Ironshore in more than 100 M&A representations and warranties insurance policy underwritings
·         Telestream, Accruent, Groupon, blinkx and York Risk Services in multiple acquisitions
·         Daintree Networks in its sale to GE
·         Schilling Robotics in its sale to FMC Technologies
·         Coho Data, Glue Networks and BuildingConnected in their equity financings
·         Andreesen Horowitz in multiple financing transactions
·         Advising JDSU in its US$650 million debt offering
David attracted a full house of law students to hear advice, thoughts, and answer questions about careers in the law. I enjoyed catching up with David after his lunch presentation. Our students truly benefit from getting sage advice from our alums. I remember just a few years ago, it seems, David asking many of the same questions that our students were asking him. We are lucky indeed to have so many King Hall alums, like David, willing to give back to our students.
---
Posted By Madhavi Sunder, Sep 14, 2017
On Wednesday, Sept. 13, King Hall hosted the first 2017 meeting of the Schwartz/Levi Inn of Court. It was a festive gathering during which the Inn was recognized with the designation of being a "platinum" status Inn of Court, an honor given to only the top 20 percent of Inns. (Two members of the Inn will travel next month to attend a black tie dinner at the U.S. Supreme Court.)
A new program inaugurated last year by Sacramento Superior Court Commissioner Shama Mesiwala '98 pairs 3L student members of the Inn with local judges as mentors. This month's program committee included 3L students Damian Caravez '18 and Payslie Bowman '18.
I had the pleasure of introducing our King Hall members of the Inn:  Dean Kevin R. Johnson, Senior Assistant Dean for Student Affairs Hollis Kulwin, Professors Alan Brownstein, Rick Frank, Carlton Larson, Barbara Miltner, Cruz Reynoso, Mary Louise Frampton, Camille Pannu, and Kelly Behre, Assistant Dean of Career Services Craig Compton, and Director of the Academic Success Program Chris Ide-Don.
I also introduced this year's student members of the Inn: Payslie Bowman, Damian Caravez, Malcolm Brudigam, Charlyn Pelter, Kritika Thukral, Gavin Deeb, Ben Gevercer, Elizabeth Key, Cameron Goodman, Emily Lahl, Ruth Lindemann, Jason Heath, Bailey McCabe, and Roza Patterson, all of them members of the King Hall Class of 2018.
Law Capella performing with Judge Thadd Blizzard at the Inn's meeting at King Hall.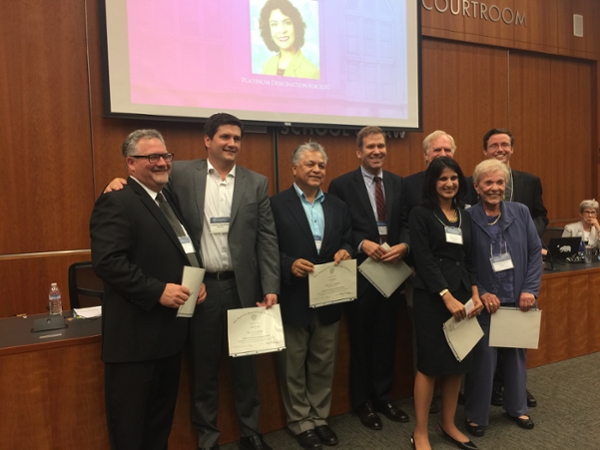 Sacramento Superior Court Commissioner Shama Mesiwala '98 recognizing last year's Inn mentors, including our own Professor Rick Frank.