Posted By Kevin R. Johnson, May 21, 2015
Last night, the UC Davis School of Law held a warm reception for alumni and admitted students at the luxurious Century City offices of the law firm of Greenberg Glusker.  Megan Rivetti '09 hosted the event and allowed me the opportunity to talk about the 2015 commencement (highlighted by the keynote of California Supreme Court Justice Mariano Florentino "Tino" Cuéllar), the stellar 86% bar passage rate of the Class of 2014, and the employment success of the class, the new UC Undocumented Students Legal Services Center, and much more.  It was wonderful to see and hear our alumni talk about the wonders of the King Hall community to admitted students.
The visit was a good reminder that many of the UC Davis School of Law alums end up working in the greater Los Angeles area.  It also was a festive evening of law school alums and possible future members of the King Hall community.
---
Posted By Kevin R. Johnson, May 15, 2015
It's busy around the School of Law today. It's Commencement Day for the Class of 2015!
The day began with the Environment Law Ceremony, where certificates are given to graduating students to recognize their specialization in environmental law. The event was well-attended, with students, their families, and faculty present. Professor Richard Frank did a great job in his remarks.

Professor Frank at the Environmental Law Ceremony
Meanwhile, preparations are underway for today's commencement ceremony at the Mondavi Center, featuring commencement speaker Justice Mariano-Florentino Cuéllar of the California Supreme Court.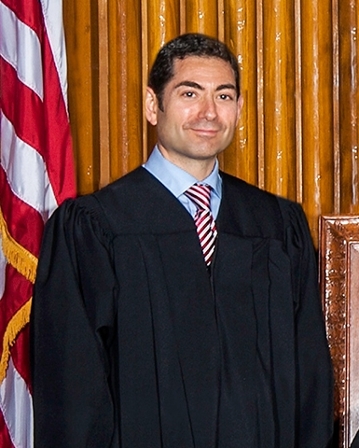 Justice Cuellar
The commencement programs arrived earlier this week. I am looking forward to a great ceremony.
Congratulations to the School of Law Class of 2015!
---
Posted By Kevin R. Johnson, May 7, 2015
I had the pleasure of attending the University of California's National Summit on Undocumented Students in Oakland. 
UC President Janet Napolitano welcomed students, faculty, and administrators from all the UC campuses as well as activists, attorneys, and political leaders. The unprecedented UC event was organized by the UC President's Advisory Council on Undocumented Students, of which I am a member.  The conference participants discussed immigration legal services and support, civic engagement and community involvement, financial aid and support services, and career and professional development.
UC Davis School of Law was well-represented at the conference, with Professor Leticia Saucedo, director of the Immigration Law Clinic, and Maria Blanco, director of the UC Undocumented Students Legal Center, also in attendance.
The students added incredibly energy and urgency to a pressing national public policy issue.  It really was a fruitful set of discussions.