Posted By Madhavi Sunder, Jan 20, 2017
This week the School of Law celebrated the installation of a beautiful and inspiring new mural on the wall of our Clinic cottage. 

Created by UC Davis Professor Maceo Montoya and students enrolled in his Chicana/o Studies Mural Workshop course, the mural honors the social justice work of our clinics, including the Civil Rights Clinic, the Family Protection and Legal Assistance Clinic, the Immigration Law Clinic and the Prison Law Clinic. The idea of honoring the Clinic's work through art arose in my first meeting with Clinic staff and faculty after I became Associate Dean in Summer 2015. Their interest in art that would help tell the stories of our Clinic clients and reflect their journey from helplessness to empowerment resonated with me. As a scholar of law and culture, I study the role of popular culture and the arts in social production and social revolution. As John Dewey reminds us, there is nothing quite like art as a vehicle for offering an intimacy with the lives of people different from ourselves. Art matters for justice, helping to foster empathy and understanding.
When Dean Johnson heard the idea, he immediately contacted Professor Montoya, and Dean Brett Burns paved the way for an exciting partnership between Professor Montoya's undergraduate art students and our Clinic. The art students interviewed Clinic students, staff and faculty, and learned of our Clinic's history and transformative work. The mural is designed in three sections. The left side represents "different aspects of being systematically trapped," according to the artists' statement. In the center is "a scale representative of the justice system" and a depiction of the clinic cottage as "a center of hope and support." On the right, we see images of "liberation": broken chains that emerge into doves, thank-you letters to the clinic, and the word "justice" in different languages.  (To see the full artists' description of the piece, click here .)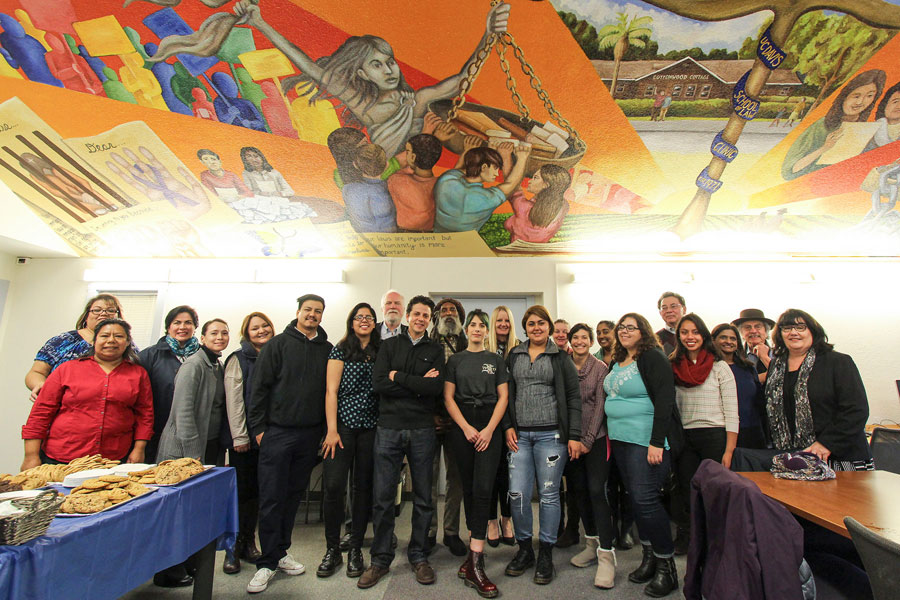 At the installation ceremonies, Dean Johnson (who posted a Dean's Blog entry on the mural in December) thanked Professor Montoya and his students, as well as our wonderful clinical faculty and staff, who were all in attendance--Associate Director of the Immigration Law Clinic Holly S. Cooper '98, Supervising Attorney for the Civil Rights Clinic Carter "Cappy" White, Supervising Attorney for the Prison Law Clinic Millard Murphy, Associate Director of the Immigration Law Clinic Amagda Pérez '91, Director of the Family Law and Protection Clinic Kelly Behre, Paralegal/Law Clinic Coordinator Mary Anne Baird, and clinic staff members Lorie Castillo and Teresa Medina. Also in attendance were Director of Clinical Legal Education Rex Perschbacher, Professor Gabriel "Jack" Chin, Professor Cruz Reynoso, and several other King Hall staff and students.
Professor Montoya spoke of how he and his students gained a deep appreciation for the transformative work being done in our law Clinic.
The beautiful mural he and his students created will surely inspire Clinic students, faculty and staff in many years to come. The art also creates a more welcome space for Clinic clients. "I hope this makes our clients comfortable when they come in," Professor Murphy said of the mural in his remarks. "I hope it continues to remind us of the work we are doing, who we are serving, and continues to inspire our students."
---
Posted By Kevin R. Johnson, Jan 20, 2017
The list of speakers for tomorrow's Women's March in Washington, DC, has been announced, and UC Davis School of Law alumna Sister Simone Campbell '77 is among them.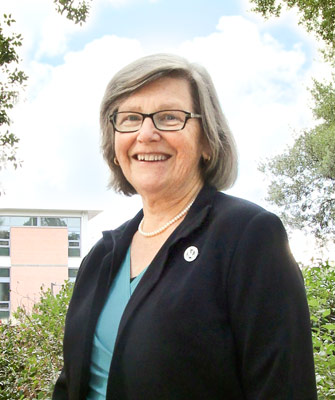 From her profile on the School of Law website: "Sister Simone Campbell '77 is Executive Director of NETWORK, a Roman Catholic social justice lobby based in Washington, D.C. She is also an attorney, poet, author, and lobbyist. She founded the Community Law Center in Oakland, then became General Director of Sisters of Social Service, and went on to serve as Executive Director of the interfaith advocacy group Jericho before assuming her role with NETWORK in 2004. In 2010, Campbell became a national celebrity as a result of the 'Nuns' Letter,' which was written in support of the Affordable Care Act and signed by representatives of 59 congregations of Catholic Sisters. She also drew attention for her leadership of Nuns on the Bus, a NETWORK-organized advocacy tour of the United States. An invited speaker at the 2012 Democratic National Convention, she has also appeared on The Daily Show and Colbert Report, among other media appearances."
See some of her appearances on Colbert here and here.
---
Posted By Kevin R. Johnson, Jan 18, 2017
Dear King Hall community,
As we return to classes following our federal holiday honoring Dr. Martin Luther King, Jr., I hope you will join me in remembering the deep connection between UC Davis School of Law, Dr. King, and his legacy.
Shortly after Dr. King was assassinated in April 1968, students, faculty, and staff petitioned campus administrators to name the law school building after him to honor his memory and dedicate the School of Law to his ideals of social justice and public service. On April 12, 1969, the building was officially christened King Hall in a ceremony presided over by Chief Justice of the United States Earl Warren, who remarked, "Even in the naming of the building, one can sense the high purpose to which its facilities are to be dedicated."
Dr. King's widow, Coretta Scott King, delivered our commencement address in 1981, and his son Martin Luther King III visited King Hall in 1986. The following year, a sculpture of Dr. King by artist Lisa Reinertson was placed in the King Hall lobby, thanks to the efforts of students and alumni.  That statue still graces the entrance of King Hall, alongside a video exhibit devoted to Dr. King.  Several of his famous quotations are displayed on the walls upstairs.  Last year, Congressman John Lewis, a colleague of Dr. King and civil rights icon in his own right, delivered a rousing commencement address on the occasion of the School of Law's 50th anniversary.
Most importantly, UC Davis School of Law has retained its dedication to Dr. King's dream of social justice. We can take pride in the work of our faculty, which so often addresses the most compelling issues of our time, the efforts of our students, who work thousands of hours each year to provide access to justice for the underserved via our King Hall clinics, and our alumni, so many of whom work in public service or devote a portion of their practice to helping those in need. King Hall is truly making a difference in our community, our state, and our world.
I hope you enjoyed a restful and rejuvenating Martin Luther King Day holiday, and I look forward to working together to help realize Dr. King's dream in the months and years to come.
Sincerely,
Kevin R. Johnson
Dean