Posted By Kevin R. Johnson, Feb 17, 2017
I had an experience with direct democracy last night, taking part in Congressman Ami Bera's telephone town hall (aka "teletownhall").  Congressman Bera answered call-in questions during the event.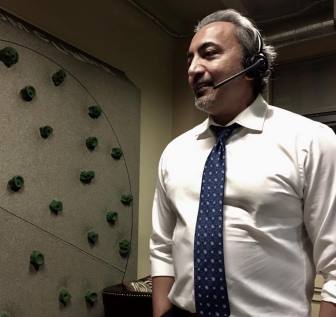 Congressman Bera takes calls from constituents. Courtesy: Twitter @RepBera
The questions were posed by constituents, touching on the Affordable Care Act, Medicare, prescription drug prices, the workings of Congress, executive power, and more.  Congressman Bera was well-versed on the issues and took first dibs on most of the questions.  He directed a few questions to me about President Trump's immigration executive actions, basic separation of powers under the U.S. Constitution, and services that were available through the UC Davis Immigration Law Clinic. 
Fred Riccardi, director of client services for the Medicare Rights Center, also was on the call and took on many of the health care related questions. 
The call was an interesting lens into American democracy at work.  The callers were thoughtful and asked questions important to each of them.  And the answers were thoughtfully presented.
Thanks to Congressman Bera for the opportunity!
---
Posted By Kevin R. Johnson, Feb 17, 2017
This week I traveled to San Francisco to see King Hall alum Rew Ikazaki '87 receive the Distinguished Achievement Award from the UC Davis Graduate School of Management. Rew is Chief Counsel for Tesla, the car manufacturer, and previously worked at Trident Microsystems and Sun Microsystems.
Rew received the award at the GSM's 14th Annual Peer-to-Pier Distinguished Speaker Event at Blue Shield of California's beautiful offices in the financial district in San Francisco.  It was a balmy evening in San Francisco and it was nice catching up with Rew and talking about the upcoming Tesla Model 3 automobile.
Rew mentioned that he enjoyed coming to his law class reunion last October, where he was able to catch up with classmate Professor Lisa Ikemoto.
It also was nice to see Jamie Kitano '09, another joint JD/MBA, at the event in the City by the Bay!
---
Posted By Kevin R. Johnson, Feb 13, 2017
Alum and sports fan Bill Mantle '74 visited Davis this weekend.  Bill, who attended UC Riverside as an undergraduate before coming to King Hall for law school, sat courtside with me and Executive Director of Development Karen Charney at the UC Davis men's 77-63 rout of UC Riverside.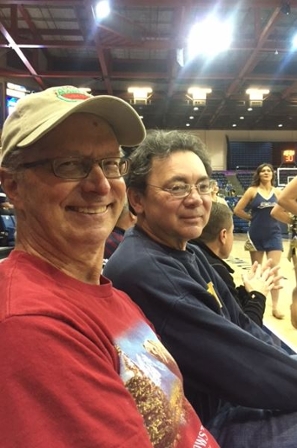 Bill and me as the game gets underway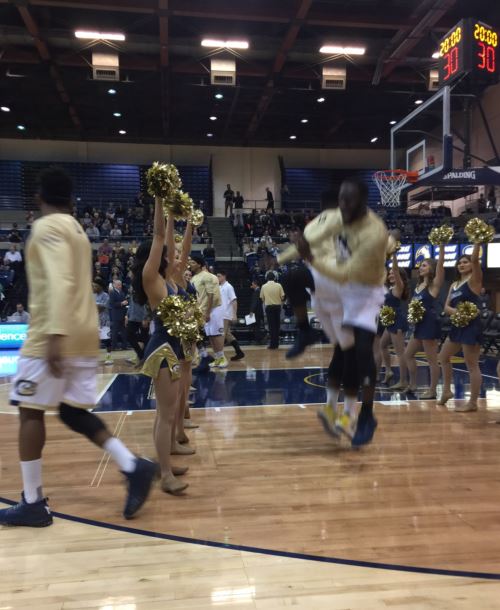 Player introductions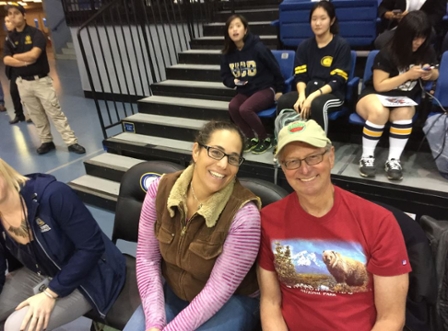 Karen and Bill enjoy the courtside view.
On a perfect day, Bill strolled the UC Davis campus before the game.  An Aggie win was a nice way to cap the day.
I am looking forward to our King Hall Basketball Day at the men's and women's basketball games on February 25.  The men's game will be broadcast on ESPN!  It should be an exciting time for law school faculty, alums, staff, and students.