Posted By Kevin R. Johnson, Jan 21, 2019
Today, as we observe the federal holiday marking what would have been Dr. Martin Luther King Jr.'s 90th birthday, I would like to reaffirm UC Davis School of Law's commitment to Dr. King's social justice mission.
Fifty years ago this April, the Chief Justice of the United States, Earl Warren, helped christen the new UC Davis School of Law building as "Martin Luther King Jr. Hall." The building's name resulted from a petition that students, faculty and staff filed with the campus' administration shortly after Dr. King's assassination in 1968. They sought to honor Dr. King, and signal the law school's commitment to inclusion, education and public service.
The building contains several reminders of the man whose name it carries. They include the sculpture by Lisa Reinertson that graces the lobby, and the quotations from his speeches adorning the walls of the second floor.
But King Hall's tributes to Dr. King's legacy go beyond physical symbols. They exist in UC Davis School of Law's dedication to inclusion, as evidenced in its unique "majority-minority" faculty and national top-10 ranking for student diversity.
The principle of equal opportunity that was so fundamental to Dr. King's message also fuels this law school's programs. Our King Hall Outreach Program (KHOP), for example, helps prepare college students from underrepresented communities for the law school admissions process. This program was created so all qualified students can have access to a top-tier legal education.
By the same token, UC Davis Law emphasizes equal access to justice for all. Our students clock thousands of volunteer hours assisting those who otherwise could not afford counsel. And scores of UC Davis Law alumni have chosen careers in public service. From public defenders and district attorneys to judges and legislators, they enter their careers imbued with the values of King Hall.
The King Hall community can be proud of all it has accomplished in pursuit of Dr. King's dream. Fifty years after the law school building was dedicated, his ideals are still our ideals, and we remain as determined as ever to achieve them.  In these turbulent times, Dr. King's commitment to justice for all resonates as much today as it ever has.
---
Posted By Kevin R. Johnson, Jan 11, 2019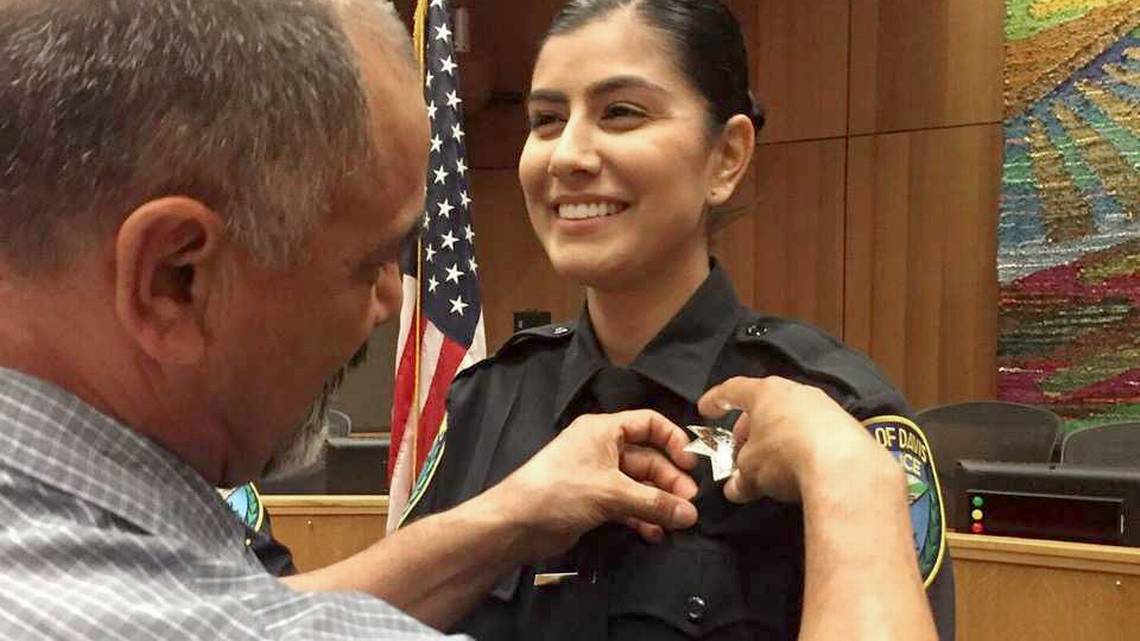 Last night, Jan. 10, the shooting of a City of Davis police officer was followed by a manhunt for the active shooter. A frightening situation for us all, the night ended with the death of 22-year-old Davis police officer Natalie Corona. 
This week has brought devastating news to our community - the passing of Professor Floyd Feeney and now the tragic death of a Davis police officer. In times like these, we must rely on the strength of our King Hall community to sustain us. 
Here are the details known at this time.   
Around 7 p.m. last night, Jan. 10, a Davis police officer responded to a car accident near 5th and D streets. She was then shot at the scene by a suspect in the accident. The shooter fled the scene and police pursued the suspect until an announcement was made that he was found dead from an apparent self-inflicted gunshot wound around 1:30 a.m. in a house near the accident scene. More information about the shooting can be found here from the Sacramento Bee.
During the hours that police were trying to apprehend the suspect, students on campus were instructed to shelter in place. Police officers from the Bay Area rushed to UC Davis to help ensure our students and campus community were safe. 
Last night I know there was a Bar Review scheduled in downtown Davis. I am grateful to our LSA President Max Engel for alerting students of the dangerous situation and canceling the Bar Review. 
We will hold classes as scheduled on Friday (Jan. 11). 
King Hall has a counselor for students - Dr. Margaret Lee - plus additional wellness information. 
Students can also contact Student Health and Counseling Services, and staff should contact the Academic and Staff Assistance Program for counseling or other support.
Chancellor Gary May released a statement last night where he said, "We know our community has been alarmed and afraid while tonight's events unfolded. While we return to our regular schedules on Friday, our thoughts and prayers are with Officer Corona's family. Please keep them in your thoughts as well. In times like this, we are truly grateful for the dedication of those in our community who protect us at any cost." 
The chancellor's full statement is here. 
---
Posted By Kevin R. Johnson, Jan 7, 2019
The 2019 Association of American Law Schools (AALS) annual meeting in New Orleans was full of energy and excitement. And UC Davis School of Law was everywhere!
On Thursday, Jan. 3, Family Protection Clinic Director Kelly Behre moderated a "hot topic panel " on sexual violence.
I arrived in the afternoon of the first day and represented UC Davis as its delegate to the AALS House of Representatives. I then ran into Professors Leticia Saucedo, Carlton Larson, and Brian Soucek. I then poked my head into Dean Afra Afsharipour's session.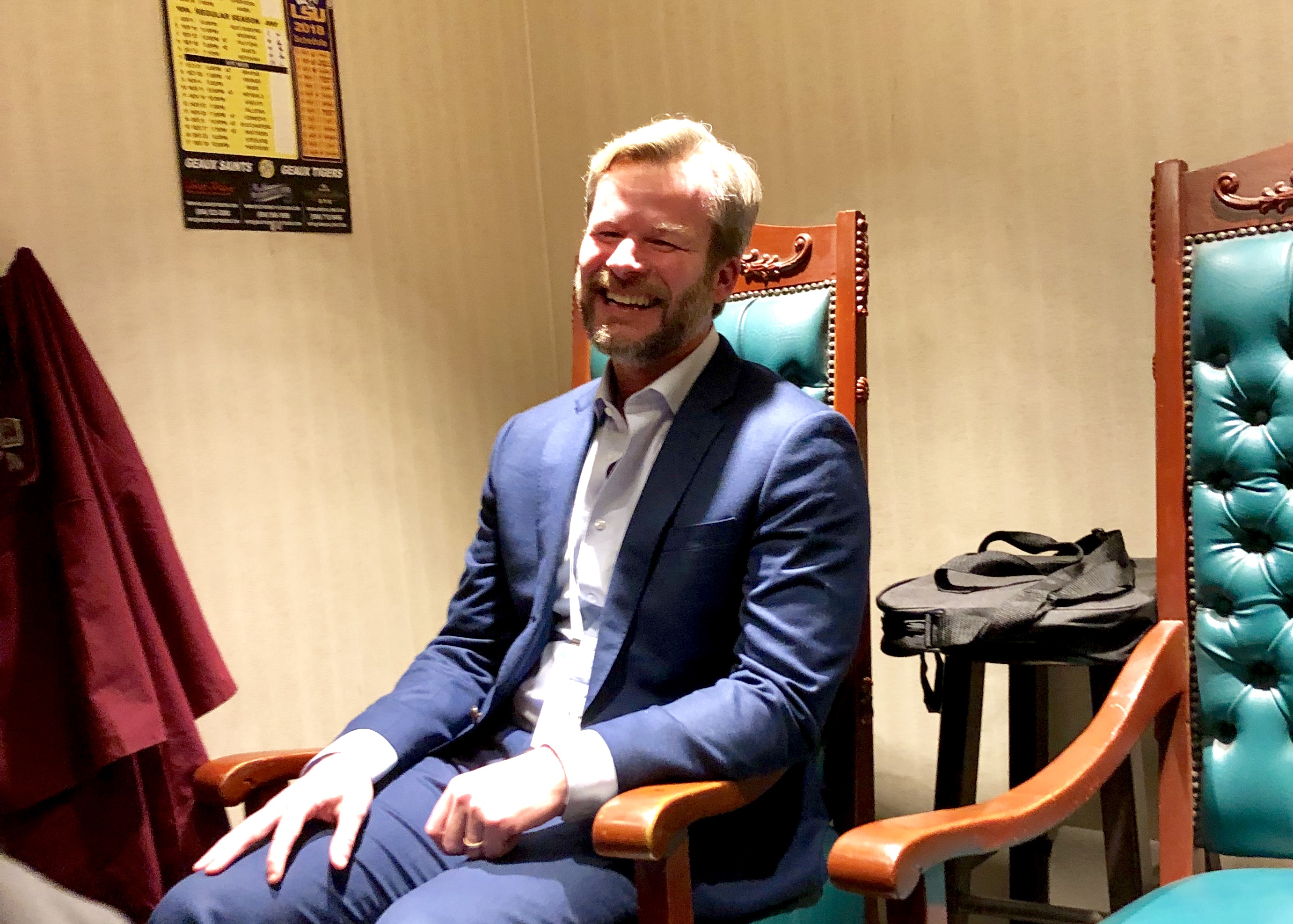 Brian Soucek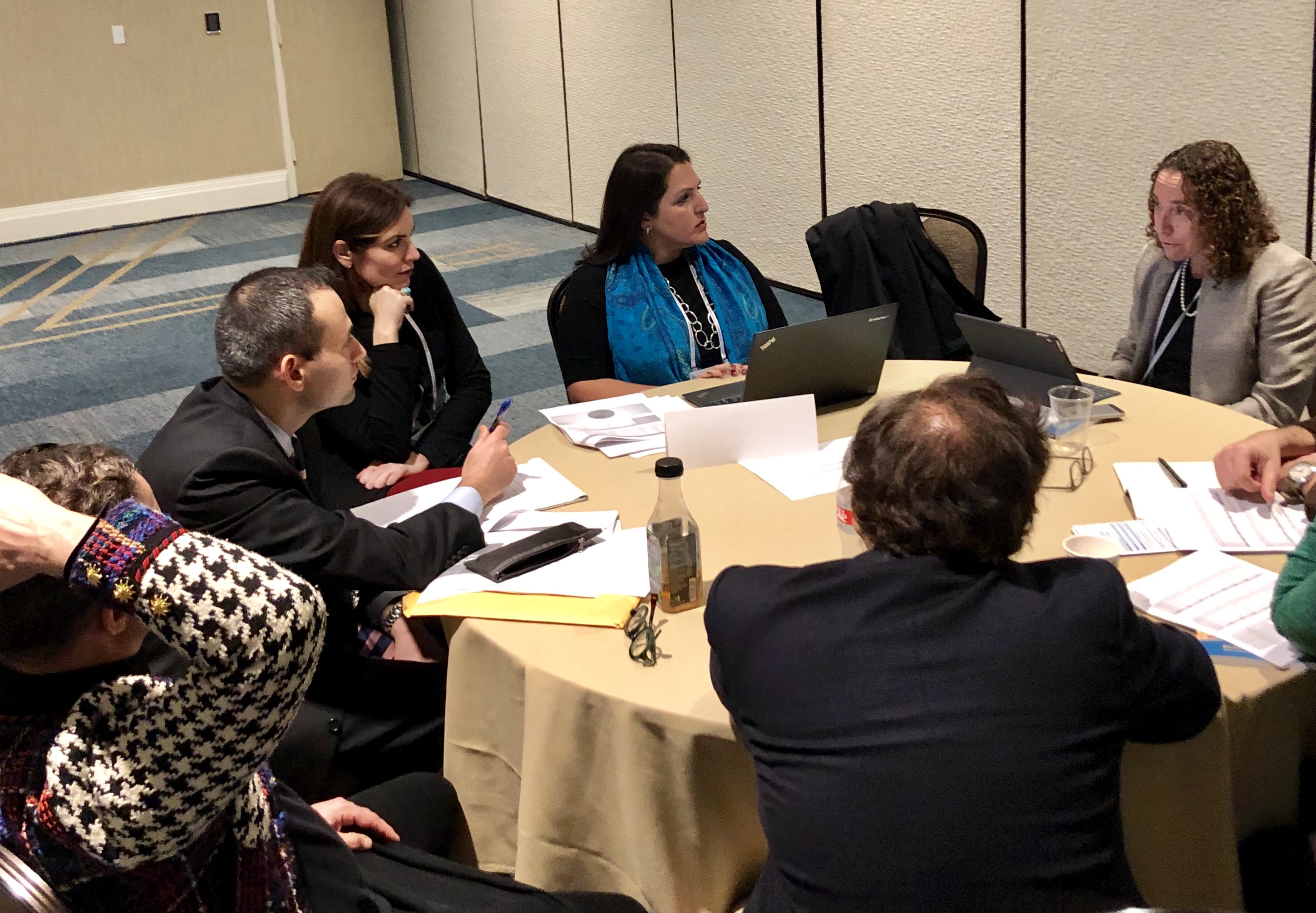 Afra Afsharipour (top right)
The day ended with dinner with former UC Davis Senior Associate Dean and Professor of Law Vik Amar, now dean at the University of Illinois Law School.
AALS Deans Forum Program
On the second day of the meeting, Friday, Jan. 4, I started off the day at the Deans Forum Program: Being a Dean and All That Jazz.
The opening keynote speaker was Mitch Landrieu, former lieutenant governor of Louisiana and mayor of New Orleans. Landrieu, who was mayor when Hurricane Katrina hit in 2005, talked about leadership in times of crisis.
I co-led a group discussion on programs for first generation and nontraditional law students. It was a lively discussion among deans on an important topic.
The Deans Forum included an excellent panel in the use of the GRE for law school admissions. I was able to touch base with one of the panelists, Barry Currier, Managing Director of the American Bar Association Section of Legal Education and Admissions to the Bar, who I had the privilege of working with when I served on the ABA Accreditation Committee. The UC Davis Law faculty last fall decided to accept the GRE in the admissions process.
King Hall community, friends gather in New Orleans
Irene Joe with Shayak Sarkar (far right)
The second day of the AALS national meeting ended on many high notes. UC Davis School of Law co-hosted a reception of the AALS Minority Groups Section in an elegant venue — The Palace — in the French Quarter. Rose Villazor and many other friends were in attendance, including former King Hall faculty member and current Boston University Dean Angela Onwuachi-Willig. I enjoyed talking to faculty members from across the country.
Friends and alums of King Hall got together at a reception at the Hilton. Senior Associate Dean Afra Afsharipour and Professors Donna Shestowsky, Rose Villazor, Leticia Saucedo, Brian Soucek, Irene Joe, Jack Chin, Camille Pannu, Kelly Behre, Shayak Sarkar, and Carlton Larson were in attendance. One of our alums —-Rachel Anderson '09, who practices bankruptcy law in New Orleans, and Akron Law Professor Ryan Holte '08, nominated for the U.S. Court of Federal Claims, were in attendance. We had many AALS leaders in attendance, including former AALS Presidents Rachel Moran (UCLA) and Michael Olivas (Houston), Dean Jim Anaya (Colorado), and Bobby Adieh (Texas A&M).
Great showing by UC Davis on AALS day 3
Day 3 of the meeting kicked off with a wonderful panel on "Rural Access to Justice." Professor Camille Pannu articulated important issues surrounding impediments to ensuring access to justice. Several of the panelists referred to Professor Lisa Pruitt's foundational scholarship in rurality. The panel offered insights on the access-to-justice challenges facing people in rural areas.
Later in the morning, Senior Associate Dean Afra Afsharipour moderated a panel on trade and investment across Asia sponsored by the Sections in Law & South Asian Studies and Comparative Law. I next stopped by the Immigration Law Sections panel on "immigration law values." Professors Rose Villazor and Leticia Saucedo joined me in the session.
One of the highlights of the AALS annual meeting is the Minority Group Sections luncheon. It is a wonderful celebration of the law professors of color. Irene Joe, Rose Villazor, and I represented UC Davis School of Law. One of the speakers was Boston University School of Law Dean Angela Onwuachi-Willig, formerly a professor at King Hall.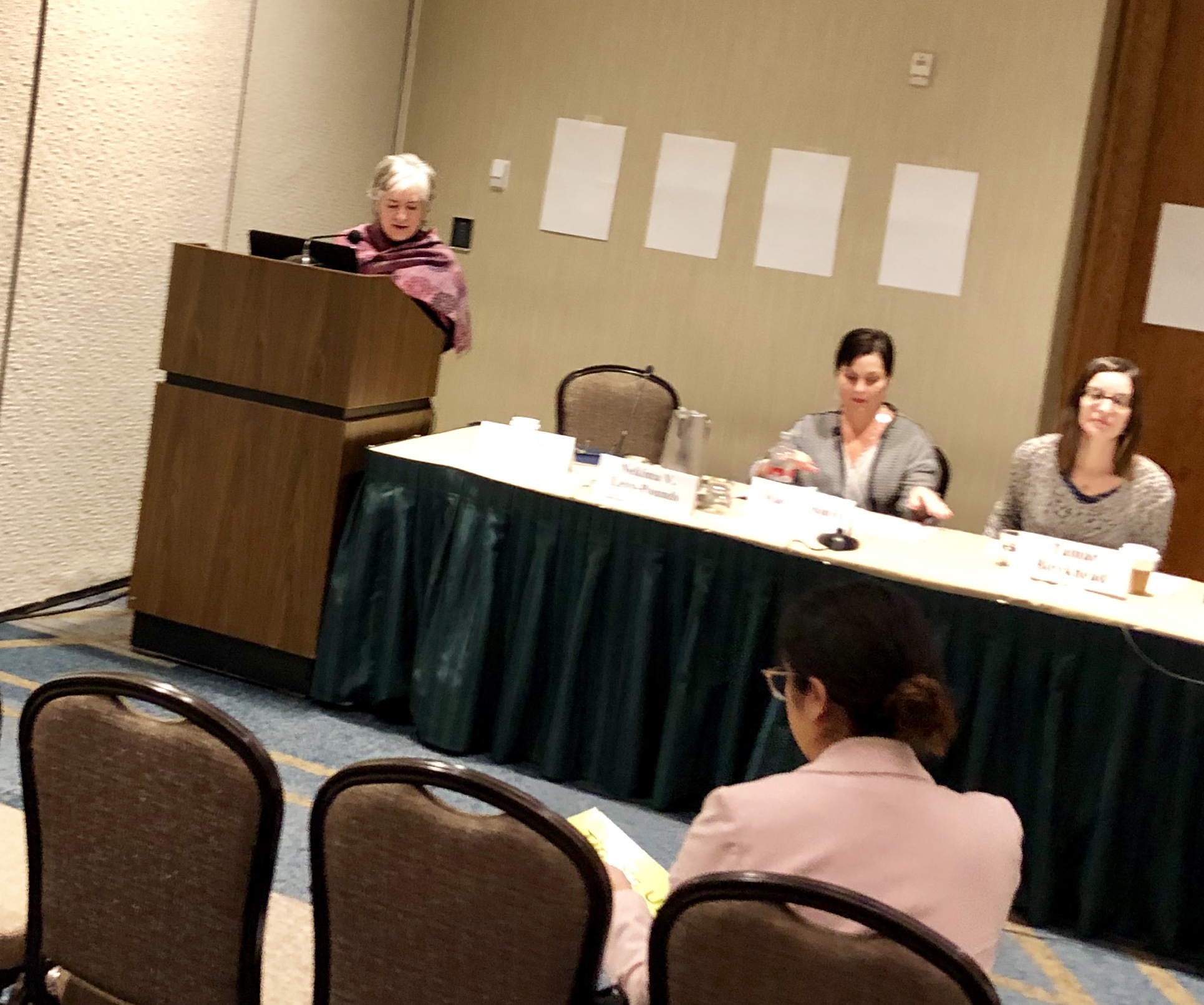 Leticia Saucedo
The afternoon started off with a discussion moderated by Professor Saucedo on the arc of the career of the law professor. The panelists discussed their changing relationships with the legal academy. The panel discussed the attraction of activism to bring about social change.
Later in the afternoon, I went to the New Voices in Immigration Law panel and ran into Professor Jack Chin and to Professor Saucedo.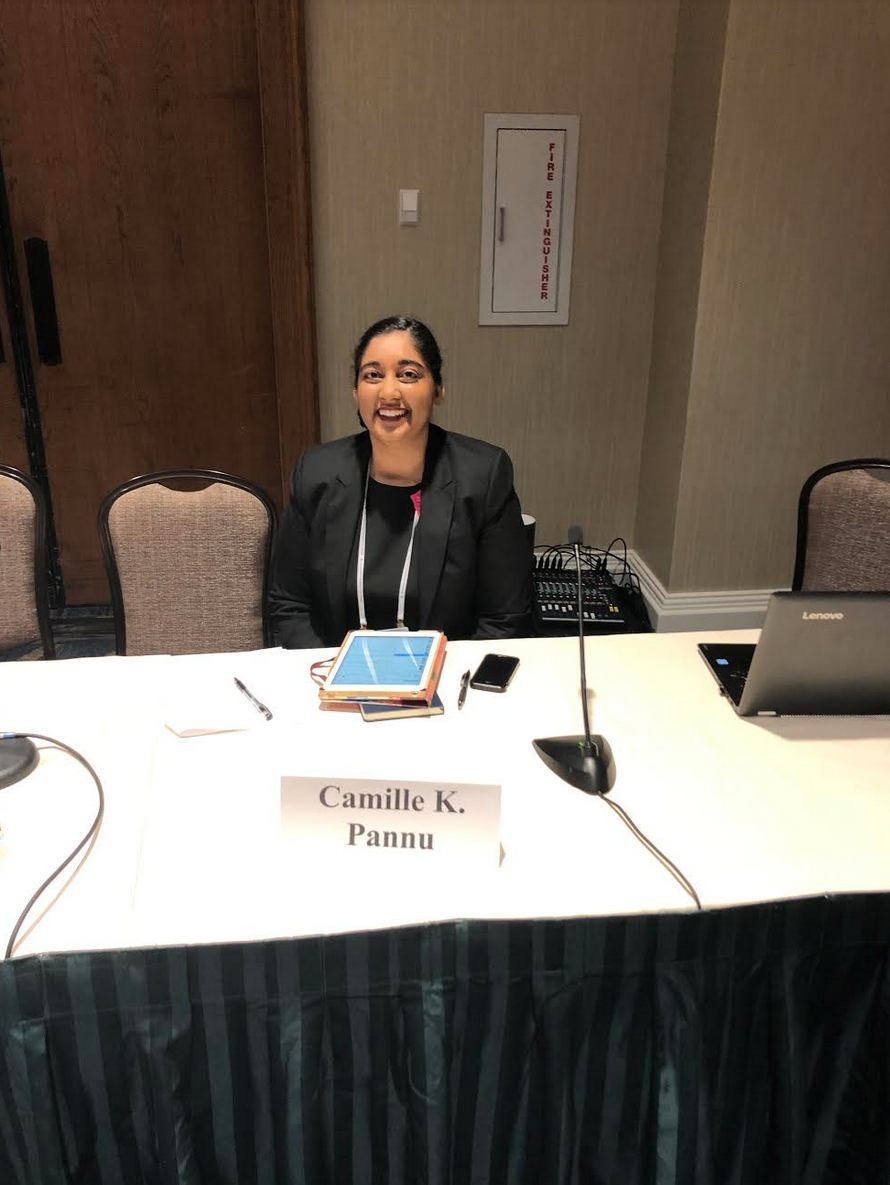 Across the hall, I visited with Professor Pannu before her roundtable discussion of race and privilege in community economic development.
Saturday ended with receptions.  First, I attended a reception for pre-tenured professors of color. I had taught in this AALS program a few years ago. Second, I attended the Latina/o law professors event at nearby Loyola New Orleans law school.  The dinner honored Professor Michael Olivas, former AALS president and the winner this year of a special award from the AALS. Michael has always been a mentor to me, from my days as an untenured professor to being law dean. It was a special night for all in attendance.
The conference ended on Sunday, and it was time to head west. All in all, UC Davis School of Law had a great showing at the 2019 AALS annual meeting.