Racial Justice Speaker Series 2022-23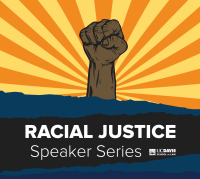 Created in response to the tragic killings by police of George Floyd, Breonna Taylor and others and the widespread protests that followed, UC Davis Law's Racial Justice Speaker Series is now in its third year. Reaffirming the law school's longtime commitment to racial justice, the series invites leading scholars from around the country to explore systemic racism as it pertains to all communities of color and areas of law.  The goals are to inform, enlighten, and - most important - engage in meaningful conversation with our King Hall community and the larger public.
12:15 - 1:15 p.m. Pacific

Leticia Saucedo
Martin Luther King Jr. Professor of Law
UC Davis School of Law
"Banking Access as a Civil Right"
Migrant integration requires full participation of immigrants at all levels, including access to financial services. The Mexican American Legal Defense and Educational Fund (MALDEF) has sued several financial institutions for their failure to provide access to credit and/or membership because of one's alienage or immigration status. Leticia Saucedo, who is currently National Senior Counsel for MALDEF, will discuss the legal strategies and theories used in litigation against banks and credit unions that fail to provide full access to immigrants in California and beyond.
---
12:10 - 1 p.m. Pacific

Rose Cuison-Villazor
Interim Dean, Professor of Law and Chancellor's Social Justice Scholar
Rutgers Law School
"Rewriting Downes v. Bidwell"
Downes v. Bidwell, 182 U.S. 244 (1901), is known as one of the most important of the Insular Cases. In Downes, the Supreme Court held that although Puerto Rico is an unincorporated territory that belongs to the United States, it is nevertheless not part of the "United States." As such, not all parts of the Constitution apply to Puerto Rico.  
 
Downes unabashedly relied on racist views to justify its holding. Specifically, the Supreme Court referred to the people of Puerto Rico as an "alien race[ ], differing from us in religion, customs, laws, methods of taxation, and modes of thought," such that "the administration of government and justice, according to Anglo-Saxon principles, may for a time be impossible."  
 
Using the growing methodology of rewriting Supreme Court opinions to better understand the relationship between constitutional law jurisprudence and racial injustice, this Essay examines what a rewritten Downes v. Bidwell could look like. Part I discusses themes from the original opinion that facilitated racial injustice. Part II examines the contemporary implications of Downes and the Insular Cases. Part III highlights themes that a rewritten opinion may deploy. Finally, the Essay concludes with a rewritten Downes v. Bidwell.  
---
12:10 - 1 p.m. Pacific
Deborah Archer
ACLU President and Professor of Clinical Law
NYU Law
"The Power and Persistence of Racism"
Deborah N. Archer is a Professor of Clinical Law and Co-Faculty Director of the Center on Race, Inequality, and the Law at NYU School of Law and ACLU President.
During this discussion Professor Archer will broadly address racial justice, touching on housing, voting rights, and criminal legal system reform. She is an award-winning teacher and legal scholar whose articles have appeared in leading law reviews. Deborah has also offered commentary for numerous media outlets, including MSNBC, National Public Radio, CBS, Monocle, The Atlantic, and The New York Times.
Deborah is a graduate of Yale Law School, where she was awarded the Charles G. Albom Prize, and Smith College. She previously worked as an attorney with the American Civil Liberties Union and the NAACP Legal Defense and Educational Fund, Inc., where she litigated in the areas of voting rights, employment discrimination, and school desegregation. Deborah is also a former chair of the American Association of Law School's Section on Civil Rights and the Section on Minority Groups. She previously served as Chair of the New York City Civilian Complaint Review Board, the nation's oldest and largest police oversight agency.
This endowed lecture honors the life of Edward L. Barrett Jr., founding dean of UC Davis School of Law and renowned constitutional law scholar.
---
12:10 - 1 p.m. Pacific

Veronica Martinez
Professor of Law
Duke Law
"Building a Culture of Ethical Inclusion"
Corporate firms have long expressed their support of the notion that their organizations should become more demographically diverse, while creating a culture that is inclusive of all members of the firm. These firms have traditionally, however, not been successful at improving demographic diversity and true inclusion within the upper echelons of their organizations. The reality that firms' statements failed to live up to their realities, however, was upended after the #MeToo Movement of 2017 and 2018, which was followed by corporate support of the #BlackLivesMatter Movement in 2020. These two social movements, while distinct in many ways, forced firms to rethink how to approach the status of women and people of color within their organizations. It forced them to ask, yet again, but with renewed energy: "What is the best way to improve diversity and inclusion within firms?" I argue that in addition to pursuing the Business and Legal Cases for diversity when crafting diversity, equity, and inclusion ("DEI") programs, firms should also employ the "Ethics Case," which is necessary for creating a truly inclusive organizational culture.
Veronica Root Martinez joined the Duke Law faculty in 2022 from Notre Dame Law School, where she was a professor of law, the Robert & Marion Short Scholar, and director of the Program on Ethics, Compliance & Inclusion.
Martinez teaches Securities Litigation, Enforcement, & Compliance; Corporate Compliance & Ethics; Global Compliance Survey; Professional Responsibility; and Contracts. Her greatest professional joy is when her Contracts students begin to analyze cases like lawyers.
---
12:10 - 1 p.m. Pacific

Kelly Lytle Hernández
Professor & Thomas E. Lifka Chair of History
UCLA
"Bad Mexicans: Race, Empire, and Revolution in the Borderlands"
Bad Mexicans tells the dramatic story of the magonistas, the migrant rebels who sparked the 1910 Mexican Revolution from the United States. Taking readers to the frontlines of the magonista uprising and the counterinsurgency campaign that failed to stop them, Kelly Lytle Hernández puts the magonista revolt at the heart of U.S. history.
Kelly Lytle Hernández is a professor of History, African American Studies, and Urban Planning at UCLA where she holds The Thomas E. Lifka Endowed Chair in History and directs the Ralph J. Bunche Center for African American Studies. One of the nation's leading experts on race, immigration, and mass incarceration, she is the author of Migra! A History of the U.S. Border Patrol (University of California Press, 2010), City of Inmates: Conquest, Rebellion, and the Rise of Human Caging in Los Angeles (University of North Carolina Press, 2017), and Bad Mexicans: Race, Empire, and Revolution in the Borderlands (Norton, 2022). She also leads Million Dollar Hoods, a big data research initiative documenting the fiscal and human cost of mass incarceration in Los Angeles. For her historical and contemporary work, Professor Lytle Hernández was named a 2019 MacArthur "Genius" Fellow. She is also an elected member of the Society of American Historians, the American Academy of Arts and Sciences, and the Pulitzer Prize Board.
---
12:10 - 1 p.m. Pacific

Bruce Haynes
Professor
UC Davis Department of Sociology
---
12:10 - 1 p.m. Pacific

Thomas Saenz
President and General Counsel
MALDEF
---
12:10 - 1 p.m. Pacific

Wade Henderson
Interim President and CEO
The Leadership Conference on Civil and Human Rights