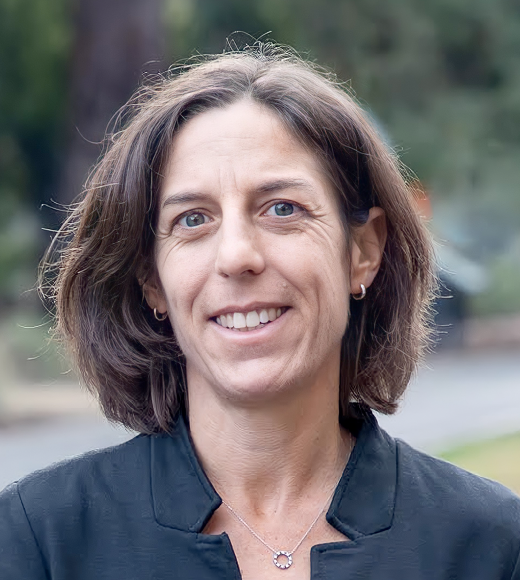 Position Title

Martin Luther King Jr. Professor of Law
Bio
Professor Joslin teaches in the areas of Constitutional Law, Employment Discrimination, Family Law, and Sexual Orientation, Gender Identity and the Law.
Joslin is a leading expert in the areas of family and relationship recognition, with a particular focus on same-sex and unmarried couples. Professor Joslin's publications have appeared or are forthcoming in Boston University Law Review , California Law Review,  Harvard Civil Rights-Civil Liberties Law Review , Harvard Law Review Forum, Iowa Law Review , Southern California Law Review,  UCLA Law Review , and Yale Law Journal Forum , among other sources . She is a co-author (with William N. Eskridge Jr. & Nan D. Hunter) of the textbook Sexuality, Gender, and the Law.
Her scholarship has received numerous awards. Joslin was selected as a winner of the 2011 AALS New Voices in Gender Studies Paper Competition, and she is a two-time recipient (2010 & 2019) of the Dukeminier Award, which is awarded annually to recognize the best legal scholarship on sexual orientation and gender identity law.
Professor Joslin served as the Reporter (primary drafter) for the Uniform Parentage Act (2017). The UPA is a comprehensive statutory scheme for determining children's legal parentage. She is an elected member of the American Law Institute.
Professor Joslin received her undergraduate degree from Brown University and her law degree from Harvard Law School, where she was an executive editor of the Harvard Civil Rights-Civil Liberties Law Review.
Education and Degree(s)
J.D. magna cum laude, Harvard Law School, 1998
B.A. magna cum laude, Brown University, 1994
Honors and Awards
National Center for Lesbian Rights, New Voices Fellow 2000-2002, Staff Attorney 2002-2005, Senior Staff Attorney, 2005-2006
Law Clerk, the Honorable Maxine M. Chesney, U.S. District Court, N.D. Cal., 1999-2000
Law Clerk, the Honorable Victoria Lederberg, Rhode Island Supreme Court, 1998-1999
Fellow, American Bar Foundation
Co-Chair, Committee on Sexual Orientation and Gender Identity, ABA Section of Individual Rights and Responsibilities, 2002-present
Chair, ABA Commission on Sexual Orientation and Gender Identity, 2009-present
Research Interests & Expertise
Family Law
Employment Discrimination Law
Sexual Orientation, Gender Identity, and the Law
Constitutional Law
Publications
Books
SOCIAL PARENTHOOD IN COMPARATIVE PERSPECTIVE (NYU Press, forthcoming) (co-editor with Clare Huntington & Christiane von Bary)
MODERN FAMILY LAW, summer 2021 supplement (Aspen Press) (with D. Kelly Weisberg)
SEXUALITY, GENDER, AND THE LAW (FOUNDATION PRESS 4TH ED., 2018) (WITH WILLIAM N. ESKRIDGE JR ANDNAN D. HUNTER)
LESBIAN, GAY, BISEXUAL, AND TRANSGENDER FAMILY LAW (West 2008, 2009, 2010, 2011, 2012, 2013, 2014, 2015, 2016, 2017, 2018) (with Shannon P. Minter & Catherine Sakimura) THE RIGHTS OF LESBIANS, GAY MEN, BISEXUALS, AND TRANSGENDER PEOPLE: AN AMERICAN CIVIL LIBERTIES UNION HANDBOOK (NYU Press, 4th Ed. 2004) (with Nan D. Hunter & Sharon M. McGowan)
THE RIGHTS OF LESBIANS, GAY MEN, BISEXUALS, AND TRANSGENDER PEOPLE: AN AMERICAN CIVIL LIBERTIES UNION HANDBOOK (NYU Press, 4th ed. 2004) (with Nan D. Hunter & Sharon M. McGowan)
Law Review Articles and Essays
Nonmarriage: The Double Bind, __ GEORGE WASHINGTON LAW REVIEW __ (forthcoming 2022)
(Not) Just Surrogacy, 109 CALIFORNIA LAW REVIEW 401 (2021)
For review essay, see Douglas NeJaime, Surrogacy, 2.0, JOTWELL (Mar. 25, 2020)
Excepted in RUBENSTEIN, SCHACTER, BALL & NEJAIME, CASES AND MATERIALS ON SEXUALITY, GENDER IDENTITY, AND THE LAW (6th ed., forthcoming)
Multiparent Families: Real and Imagined, __ FORDHAM LAW REVIEW __ (forthcoming 2022) (with Douglas NeJaime) (symposium issue)
Fractured Families: LGBTQ Families of Color in the Child Welfare System, __ COLUMBIA JOURNAL OF RACE AND LAW __ (forthcoming 2021) (with Catherine Sakimura) (symposium issue)
Surrogacy and the Politics of Pregnancy, __ HARVARD LAW & POLICY REVIEW __ (forthcoming) (symposium issue)
Autonomy in the Family, 66 UCLA LAW REVIEW 912 (2019)  For review essay, see Brian Bix, Family Choices, JOTWELL (Nov. 7, 2019) 
Preface to the UPA (2017), 52 FAMILY LAW QUARTERLY 437 (2018) (symposium issue)
Discrimination In and Out of Marriage, 98 BOSTON UNIVERSITY LAW REVIEW 1 (2018)
Nurturing Parenthood Through the UPA (2017), 127 YALE LAW JOURNAL FORUM 589 (2018) Response essay to Douglas NeJaime, The Nature of Parenthood, 126 YALE LAW JOURNAL 2260 (2017)
The Gay Rights Canon and the Right to Nonmarriage, 97 BOSTON UNIVERSITY LAW REVIEW 425 (2017) Excerpted in Eskridge, Hunter & Joslin, Sexuality, Gender, and the Law (4th ed. 2018)
Marriage Equality and its Relationship to Family Law, 129 HARVARD LAW REVIEW FORUM 197 (2016) Response essay to Douglas NeJaime, Marriage Equality and the New Parenthood, 129 HARVARD LAW REVIEW 1185 (2016)
Marital Status Discrimination 2.0, 95 BOSTON UNIVERSITY LAW REVIEW 805 (2015)
Family Support and Supporting Families, 68 VANDERBILT LAW REVIEW EN BANC 153 (2015)
Federalism and Family Status, 90 INDIANA LAW JOURNAL 787 (2015)
The Perils of Family Law Localism, 48 UC DAVIS LAW REVIEW 623 (2014) 
Leaving No (Nonmarital) Child Behind, 48 FAMILY LAW QUARTERLY 495 (2014) 
The Restatement of Gay (?), 79 BROOKLYN LAW REVIEW 621 (2014) (with Lawrence C. Levine)
Windsor, Federalism, and Family Equality, 113 COLUMBIA LAW REVIEW SIDEBAR 156 (2013)
Marriage, Biology, and Federal Benefits, 98 IOWA LAW REVIEW 1467 (2013)
Modernizing Divorce Jurisdiction: Same-Sex Couples and Minimum Contacts, 91 BOSTON UNIVERSITY LAW REVIEW 1669 (2011)
Searching for a Harm: Same-Sex Marriage and the Well-Being of Children, 46 HARVARD CIVIL RIGHTS - CIVIL LIBERTIES LAW REVIEW 81 (2011)
Protecting Children(?): Marriage, Gender, and Assisted Reproductive Technology, 83 SOUTHERN CALIFORNIA LAW REVIEW 1177 (2010)
Travel Insurance: Protecting Lesbian and Gay Parent Families Across State Lines, 4 HARVARD LAW AND POLICY REVIEW 31 (2010)
Interstate Recognition of Parentage in a Time of Disharmony: Same-Sex Parent Families and Beyond, 70 OHIO STATE LAW JOURNAL 563 (2009)
The Evolution of the American Family, 36 HUMAN RIGHTS 2 (Summer 2009)
Legal Regulation of Pregnancy and Childbirth, in THE CHILD: AN ENCYCLOPEDIC COMPANION (U. Chi. Press 2009)
Further Thoughts on Proposition 8 and Retroactivity: A Response to Choper, CALIFORNIA JOURNAL OF POLITICS AND POLICY, Vol. 1, Iss. 1, Art. 20 (2009)
Lesbian, Gay, Bisexual and Transgender Family Law, (West 2008, 2009) (with Shannon P. Minter)
Gender Equity for Lesbian, Gay, Bisexual and Transgender Students, in HANDBOOK FOR ACHIEVING GENDER EQUITY THROUGH EDUCATION (Lawrence Erlbaum Associates, Inc.) (2007) (co-author with Eliza Byard, Sean Fischer, and Joseph Kosciw)
The Legal Parentage of Children Born to Same-Sex Couples: Developments in the Law, 39 FAMILY LAW QUARTERLY 683 (Fall 2005)
Protection for Lesbian, Gay, Bisexual, and Transgender Employees Under Title VII of the 1964 Civil Rights Act, 31 HUMAN RIGHTS 14 (Summer 2004)
A White Paper: An Analysis of the Law Regarding Same-Sex Marriage, Civil Unions, and Domestic Partnership, 38 FAMILY LAW QUARTERLY 339 (Summer 2004) (co-editor with Jeff Atkinson and contributing author)
The Rights of Lesbians, Gay Men, Bisexuals, and Transgenter People: An American Civil Liberties Union Handbook, (4th Ed., Jan. 2004) (co-author with Nan D. Hunter and Sharon M. McGowan)
Model Second Parent Adoption Brief, 7 THE MICHIGAN CHILD WELFARE LAW JOURNAL 24 (2003) (co-author with Jay Kaplan)
Recognizing a Cause of Action Under Title IX for Student-Student Sexual Harassment, 34 HARVARD CIVIL RIGHTS-CIVIL LIBERTIES LAW REVIEW 201 (1999)
Recent Development, Equal Protection and Anti-Gay Legislation: Dismantling the Legacy of Bowers v. Hardwick -- Romer v. Evans, 116 S. Ct. 1620 (1996), 32 HARVARD CIVIL RIGHTS-CIVIL LIBERTIES LAW REVIEW 225 (1997)
Tags