Center Publications
More Power to the Wealthy: Renewable Energy Tax Programs, Market Distortions, and the Ramifications on the Cost of Electricity
This journal article written by 2016-17 CELPC Fellow Dan Quinley, originally published in 40 Environs Environmental Law and Policy Journal 185 (May 2017), details the availabe information as of early 2017 of renewable energy tax programs at the federal and state levels. It discusses the distorting effect these programs have on the market and the potential ramifications of these programs for availability of affordable electricity. This article may be downloaded here .
Senate Bill 4: A Past and Present Look at Hydraulic Fracturing in California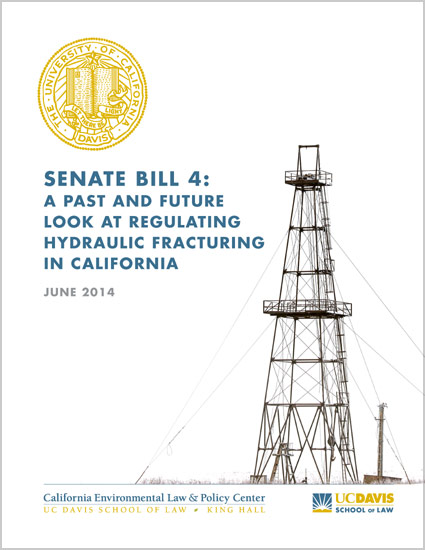 This report, "Senate Bill 4: A Past and Future Look at Regulating Hydraulic Fracturing in California," was prepared by Michael Murza, CELPC 2013-14 Environmental Law Fellow. The report analyzes the current controversy over hydraulic fracturing ("fracking") and related drilling technologies that are currently producing unprecedented levels of oil and gas in California and other parts of the U.S.; explains the origins and key provisions of SB 4 (Pavley), landmark California legislation that creates a comprehensive regulatory program and public disclosure requirements for fracking conducted in that state; discusses the ongoing regulatory initiatives that are currently underway to implement SB 4; and identifies several important ambiguities and unanswered questions regarding the California legislation and implementing regulations. It is hoped that this report will inform the ongoing public debate over fracking in California, the U.S. and internationally, and be of use to policymakers, the media and interested members of the public. The report may be downloaded here .
Lessons from the West: Fracking and Water Resources
This short paper, "Lessons from the West: Fracking and Water Resources," was prepared by Miles Hogan, CELPC Environmental Law Fellow. The paper broadly examines how water law in western states applies to the overall use of water in fracking, and it raises issues with current and future regulation and litigation in this area. The paper was compiled for a presentation given on November 9, 2012 at a workshop put on by Dividing the Waters and The National Judicial College. This project demonstrates CELPC's commitment to partnering with educators and policy institutes, and to providing a meaningful dialogue in key areas of environmental law and policy. This paper may be downloaded here .
California's Proposition 37: A Legal & Policy Analysis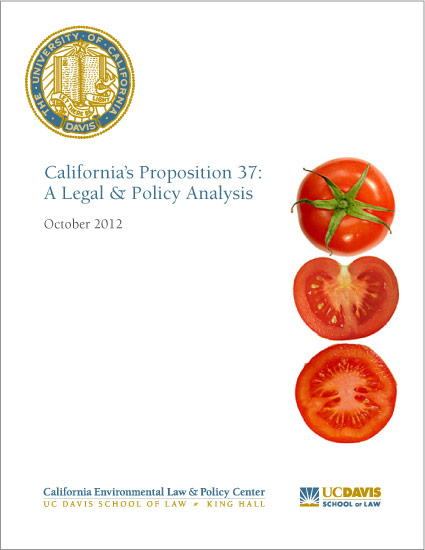 CELPC has published a new white paper examining California's Proposition 37, formally titled "The California Right to Know Genetically Engineered Food Act." Proposition 37 is an initiative measure that will appear on California's November 6th, 2012 general election ballot. The report does not argue in favor of or against Proposition 37. Instead, it is intended to serve as an independent and objective analysis of the initiative, to help inform the public debate over the measure and be of use to California voters and interested observers.
Proposition 37 is the most important environmental measure appearing on California's crowded November election ballot. It is attracting national attention as well as millions of dollars in campaign contributions from both supporters and opponents of the initiative. That's because the proponents of Proposition 37 hope, and those opposing the measure fear, that if enacted the initiative will prompt similar laws in other states and, perhaps, at the national level. Hopefully, "California's Proposition 37: A Legal & Policy Analysis," published in October 2012, will contribute to a thoughtful public debate over this important initiative. Access the report here .
Rocky Mountain Farmers Union v. Goldstene: Brief of Amici Curiae Professors of Environmental Law in Support of Appellants
In June 2012 a group of environmental law professors, including Professor Rick Frank, submitted a brief in support of the California Air Resources Board's low carbon fuel standard. View the report here .
Defining Good Infill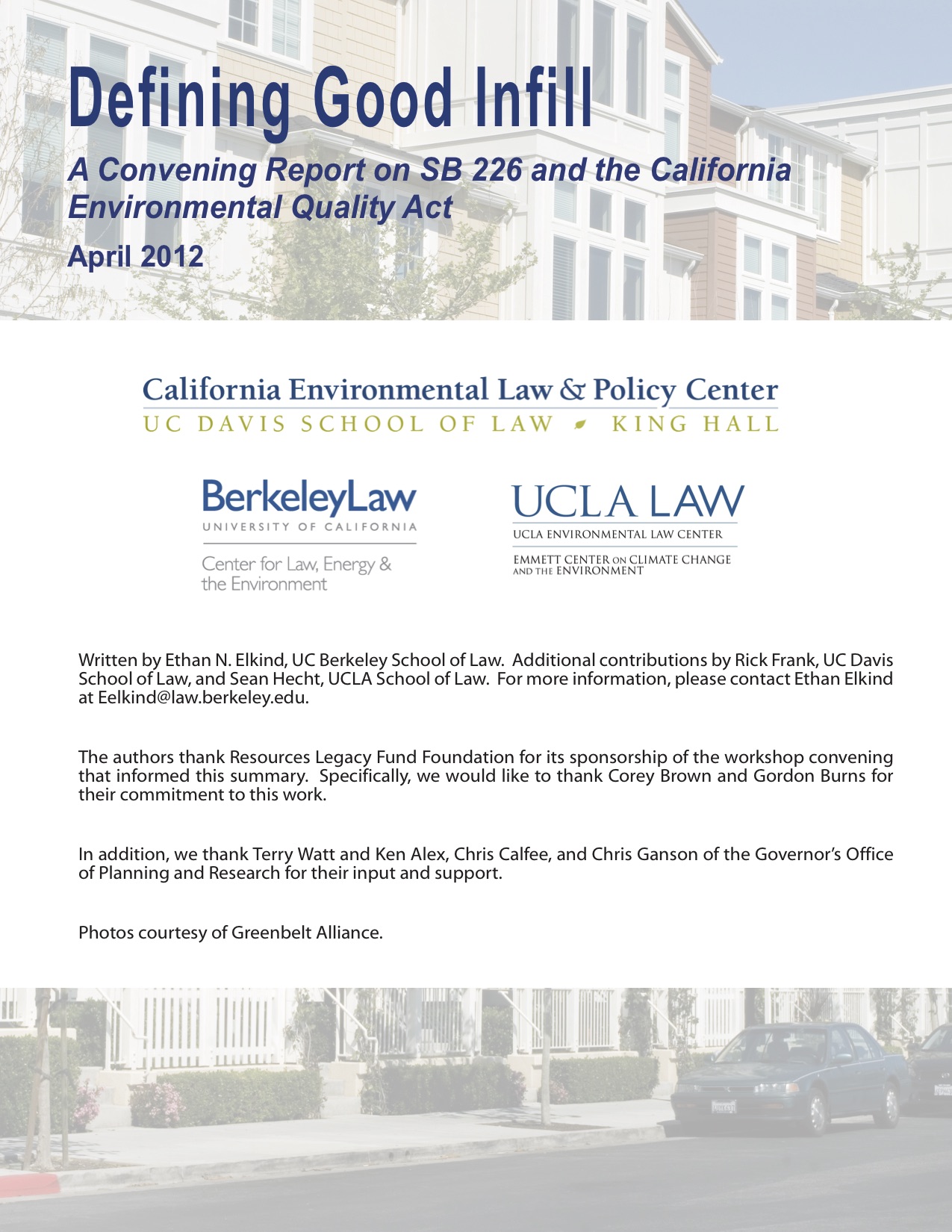 This report, A Convening Report on SB 226 and the California Environmental Quality Act, provides a brief overview of SB 266 and its implementation and a summary from a convening at UC Berkeley on March 9, 2012. Authors Ethan N. Elkind, Rick Frank, and Sean Hecht published this report following the meeting to provide guidance for the development of regulations by the Governor's Office of Planning and Research and to inform the public on the bill. The report may be accessed here .
Opinion Editorials regarding Proposition 26
In November 2010, California voters enacted Proposition 26, an initiative measure that was largely overshadowed by other, more heavily-publicized measures on last fall's general election ballot. But Proposition 26, which mandates that most future state and local fee systems can only be enacted by a two thirds vote of the California Legislature or local voters, will have a profound effect on a variety of public health, safety and environmental protection measures. Proposition 26 is likely to have an especially pronounced effect on California environmental programs, which in recent years have relied heavily on "polluter pays"-based fee systems to fund them.
Two opinion columns relating to Proposition 26 were published in conjunction with the CELPC. In "Voter Confusion and the Single-Subject Rule: Proposition 26 as a Test Case" (December 2010),  King Hall Law Professor Christopher Elmendorf suggests that the initiative measure may be unconstitutional under California's "single subject rule." In "Proposition 26: California's Stealth Initiative" (October 29, 2010)  CELPC Director Richard Frank, discusses the background of Proposition 26, as well as its particular, anticipated effects on a variety of state and local environmental programs. .
Other Recent Publications