About Keith Aoki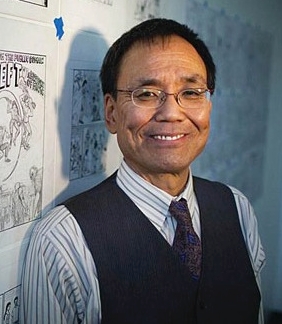 Professor Keith Aoki died at the age of 55 on April 26, 2011 following a prolonged illness. A brilliant scholar, devoted teacher, and beloved colleague, Professor Aoki had a lasting, positive impact on faculty and students.  He touched our community in a special way, and he will be greatly missed.
Professor Aoki earned a B.F.A. degree from Wayne State, as well as an M.A. in Fine Arts from Hunter College, and worked as an artist in New York City before applying to and being accepted at Harvard Law School. In addition to his J.D. from Harvard, he earned an LL.M. from the University of Wisconsin Law School. He taught for more than a decade at the University of Oregon School of Law, where he was the Philip H. Knight Professor of Law, as well as Lewis & Clark, Columbia, and Boston College law schools before coming to UC Davis in 2006.
Professor Aoki was an accomplished and respected scholar in civil rights, critical race theory, intellectual property, and local government law, and a member of the prestigious American Law Institute. His scholarship was published in leading legal journals.
A person of many talents, Professor Aoki was a gifted cartoonist who wrote legal articles and two books--Bound by Law and Theft: A History of Music, co-written with James Boyle and Jennifer Jenkins--in comic book style. His legal comics had been the subject of recent articles in the San Francisco Chronicle and Diverse: Issues in Higher Education magazine. Professor Aoki also authored Seed Wars: Cases and Materials on Intellectual Property and Plant Genetic Resources (Carolina Academic Press).
Professor Aoki was generous of his time and spirit.  He was always there to encourage his colleagues and students.  He loved life, intellectual and otherwise.  Dedicated to his students, he taught a Latinos and the Law class as an overload during his last semester and treasured teaching first year Property students.  Students responded.  For example, students participating in the annual Cardozorama law school talent show changed the name of the event to "Aokirama" to honor Professor Aoki. UC Davis flew its flags at half-staff for three business days in honor of Professor Aoki beginning April 28. The California State Senate adjourned its April 28 session in his memory.
Professor Aoki is survived by his loving wife, Mona, and their twin daughters, Rachel and Sarah.
Here is a picture and posting about Professor Aoki's last article, available on the ImmigrationProf Blog. 
The UC Davis Law Review honored Professor Aoki both online and with an issue devoted to his memory.
Professor Aoki was also a gifted cartoonist. Below is an excerpt from his comic book, "Tales from the Public Domain: Bound by Law? Trapped in a Struggle She Didn't Understand," published in conjunction with James Boyle and Jennifer Jenkins.