Visiting King Hall Alumni in Oakland
Posted By Kevin R. Johnson, Jul 29, 2016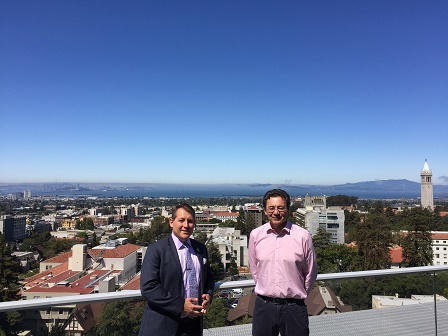 I was on the road yesterday to visit UC Davis School of Law alums in Oakland. Director of Development Nick Dolce and I stopped briefly at California Memorial football stadium on our way to the lunch (pictured). 
We met up at the trendy Hopscotch restaurant in the downtown area and had a great turnout, including three alums from the UC Office of the President (Angus MacDonald '00, Anagha Dandekar Clifford '04, and Liana Epperson '97).  I was able to fill in the King Hall faithful on the great news at the law school, including our new faculty (Professors Aaron Tang and Irene Joe), the incoming Class of 2019 arriving in just a few weeks, and more.  It was a festive and fun group, including July's Alum of the Month Lis Semel '75, Judge Gordon Baranco '72 (who is retiring as a judge this year), Darryl Stallworth '92 (who said some kind words in tribute to Judge Baranco), and many others.
It is always nice to spread the good word about King Hall.  At my lunch table, we had a lively discussion about a range of topics, from election year politics to current developments in legal education and our students.