Visiting Alumni in Southern California and Oakland
Posted By Kevin R. Johnson, Sep 5, 2014
I always enjoy catching-up and networking with our loyal King Hall alumni.
This week, I had a wonderful visit with alumni in Southern California. An enthusiastic group of UC Davis School of Law alums met for lunch in Orange County. David Chase '07 helped organize the lunch, which included four alums from the Public Law Center (Ken Babcock '81, Christian Abasto '97, Joyce Noche '99, Yesenia Melgar '13). We also had a King Hall first, hand-delivering some diplomas to alums who had not yet picked them up: Jesse Mulholland '02 and Celinda Tabucchi '75.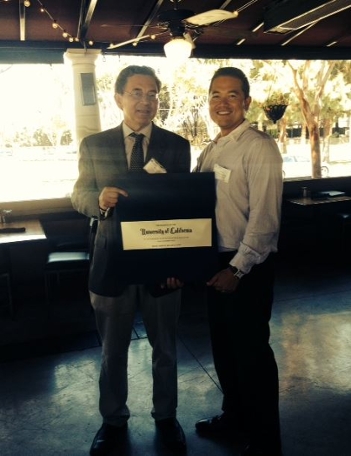 Delivering Jesse Mulholland '02 his diploma!
Others at the lunch included John York '72, Kim Chase '07, Steve Fingal '77, and Norman Rodich '86. Assistant Dean for Career Services Craig Compton was at the event working the crowd for employment opportunities for King Hall Students.
Later in the day, Mark Easter '89 and Richard Egger '92 of Best Best & Krieger hosted a fantastic alumni reception in Riverside. Rina Gonzales '02 helped get alumni out to the event and let me know that she now has an arts and crafts business in addition to her city attorney job. We had a great group of alums in attendance, including Karen Marquez Dong '06 (Public Defender), Kira Klatchko '04 (Best Best & Krieger), Erica Alfaro '05 (Department of Justice), Chad Firetag '01 (Public Defender), Rabia Chaudhry '12 (former Law Student Association President now at Varner & Brandt), Judge John Vineyard '89, Judge Ronald Taylor '71, Dan Greenberg '74, George Reyes '78, and Brian Unitt '83. Kirsten Hill '04 of the Career Services Office attended the reception and was on the lookout for job opportunities for our students.
Earlier in the summer, I had an upbeat lunch with King Hall alums in Oakland at the trendy Hopscotch Restaurant.  I was able to fill the group in on the new and improved King Hall, stellar bar passage rate, expanding international programs, and outstanding new Class of 2017.  I was able to catch up with Alumni Board members Gene Woo '85 and Craig Judson '84. I talked with Robert Kidd '77, who will teach Bankruptcy Law at King Hall this spring. Criminal defense attorney (and former Cal football star) Darryl Stallworth '92 filled me in on the Bears' 2014 football season, Milena Blake '09 told me of her organization's initiative idea, David Lorie '96 spoke of the joys of parenthood, Victoria Hassid '10 shared her experience in California government, Ryan Stahl '09 spoke fondly of his days as Editor-in-Chief of the UC Davis Law Review, and more. Again, Assistant Dean Craig Compton received many useful job leads for students. 
At all of these events, I was able to let people know of the great successes at King Hall, including the huge increase in our applications, improving employment market, and much more. I must say that every time I meet with our alums, I am impressed with their devotion -- indeed, love for -- the school and willingness to help out any way they can.
Our next alumni event is the Capitol Reception next Thursday. I look forward to seeing King Hall alumni there!