Unity Bar Dinner Recap by Dean Kulwin
Posted By Kevin R. Johnson, Jan 6, 2016
Senior Assistant Dean Hollis L. Kulwin recently penned a recap of the 2015 Unity Bar Dinner for the latest issue of Sacramento Lawyer magazine. I'm posting the article here on the Dean's Blog. UC Davis School of Law is a proud supporter of the Unity Bar Association!
The Unity Bar Association of Sacramento's 28th Annual Dinner took place on October 29, 2015, at the DoubleTree by Hilton's Grand Ballroom. The Leonard M. Friedman Bar Association (LMFBA), founded in 2008 as an educational resource, voice and forum for Jewish attorneys and judges, took the lead on this year's Dinner. The diverse attendees, including members of the bench and bar, legal educators, law students and community members, enjoyed an evening enlivened by the music of the Davis Klezmer Orchestra. Klezmer, a style of Jewish folk music, entertained Eastern European Jews for hundreds of years before dying out after World War II and reviving worldwide in the 1970's.
Marc Koenigsberg, LMFBA president, served as the evening's Master of Ceremonies.  Justice George Nicholson, Associate Justice, Third District Court of Appeal, introduced the keynote speaker, Justice Richard D. Fybel, Associate Justice, Fourth District Court of Appeal. Justice Fybel, an expert on the German legal system (1933-1945) and the Nuremberg trials, discussed how failures of the bar and judiciary facilitated the horrors of Nazi Germany and what today's bench and bar can learn from that experience.
The Unity Bar Association of Sacramento is comprised of the Sacramento County Bar Association (SCBA)'s 7 minority affiliates:  the Asian/Pacific American Bar Association of Sacramento (ABAS), the La Raza Lawyers Association of Sacramento (La Raza), the Leonard M. Friedman Bar Association, the Sacramento Lawyers for the Equality of Gays and Lesbians (SacLEGAL), the South Asian Bar Association of Sacramento (SABA), the Wiley W. Manuel Bar Association (WMBA), and the Women Lawyers of Sacramento (WLS).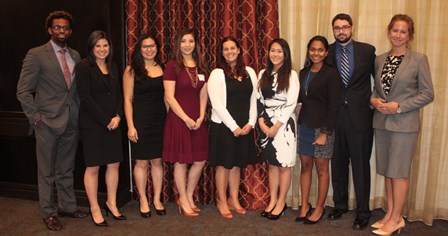 Scholarship recipients at the Unity Bar Dinner
The affiliates, supported by the Unity Scholarship Fund, awarded scholarships to 10 law students:  Mitchel Burman, McGeorge School of Law and Asya Sorokurs, UC Davis School of Law (LMFBA); Phillip Robinson, Lincoln Law School and Jenice Pratt, McGeorge School of Law (WMBA); Brenda Liang, McGeorge School of Law and Sylvia Tsai, UC Davis School of Law (ABAS); Abigail Mulvihill, UC Davis School of Law (SacLEGAL); Olivia Filbrandt, UC Davis School of Law (WLS); Carmen Jimenez, Lincoln Law School (La Raza); and Mira Patel, McGeorge School of Law (SABA).
Seven Community Service Awards were given to recognize work done for each of the affiliate's communities: Elizabeth Igra (LMFBA); Eta Gamma Omega Chapter, Alpha Kappa Alpha Sorority (WMBA); Ad Hoc Committee-Japanese-American History NOT For Sale (ABAS); Dennis Mangers (SacLEGAL); Waking the Village (WLS); Cynthia Moreno (La Raza); and Amar Shergill (SABA). Each Community Service winner received a plaque commemorating this special evening of recognition for their work in our diverse communities.  
The Unity Dinner Committee affiliate representatives, who worked throughout the year to plan the Dinner, were Hollis Kulwin, lead affiliate representative (LMFBA), Dianne Dobbs and Carlton Davis (WMBA), Cindy Liu and Michael Wang (ABAS), Michael Terhorst, (La Raza), Hayley Dewey (SacLEGAL), Jennifer Hartman King (WLS), Aparna Agnihotri (SABA), Amilia Glikman and Patricia Tsubokawa Reeves (Unity Bar Association of Sacramento).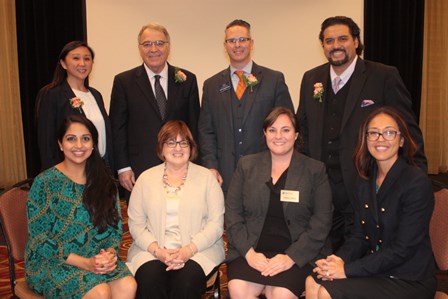 The Unity Board (Dean Kulwin pictured second in front row)
The 2015 Unity Dinner was a successful evening.  Significant funds were raised to replenish the Unity Scholarship fund. The Unity Dinner, again, proved that diversity is a wonderful and rich experience that enhances our legal community.