Unity Bar Dinner 2016
Posted By Kevin R. Johnson, Nov 18, 2016
UC Davis had a big presence at the 2016 Unity Bar Dinner in Sacramento on Wednesday night. We had many students, faculty, and alumni at the event.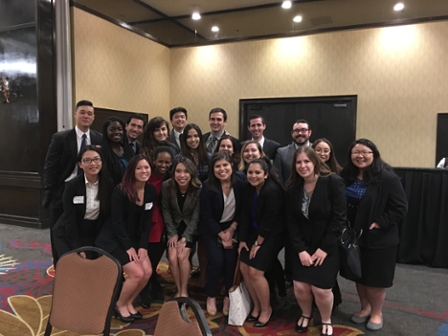 Some of the King Hall student contingent at the Unity Bar Dinner. (Photo credit: student John Miller '17)
Several of our students were honored with scholarships:
Lizzette Yvonne Gomez, Cruz Reynoso Bar Association Scholarship
Catherine Habash, Leonard M. Friedman Bar Association's Michael and Judy Hersher Family Scholarship
Kaly Livingston Rule, Sacramento Lawyers for the Equality of Gays and Lesbians Scholarship
Hari Kumar, South Asian Bar Association of Sacramento Scholarship
Elizabeth Kimball Key, Women Lawyers of Sacramento Scholarship
I was able to introduce a number of students to judges, lawyers, and alums.  Cruz Reynoso sat with the Cruz Reynoso Bar Association, which recently was named in his honor. I had a wonderful meal sitting with Professor Amagda Perez and law student Dana Talant. 
The main event of the evening was King Hall alum Tani Cantil-Sakauye '84, the Chief Justice of California, who was interviewed in a "fireside chat" by a local attorney.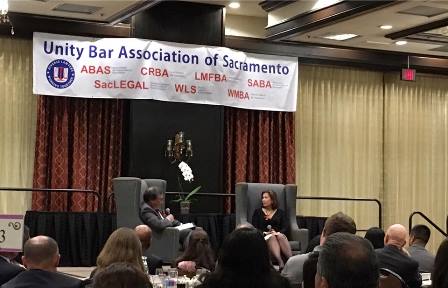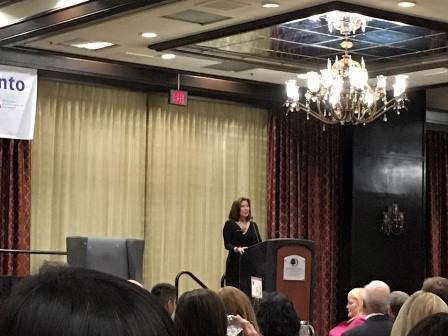 (Photos courtesy of ABAS.)
King Hall also played a big role in organizing the Unity Bar Dinner.  Senior Assistant Dean Hollis Kulwin was on the organizing committee and was featured in a video of the Leonard Friedman Bar Association. Patricia Tsubokawa Reeves '86 was a lead organizer and served as the night's emcee.  Alums Shama Mesiwala '98 and Toso Himel '75 also appeared in videos of local bar association sponsors of the dinner.
It was a wonderful night celebrating the diversity of the legal profession in our region. Congratulations to the organizers for an outstanding event, and congrats to the student scholarship winners!