To Paris, With Love
Posted By Madhavi Sunder, Nov 16, 2015
The tragic massacre in Paris is gripping the hearts and minds of people around the world.
Earlier in the day on November 13, the same day as the terror attacks, I happened to be in the famed city and met up with King Hall alum Elizabeth Milovidov '91 for lunch near ISCOM, where she teaches American law.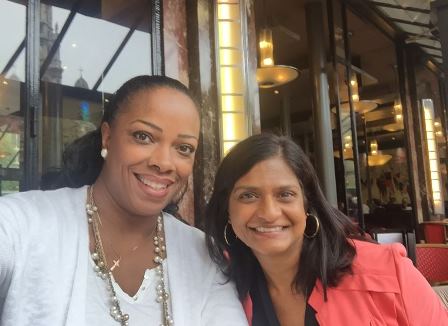 Elizabeth and me in Paris
Elizabeth was eager to reminisce about King Hall, and loved sharing stories with me about her favorite first-year professors, including Professors Brownstein, Dobris, Feeney, and Imwinkelried.  After growing up in San Diego and graduating from UCLA, a very young Elizabeth found herself at King Hall. She recalled what it was like being one of only four black students in her class. She said professors, staff, and classmates were incredibly supportive and friendly. Between her first and second years in law school, Elizabeth did a summer program in Paris and from that point was determined to make her career in Europe. She eventually earned both a PhD and her JD, and began making her way up the legal ladder in firms in France. Since having children, she found the right balance, intellectually and personally, in teaching American law. Her emphasis is on children's rights and communications law; she has her own consulting esafety and digital parental coaching business advising parents how to navigate their children through life online. Elizabeth would like to come back to King Hall to talk to students, especially those not in the top one-third in the class, to let them know that an exciting life and career is at their fingertips, but just requires hard work and determination. I recognized in Elizabeth's career, part teacher and part public intellectual, that entrepreneurial and public spiritedness that is still characteristic of King Hall today.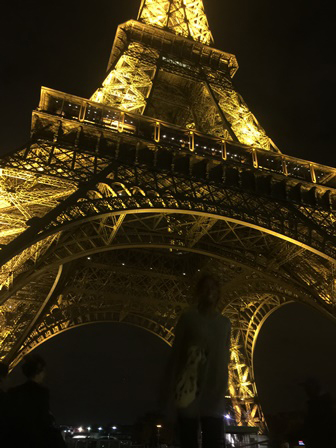 Eiffel Tower at night
When tragedy struck the city several hours later, my thoughts immediately went to Elizabeth and her family, especially because I remembered she lived in the same neighborhood as where more than 100 people were killed at the Bataclan concert hall. I was relieved to hear she and her family were safe. I was happy when it was time to board the plane to travel back home. But King Hall sends Elizabeth and her fellow Parisians our love.