Swearing-In Ceremony 2016
Posted By Kevin R. Johnson, Dec 5, 2016
It was a joyous Friday night in Davis with a large contingent of UC Davis School of Law 2016 graduates who passed the July 2016 California bar exam getting sworn in as licensed attorneys.  The Kalmanovitz appellate courtroom was filled with the soon-to-be new lawyers, distinguished guests, faculty, alumni, students, and staff.  Congratulations to the Class of 2016!
The swearing in of our new lawyers is always a special occasion.  I remember many of the students in the same room as prospective law students, asking questions and looking at King Hall.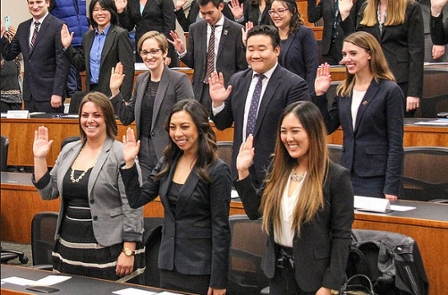 New attorneys take the oath.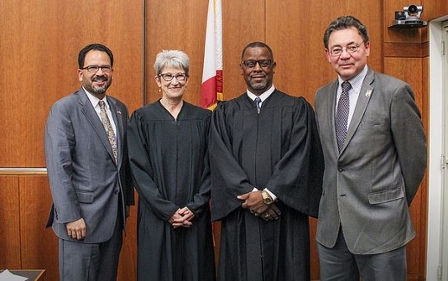 Alberto Roldan '92, Justice Kathleen Butz '81, Judge Troy Nunley, and me
Click here for the full photo gallery on Flickr.
We were fortunate to have two distinguished jurists administer the state and federal oaths.
Kathleen Butz, Associate Justice of the California Third District Court of Appeal, administered the state oath.  She is a proud member of the King Hall Class of 1981.  Justice Butz arrived at the School of Law as the mother of a young child.  She excelled as a law student and then as an attorney at a law firm in Nevada City.  She later successfully ran for election to the Nevada County Superior Court.  In 2003, Governor Gray Davis appointed Justice Butz to the Third Appellate District.  In the King Hall tradition, Justice Butz has been active in the community, serving in many capacities to support judicial education and as  president of the Schwartz/Levi American Inn of Court.  She has received many honors, including the 2012 Frances Newell Carr Achievement Award, which celebrates professional achievement, commitment to furthering legal opportunities for women in the law, and contribution to the lives of women in the Sacramento-area community.   Justice Butz is a frequent visitor to King Hall.  She frequently volunteers to judge student competitions (including the Neumiller Competition this year), speak to prospective and current students, and share her wisdom and expertise. 
Before giving the oath, Justice Butz briefly talked about the importance to have a well-rounded life, which includes literature and leisure activities, as well as a commitment to the practice of law.
Judge Troy Nunley administered the federal oath.  A special friend of the Martin Luther King, Jr. Hall, Judge Nunley's life story is remarkable.  He grew up in Hunter's Point in San Francisco and received his undergraduate degree from St. Mary's and law degree from UC Hastings.   Judge Nunley served as Deputy District Attorney in Alameda and Sacramento Counties, and has private practice experience as well.  He next served as a Deputy Attorney General in the California Attorney General's Office.  Before has appointment to the Sacramento County Superior Court.  In 2012, President Obama nominated Judge Nunley as U.S. District Judge.  A dedicated supporter of UC Davis School of Law, Judge Nunley has mentored students, worked with them and alumni in externships and clerkships, and others ways supported King Hall.  His daughter, Cimone, currently is a UC Davis law student.  
Judge Nunley offered remarks about the importance of an attorney's reputation with the courts, as well as excellent writing, before administering the Federal oath. 
The last speaker was the president of the King Hall Alumni Board, Alberto Roldan, an Administrative Law Judge with the California Department of Alcoholic Beverage Control.  A member of the King Hall Class of 1992, he teaches Trial Practice at King Hall.  Alberto offered some remarks about the importance of staying close to the greater King Hall community. 
It was a warm and wonderful evening, with spirits high among the new attorneys and their friends and families.  It also was one of those special nights that reminded me of the special community that is King Hall.  Congratulations to the Class of 2016!