Students Attend Environmental Law Conference in Yosemite
Posted By Kevin R. Johnson, Nov 4, 2010
Second-year law student Naomi Kaplowitz passed along these super-nice thank you e-mails and photos from law students who attended the recent Cal Bar Environmental Law Section Conference at Yosemite.  The Law School was pleased to provide support through Students First, the campus-wide campaign to support student scholarships and programs.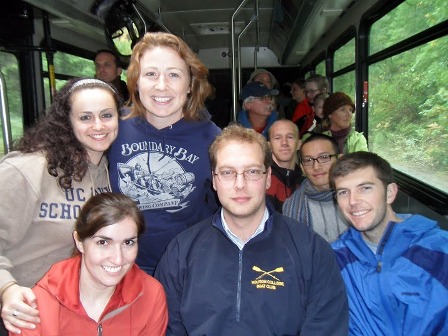 Bus ride with attorneys to attend a hike at Mariposa grove after a long day of panel sessions. Clockwise from bottom right corner: Miles Hogan, Nick Warden, Aylin Bilir, Jamie Okh, Autumn Luna, and Rory Allen.



Posing for a group picture in their cabin on the first night. Left to right: (back row) Miles Hogan, Nick Warden, Adam Walukiewicz, Aylin Bilir, David Green, Elana Miller, Samantha Ahrens, and Autumn Luna. (front row left to right) Naomi Kaplowitz, Lyndsay Noel Fritz, Jennifer Tamura, Lynn Gatti, and Caroline Nasella.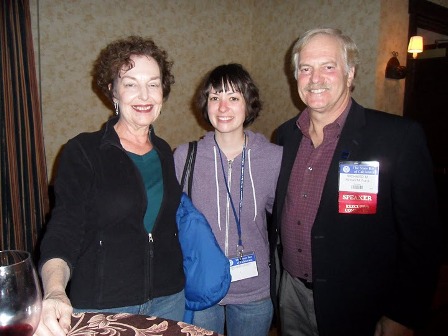 Director of the new Environmental Law and Policy Center, Professor Rick Frank, along with wife Connie and 2L Laura Breznay.
***
Naomi Kaplowitz, 2L, Conference Chair of Environmental Law Society:
     "Thanks to the Students First Campaign, a group of nineteen UCD School of Law students were able to attend the California Bar Association Environmental Section Conference in Fish Camp, CA on October 21st-24th, 2010. The experience was truly an invaluable opportunity for us.
      We were able to attend panels at the conference that took environmental law, for the first time for many of us, outside of the classroom context. The panels were an eye-opening introduction into how attorneys, judges, and policy makers view environmental issues. The topics in the panels were so diverse and interesting. Panels ranging from the BP Gulf oil spill to the future of national parks in the face of climate change brought current events into the legal context.
      Students interacted with judges from the California Supreme Court, and federal appellate courts. We were able to get a sense of the possibilities of careers in the field by interacting with attorneys from private, government, and non-profit sectors, as well as policy makers and consulters. Students were able to converse with practitioners during hikes and meals; social settings that facilitate a more personal opportunity for interaction. Due to our lodgings, we were able to host an attorney at our cabin for a late luncheon. We were even invited as a group to dine with lawyers from the Attorney General and District Attorneys offices. Our bake sale goods were a big hit at their potluck! The networking opportunities were truly unparalleled.
     The amazing number of UC Davis students who were able to attend was discussed in the opening key note speech on the first morning of the conference! Indeed, I overheard many remarks throughout the conference noting the significant presence of King Hall students as opposed to other schools.
      Students from several other law schools approached me and inquired as to how it was possible for so many UC Davis students to attend the conference. I was able to proudly tell them that our school provides an incredible amount of support to its students, which is one of the reasons I chose King Hall over other law schools. Indeed, the conference enabled me to return to my law school studies with a renewed sense of vigor and energy that would have likely been impossible without the Student First Campaign. Thank You!"
David Green, 2L, Board Member of Environmental Law Society:
"Yosemite was a fantastic opportunity to meet and hear many of California's (and other states') premier environmental legal minds. This was a fantastic educational and occupational opportunity. We were able to learn about topical issues in environmental law while making valuable contacts in the environmental law community."
Caroline Nasella, 2L, Treasurer of Environmental Law Society:
"I really enjoyed the fact that we could talk to a variety of different environmental attorneys about their work and lives in an informal environment. Also, the panels taught me a lot about environmental issues that I have been interested in for a long time. Finally, the conference allowed me to get to know my fellow law students better."
Lynn Gatti, 2L, Board Member of Environmental Law Society:
"I thought the Cal Bar Environmental Law Section's Conference at Yosemite did a great job of showcasing how attorneys from all sides of environmental law can come together and respect each other's varying opinions on the issues while trying to find common ground and avenues for cooperation. The panels did a great job of putting the large, and often complicated, statutory schemes we are studying in class into concrete, real-life scenarios where it was easier to understand the issues of a variety of stakeholders. Beyond the panels, I was impressed by array of activities offered at the Conference. The Conference confirmed my commitment to environmental law and invigorated my studies knowing that there are practical, and important, applications for all of the subjects I am studying at King Hall."

***
Thanks to the students who sent such thoughtful e-mails!  King Hall is proud to support you!!!