SABA of Sacramento
Posted By Kevin R. Johnson, Sep 21, 2009
I attended a great event over the weekend: the Diversity Law Student Reception, organized by the South Asian Bar Association (SABA) of Sacramento, and held at the Davis home of King Hall alumna Shama Mesiwala ('98).
SABA of Sacramento was formed in early 2008.  It is the 25th chapter of the national SABA organization, and includes lawyers from the greater Sacramento region including Davis and Yuba City.  Saturday's reception/mixer was a great chance for judges, attorneys, and students to mingle and meet.  Among those in attendance were Professors Andrea Bjorklund (and her husband, Sean Duggan) and Rachana Shah.  Also in attendance were Judges Morrison England and Elena Duarte.  Justice Arthur Scotland also was there.  There were many King Hall students in attendance, as well.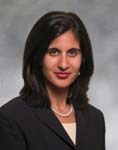 As for our gracious hostess, Shama is an officer (Secretary) in the local SABA chapter.  She is a senior judicial attorney in the chambers of the Honorable Ronald B. Robie of the Third District Court of Appeal in Sacramento.  She has also been a staff attorney for the Central California Appellate Program (CCAP).  
For more information about SABA, check out the chapter website at http://www.sabasacramento.org/.