Public Service Graduation 2016
Posted By Kevin R. Johnson, Apr 27, 2016
Last week saw one of the highlights of the school year.  The Public Service graduation is a chance to honor the students of the graduating class who devoted scarce time as law students to do work to help the community.  More than half of the Class of 2016 were honored.  The highlight of the ceremony was the awarding of the Martin Luther King,  Jr. Community Service Award. The students nominated for the award by the classmates were:
Hope Alley
Anita Bamshad
David Canela
Bianca Dueñas
Enrique Fernandez
Andrea Gonzales
Meredith Hankins
Stephanie Hay
Courtney LaFranchi
Sam Mandell
Anna Pifer-Foote
Eduardo Ramirez Castro
Sonja Prins
Rebecca Vorpe
Amanda Whitney
Kate Wittlake
Elaine Won
Junteng Zheng
Sarah Parker
Niall M. Roberts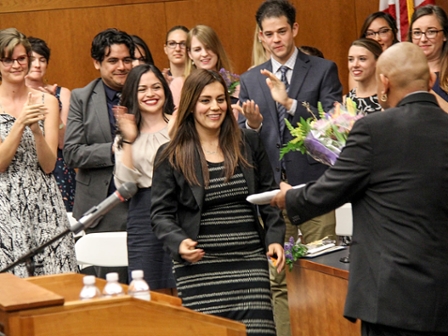 Bianca Dueñas (pictured) was the honoree. Besides being a mother of two and studying law, Bianca devoted countless hours to help improve the lives of immigrants. She is slated to be an Equal Justice fellow next year and help defend the rights of farmworkers in the Central Valley. I still remember meeting Bianca when she, as a recent Stanford alum, she was thinking of coming to King Hall!!
It is wonderful seeing our students doing great things for the community. Congratulations, students, and thanks for all that you do.