"Know Your Rights" Community Forum with Senator Dodd
Posted By Kevin R. Johnson, Apr 19, 2017
Senator Bill Dodd and Assemblymember Cecilia Aguiar-Curry hosted a "Know Your Rights" Community Forum on Immigration at UC Davis School of Law on Monday evening.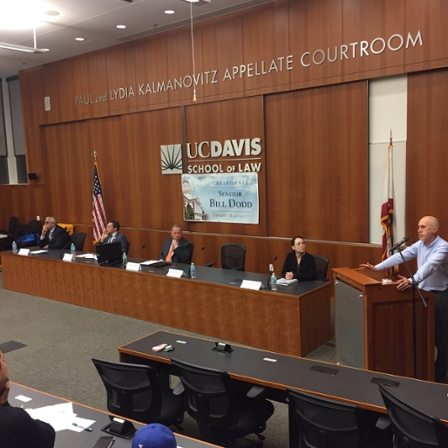 Participants in the forum included (pictured, left to right) Yolo County Sheriff Ed Prieto, myself, Senator Dodd, Professor Amagda Perez of the UC Davis Immigration Law Clinic, and Mayor of Davis Robb Davis.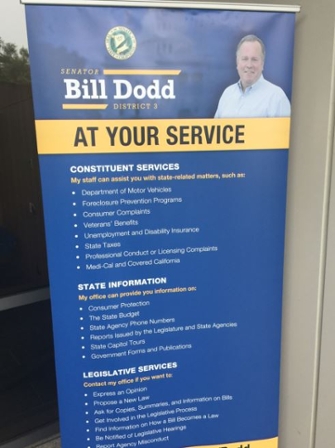 Senator Dodd's banner at the entrance to King Hall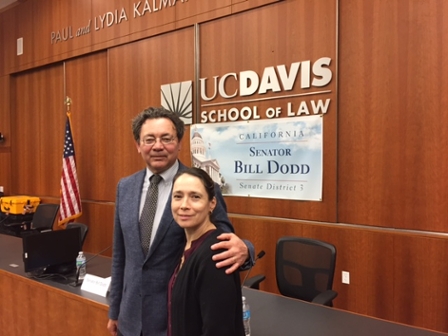 With Prof. Amagda Perez before the event
Each of the participants offered perspectives on recent developments in immigration policy. As well as talking about the impacts of the recent Trump immigration executive orders, I talked about the incredible work of the AB 540 Center at UC Davis as well as the Law School's Immigration Law Clinic and the UC Immigrant Legal Services Center. (Senator Dodd's office will honor the ILC and Legal Services Center on the floor of the Senate this week!)
The panel took questions from the audience. We had a great discussion of important policy issues. It was a pleasure for the Law School to be the site of this productive community dialogue.