King Hall Tailgate at Aggie Homecoming
Posted By Kevin R. Johnson, Oct 17, 2016
On a cool fall afternoon, UC Davis School of Law had its annual tailgate at an Aggie football game. After some food and drink, King Hall faculty, students, staff, and alums watched the Aggies defeat Northern Colorado by a score of 34-21. 
It was a great get together.  John York '72, Steve Boutin '72, and Andy Holmer '72 (whose son Erik plays football for the Aggies and is thinking about attending King Hall) had a mini-reunion at the tailgate and the game.  After a productive set of committee meetings, alumni board members Alberto Roldan '92 (President), John Pavolotsky '00, and Craig Judson '84, enjoyed winning Aggie football.  A number of other alums, including Shama Mesiwala '98, Sara Granda '09, and Fermin Villegas '06 (and family), came to the game.  Professors Jasmine Harris and Cruz Reynoso enjoyed good food and company at the tailgater.  Professor Al Lin and family and family made it to the game.  Many King Hall students took a few hours off from their studies to enjoy the good cheer.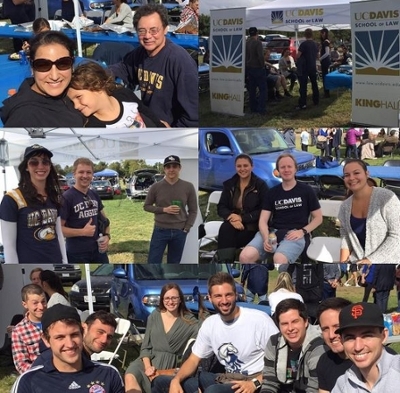 Pic from the King Hall Instagram. Follow us @ucdavislaw!
All in all, it was a warm and wonderful day -- despite a bit of rain during the game.  And it is nice that the Aggies have won two years in a row on the day of the King Hall tailgater!