King Hall Students: Building a Better Community!
Posted By Kevin R. Johnson, Mar 8, 2011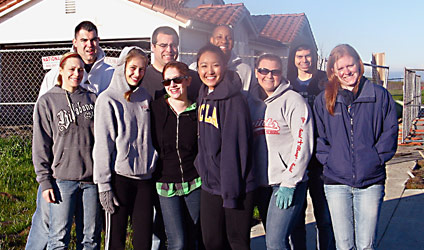 One of the great things about being Dean of UC Davis School of Law is seeing the remarkable things our students achieve, day by day, in our Law School and in the community.  Their commitment to building a better society extends far beyond the classroom, as demonstrated recently when a group of King Hall students volunteered to work for Habitat for Humanity as part of the Build Day event sponsored by the Real Estate Law Students Association and HALO.
On February 26, braving cold temperatures and mucky conditions, Sarah Anker, Charlene Chen, Miranda Dugan, Eric Duesdieker, Bryan Herdliska, Jeanne Le Duc, Embert Madison, Michael Mursa, Kayla Nelson, Autumn Simpson, Sally Son, Emily Wilson, Melanie Young, and Irina Zamyatin helped Habitat for Humanity build a duplex in Woodland.  Most of the students were involved in hanging sheetrock, so "King Hall Rocks!" became the slogan for the day. 
It's heartwarming to see how hard our students are willing to work to make things better in our community, from serving immigrants and victims of domestic violence through our clinical programs to volunteering to build affordable housing for those in need in events like the recent Build Day.  Congratulations to everyone who participated for showing how much King Hall cares!