King Hall Says "Aloha" to Alumni in Hawaii
Posted By Kevin R. Johnson, Sep 27, 2011
The King Hall spirit is alive and well in Honolulu, where the Aggie football team faced-off against U of Hawaii!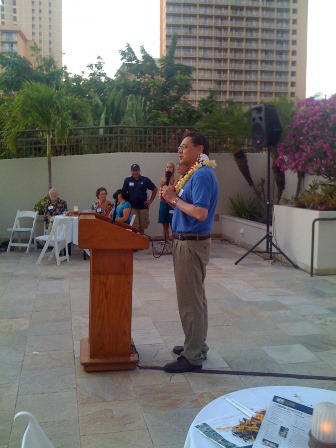 Making remarks at the reception location, the Waikiki Beach Marriott
We had an incredible representation of law school alumni at the UC Davis reception on Friday evening.  The Aggie Band (Band-uh!) was there and played for the crowd of supporters.  Virginia Hinshaw, former UC Davis Provost and now U of Hawaii President, made remarks.  Vice Chancellor for Student Affairs Fred Wood did as well.  I made remarks, specifically welcoming our alums and looking for a good showing by the Aggies.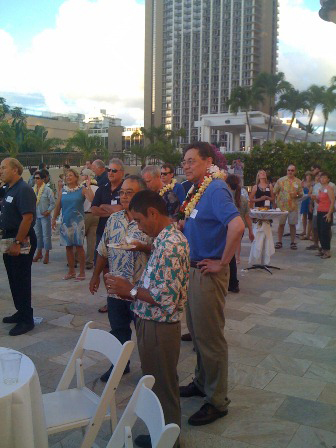 Watching the Aggie Band with Joe Florendo and Eric Yamamoto.
We had some great alums in attendance, including…
Wayne Bartholomew '71, a huge supporter of the law school and main campus.  Wayne joined us for both the reception and the game.
Cindy Kagiwada '90, a friend of Professor Lisa Ikemoto, member of the Appointments Committee that helped get me hired at King Hall, and daughter of the late Professor George Kagiwada, who has a reading room in the Asian American Studies Department named after him.
David Leonard '90, who went to Cal undergrad (like me) and invited me to a Cal alumni event where the group watched the Cal/UW football game.
Caroline Otani '92, who survived my very first civil procedure class in 1989-90. Caroline is at the Rush Moore law firm where we have three other alums, including David Shibata.
David Shibata '76 provided me with a great list of local restaurants!
Judge Joe Florendo '79 also was in attendance and brought my good friend and U of Hawaii law professor Eric Yamamoto to the reception.
Allan Suematsu '81 and wife Caroline, and Allan Murakami '78 were there, too.  Alumni Board Member Gene Woo '85 also joined us.
Many of the reception attendees came to the football game the following day.  Charla Ota '95 came to visit us at halftime; she and Caroline Otani '92 are cousins!  It was great to see everyone.
As for the game?  The good news is that the UC Davis team outscored the Rainbow Warriors by 14-7 in the second half.  (Unfortunately, we were outscored 49-0 in the first half.)