King Hall Day in the Federal Criminal Courts
Posted By Kevin R. Johnson, Feb 16, 2016
Last week, I posted about this excellent opportunity for students to get a behind-the-scenes look at the Federal Criminal Court system. Today, several King Hall students took advantage of the great experience. Timothy Griffiths, King Hall's Advisor for Public Interest & Public Sector Careers, provides this guest entry for the Dean's Blog. (Thanks, Tim!)
***
UC Davis law students got a unique and exclusive peek behind the curtain at King Hall Day in the Federal Criminal Courts today. Federal judges, court staff, prosecutors and defenders treated the students to several hours of insider analysis, professional advice and real-world insight into legal practice.
The day began with observation of United States District Judge John Mendez' morning criminal calendar. Highlights included some tricky legal wrangling over a plea bargain and a spirited exchange between Assistant United States Attorney Justin Lee, Judge Mendez and the legendary criminal defense attorney Tony Serra over proper sentencing of a marijuana case. Afterwards, Judge Mendez  and his current clerks chatted with the students about what they had observed and offered some career advice. The Judge also gave the students a tour of chambers.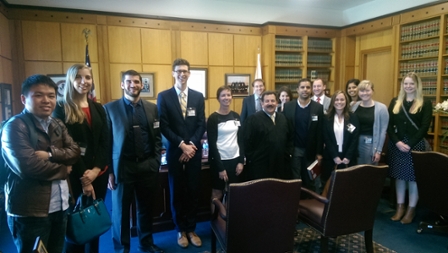 Judge Mendez (center) with law students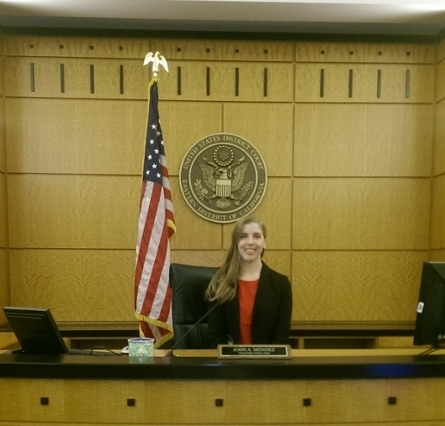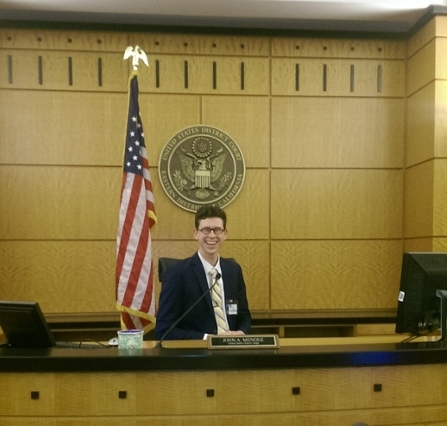 Amanda Miller '18 and Remington Lamons '18 at the bench
After lunch, the students got to hear from a panel of representatives from the United States' Attorney's Office and the Federal Public Defender's Office before heading to United States Magistrate Judge Allison Claire's courtroom for observation and discussion of the arraignment calendar.
Finally, the students got to hear firsthand from federal probation officers and pre-trial services staff about the critical role  these offices play in the day-to-day function of the federal criminal courts.
Watching court unfold is great, but the chance to observe and then talk it  through with the players is exceptional. I think our aspiring federal prosecutors and public defenders got a great taste of what it's all about.
Special thanks from King Hall to the United States Attorney's Office for the Eastern District of California for hosting and coordinating the day!