King Hall CLS in San Diego
Posted By Kevin R. Johnson, Oct 23, 2009
Seven students from King Hall's Christian Legal Society headed south to San Diego last weekend to attend the National CLS conference.  They brought back these great pictures and memories from their trip.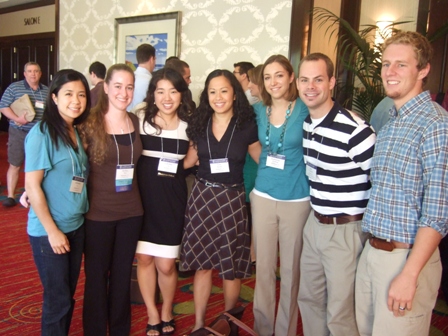 King Hall's delegation to the Christian Legal Society conference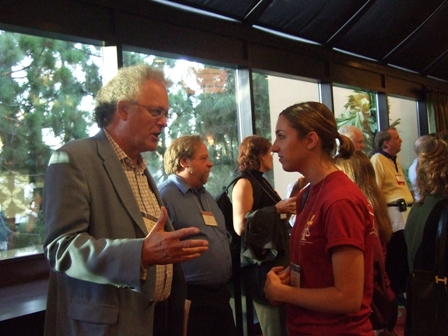 1L Katharine Buddingh chats with a presenter.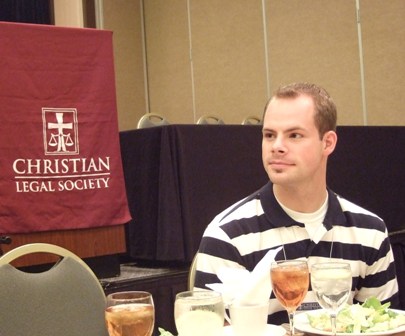 1L Sam Carstensen
"Going to the CLS conference was an amazing experience both personally and professionally. On a personal level, I was able to meet with Christian lawyers from all over the country, and get to know their personal stories about law and life. It was a really enriching experience on so many levels, just getting to learn about all the immense diversity of people and experiences from great friendly people. Add fellowship, great food and the late night hospitality suite, and this conference rocked! On a professional level, I was able to network with literally dozens of lawyers in different fields, talk to them about the various aspects of legal practice, and get advice about my future. I'm interested in 1st Amendment Issues, and I was able to talk to four different active attorneys who practice in the area. That alone made the conference worthwhile. I also got to talk to people involved with such diverse areas as international legal missions, tax law, and patent law. It was definitely a worthwhile experience." -Sam Hoel, 1L
"One of the most inspiring parts of the CLS conference was getting to meet the Honorable Mary Libby Payne, who graduated first in her class at the University of Mississippi School of Law in the 1950s only to find that no one was willing to hire her because she was a woman. She went on to be the first female judge to serve on the Mississippi Court of Appeals and also served as a professor of law and founding dean of the Mississippi College School of Law, among many other things. It was exciting to meet such a phenomenal female attorney who is also a Christian. I also appreciated the opportunity to meet other Christian law students and attorneys from across the country with a wide variety of interests and expertise in the law. I attended seminars that ranged in topic from 'Women in the Law' to the 'Environment,' which were helpful and informative.  Thank you King Hall for helping make this trip possible!" -Katharine Buddingh, 1L
"Attending the conference will be one of my most memorable experiences in law school. The conference was a valuable opportunity to be engaged in cutting-edge topics--from the cert petition on the Hastings religious liberties case to current litigation on internet pornography-- while being a unique chance to network with Christian attorneys, judiciary members and missionaries. We were all encouraged and again convicted to study law in the highest excellence so that we may as King Hall attorneys, pursue Justice and Truth." -Candace Lee, 2L
Thanks to the CLS students for sharing their experiences!