Jeffrey Toobin and UC Davis School of Law at the Sacramento Speakers Series
Posted By Kevin R. Johnson, Mar 5, 2010
On Thursday, the School of Law sponsored a very special event in Sacramento.
As I blogged in an earlier post, the School was the sponsor of the most recent installment of the Sacramento Speakers Series.  The speaker was CNN legal analyst, New Yorker staff writer, and author Jeffrey Toobin.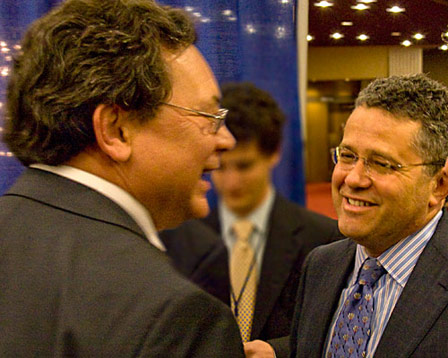 Some special guests of the Law School were invited to arrive early at the Community Center Theater for a pre-event reception where they could meet and have their photos taken with Toobin.  Guests included Vice Chancellor for Research Barry Klein; Dean's Leadership Council members Phil Satre '75, Keith Allen-Niesen '89, and Mark Perry '80; Alumni Board members Steve Boutin '72, Tom Stallard '75, John Schick '72, Carol Livingston '80, and Will Brieger '85; Susan McClatchy of the Central Valley Foundation; several members of the King Hall faculty; and LSA president Victoria Hassid '10.
When the program got underway, I introduced Toobin on stage.  The introductory remarks, provided by the Speakers Series, noted that Toobin had been a reporter for the Harvard Crimson and used the column name "Inner Toobin."  Upon taking the stage, Toobin joked that the evening's lecture would be a recitation of "Inner Toobin" columns.
He spoke on numerous topics.
On Sacramento and Davis
Toobin said it was great to be in Sacramento and to have the event sponsored by UC Davis.  He noted that our School of Medicine played a big role in a landmark Supreme Court case: Regents of the University of California v. Bakke, which addressed the issue of affirmative action.  He also mentioned that it was great to be close to Modesto without actually having to go there to cover the Scott Peterson case.
On Bush v. Gore
Toobin said he's fascinated - obsessed, even - with Bush v. Gore.  He talked about how the case illustrates how the U.S. Supreme Court has become a political battleground.  He said he once told former Vice-President Al Gore: "I'm obsessed with Bush v. Gore.  I'm the world's biggest Bush v. Gore junkie."  To which Gore replied: "Well, you may be second."
On the next appointee to the U.S. Supreme Court
President Obama won't pick a sitting judge, says Toobin.  Toobin thought Homeland Security chief Janet Napolitano had a shot, but "her reaction to the underwear bomber did her in."  Toobin's money is on Solicitor General Elena Kagan.
On Proposition 8
If it goes to the U.S. Supreme Court, the Proposition 8 case will be handled very cautiously, says Toobin.  The four conservative justices (Scalia, Thomas, Roberts, and Alito) would obviously be in favor of upholding the ban on same-sex marriage.  Toobin thinks the remaining justices would decide to play it safe.  He thinks they would continue to let states experiment with their laws but would be reluctant to overturn Prop 8.
On former Chief Justice William Rehnquist's legacy
Toobin: "Bush v. Gore"