Honoring Jack Ayer and Endowed Chair Donors
Posted By Kevin R. Johnson, Apr 8, 2011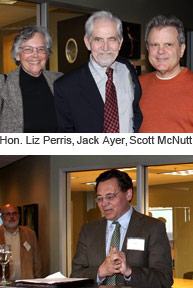 This week I attended two events celebrating the endowment of the John D. Ayer Bankruptcy Chair, the donors who supported it, and Professor "Jack" Ayer, one of King Hall's most beloved and distinguished faculty members.  On Monday night, I was in San Francisco to attend a celebration marking the endowment of the Ayer Chair at the law firm of our alum, Scott McNutt '82, who led the effort to fully fund the chair.  Scott not only made a significant gift to start the ball rolling, but also recruited other alumni and friends to help fund the chair, which we will use to support the work of an outstanding bankruptcy law scholar on our faculty.  The reception was in a conference room with a wonderful view of Treasure Island and the San Francisco Bay.
Over the course of his career as a lawyer, judge, teacher, and scholar, Jack Ayer mentored many outstanding bankruptcy law practitioners and jurists, and it was great to be there with Jack, his wife Maryanne J. Bertram, Scott McNutt, the Honorable Elizabeth Perris '75, and an outstanding turnout of alumni, students, and admirers of Professor Ayer.
Wednesday night was the annual UC Davis Endowed Chair Dinner hosted by Chancellor Linda Katehi and Provost Ralph Hexter.  The event honors chair donors, chair holders, and those for whom chairs have been named.  It was my privilege to be seated at the chancellor's table with Professor Ayer and Scott McNutt, and it was wonderful to be present as the two of them were honored once again.  The delightful dinner conversation covered a broad range of topics, from the California budget to novels about Los Angeles to the differences between litigators and bankruptcy lawyers.
The Ayer Chair is the first chair to be endowed since I have been dean, and it is my hope that it will be the first of many.  Endowed chairs are critical to our ability to recruit and retain outstanding faculty, and we hope to provide more of them in coming years in order to build upon our academic excellence and continue the Law School's upward trajectory.  With the support of friends and alumni like those who gave to establish the Ayer Chair, I am confident we will do so.  Thank you, once again, Scott McNutt and everyone who supported the John D. Ayer Bankruptcy Chair!