Guest Post: Erika Budrovich '18 Reports from the United Nations, Day 2
Posted By Kevin R. Johnson, Oct 27, 2016
Editor's Note: King Hall student Erika Budrovich '18 is traveling with Professor Karima Bennoune, who is making a special presentation to the United Nations General Assembly in New York City in her capacity as Special Rapporteur in the field of cultural rights.  Here is Erika Budrovich's guest blog entry on her experiences: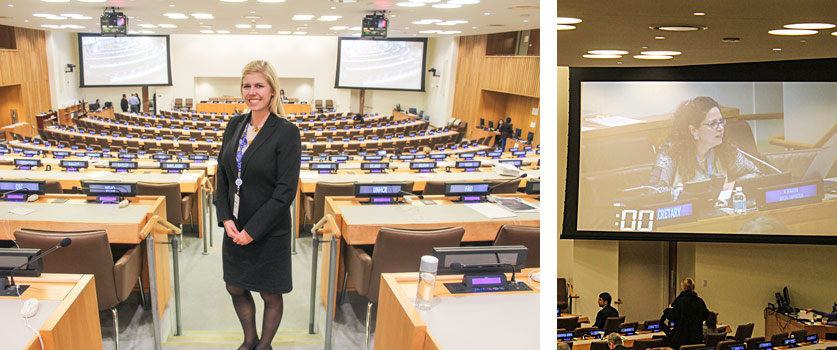 Today I attended the week's key event—Professor Bennoune's Interactive Dialogue at the General Assembly in her capacity as the Special Rapporteur on Cultural Rights.
The meeting came exactly one week after our UN Practicum on Human Rights held its Mock General Assembly session at King Hall in which Professor Bennoune presented her report and each class member delivered a prepared response from a specific country's perspective, to which Professor Bennoune then responded. It was amazing to see this exercise transported from the seminar room at the top of the stairs to a hall full of representatives from countries around the world.
The Interactive Dialogue was part of the 32nd Meeting of the Third Committee, which is focused on social, humanitarian and cultural issues and the promotion and protection of human rights. The meeting is highly structured: each Special Rapporteur has the opportunity to present his or her report in under fifteen minutes, followed by two minute prepared responses from countries, followed by an immediate response from the special rapporteur to all of the questions.
Professor Bennoune's delivery was compelling: she emphasized that cultural heritage is a human rights issue. She expressed the urgent need to combat the intentional destruction of cultural heritage both in countries where it is occurring and in countries that create a market for its destruction (for instance, when looted antiquities are sold on the illicit market). She called for recognition of cultural heritage defenders who are currently at risk and who have died in defending the culture of humanity. She discussed many other important cultural heritage issues and ended with a call to come together with urgency and thoughtfulness to protect cultural heritage since its destruction bears consequences for the human rights of current generations and those to come.
The Chair of the committee then turned over the floor to the responding states. Representatives from Iran, Iraq, Norway, Indonesia, the EU, Libya, Russia, Morocco, Turkey, and Mexico each issued responses. Some were forthright in commending the report and the Mandate for cultural heritage, such as Norway and the EU, while others specifically addressed issues pertinent to their own countries. For instance, Iran, Iraq, Morocco, and Turkey addressed the role of terrorism and looting in conflict zones. While states were presenting their statements, Professor Bennoune was able to both listen and draft her response, which she delivered shortly after and amazingly addressed every key issue that was brought up.
Being able to watch these countries discuss this incredibly relevant human rights issue was an amazing experience. I am very much looking forward to tomorrow's Side Event, where Professor Bennoune will continue this discussion in a more open setting along with other experts doing incredible work in the field of cultural rights.
Professor Bennoune's Interactive Dialogue Presentation (video)