Guest Blogger: Megan Knize '08 in Palau
Posted By Kevin R. Johnson, Mar 7, 2012
I just received this great contribution to the Dean's Blog from Megan Knize '08, a former board member of the King Hall Legal Foundation (KHLF) and Editor in Chief of the UC Davis Law Review from 2007-2008.  Megan is clerking for the Supreme Court in Palau, a small island nation in the Pacific.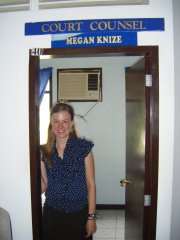 When I graduated from King Hall in 2008, I had no idea that four years later I would be clerking for the Supreme Court of the Republic of Palau.  In fact, I don't think I had even heard of Palau, or the surrounding region, Micronesia.  But, after completing two trial-level clerkships in Southern California, I was intrigued by the promise of clerking for a fledgling appellate court and living overseas for a year.  I have remained intrigued — and delighted — by my life here, and I am so thankful for this opportunity.
I am one of three Court Counsel recruited from state and federal courts in the United States.  Our job is to write the opinions of the Appellate Division of the Supreme Court.  The Judiciary here is modeled on the U.S. system, so we apply Palau's statutes and caselaw and look to U.S. caselaw as persuasive authority.  Because the Supreme Court has both a Trial Division and an Appellate Division, we do some trial work, in addition to other tasks.  I work as the Land Court clerk, writing opinions for the special court designed to mediate the many disputes that arise from years of administration by German, Japanese, and American governments.  I also write content for the court's newly designed website, and I handle recruiting. 
I enjoy the variety of work here because I can act upon the reason I chose King Hall for law school in the first place:  to be a public servant.  It's incredibly exciting to handle issues of first impression, or to think about ways litigants can access the court system in a more efficient manner.  Recently, one of the Justices asked me to amend the civil procedure rules to allow fee waivers for those filing civil complaints.  With an average annual income of approximately $8,000, and a minimum wage of $2.50 an hour, one can imagine the hardship of saving $50 to file a divorce case or to probate an estate worth $100. 
Life in Palau reminds me of life in Davis in other ways.  For a start, the community is really small:  20,000 people.  I like that I can drive down the one road in town (no stoplights) and people I know.  And while biking here is not nearly as lovely as it was in Davis, I still manage to bike into work a few days a week.  (With gas prices at $5.50 a gallon, I may be biking even more).  Plus, the fresh fruit selection is much better than the other islands in the region, although most of the produce here still comes in via air freight from, you guessed it, the Central Valley.  Outdoor activities are really big here, too:  I completed my SCUBA diving certification in November and have competed in triathlons and road races.  And, I have recently started playing basketball on a women's team with one of the Associate Justices.  What I lack in skill, I make up for in height!
Looking back on my first five months here, I feel truly blessed to have this opportunity.  I will finish my term in October and travel around Asia before heading back to California.  I am not sure what kind of adventures the next year holds, but I am excited to find out!
You can read more about Megan's adventures on her great blog, www.penpalau.com.
Thanks for sharing your story, Megan!  King Hall is proud of your accomplishments!