Employment Statistics and Live Chat with Prospective Applicants
Posted By Kevin R. Johnson, Dec 13, 2012
I, along with Assistant Dean for Admission and Enrollment Sharon Pinkney, recently participated in this live chat with prospective applicants. The response was tremendous. I always enjoy taking part in conversations with prospective applicants – in person or online – because it is a great way to convey the sense of community at King Hall.
150 participants sent in about 250 questions and comments in one hour. Dean Pinkney and I addressed as many of the questions as we could. Our answers were, out of necessity, brief. I'd like to take this opportunity to provide a more complete answer to a question regarding the Class of 2011 and its employment outlook.
I asked Craig Compton, our Assistant Dean for Career Services, to provide updated numbers here on the Dean's Blog. Here's what he writes:
***
Craig Compton: In case prospective applicants haven't seen them, right here on our website is where they can find the complete and official employment statistics for the Class of 2011 on February 2012 – nine months after graduation. This is the standard time frame for reporting such data to the ABA. Here's a look at a grid from that web page: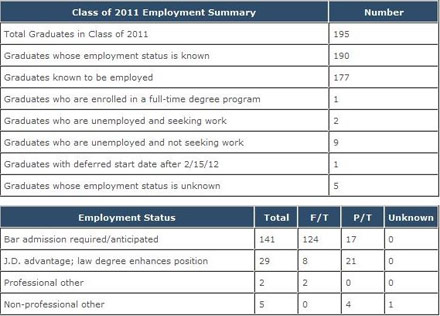 Percentage of graduates with JD required jobs, full-time: 63.6%
Percentage of graduates with JD required jobs, part-time: 8.7%
Percentage of graduates with JD advantage jobs, full-time: 4.1%
Percentage of graduates with JD advantage jobs, part-time: 10.8%
Total (JD required and JD advantage, full-time and part-time): 87.2%
I regularly provide Dean Johnson with new pieces of information about the Law School's ongoing success in helping students and recent graduates find jobs. The new information is, naturally, much more current than the official report on the website, which is from February 2012. Since those statistics were published nine months ago, several 2011 grads (at least nine) who were unemployed or working in non-legal jobs have secured legal positions – 8 of them full-time. Also, approximately 30 of the 2011 graduates who were employed in a part-time capacity in February of 2012 have gone on to secure full-time legal employment.  Included in that group are district attorneys, a public defender, associates at firms with over 500 attorneys, associates at small and mid-size firms, public interest attorneys, federal law clerks, and several attorneys working with state agencies. At this time, to the best of my knowledge, the total percentage of 2011 grads in legal positions (JD required and JD advantage, full-time and part-time) is around 90% and the vast majority of the graduates are in full-time positions.
***
Thank you for the update, Craig.
King Hall is very much committed to helping students and recent graduates find employment. I hired Craig as Assistant Dean of Career Services with the specific goal of revitalizing the Career Services Office. In March 2011, Craig joined King Hall from the prominent national law firm of Fish & Richardson P.C., where he was a principal and specialized in intellectual property litigation. He also served as Hiring Principal and Marketing Chair for the firm's Silicon Valley office. Under his leadership, the Career Services Office has launched innovative new programs and services for job-seeking students. He has stepped-up outreach to firms of all sizes. In October, the Law School sponsored eight students to travel to Virginia to attend the Equal Justice Works 2012 Career Fair, the largest public service law career fair in the country, to network and explore employment opportunities. Over the summer, the Sacramento-area business magazine Comstock's reported here and here on how our Career Services Office is ramping up its response to the job market. King Hall is committed to the success of our students from 1L year to graduation and beyond.
We've been planning to hold another live chat after the holiday break, this time with faculty or students as panelists. I hope prospective applicants to King Hall will join us for an online conversation once again!