Election Talk with Dr. Mindy Romero
Posted By Kevin R. Johnson, Sep 20, 2017
Yesterday, King Hall students and faculty had the opportunity to hear from Dr. Mindy Romero, Founder and Director of the California Civic Engagement Project (CCEP), in a lunchtime talk presented by the Aoki Center for Critical Race and Nation Studies. (You can view slides of the presentation here , courtesy of Dr. Romero.)
I stopped by to say hello to Mindy (our daughters were once in Girl Scouts together) and listened to her informative talk.  She presented research on our nation's changing demographics and their impacts on recent elections, and looked ahead to the 2018 midterm vote.
Dr. Romero's analysis focused on minority and young voters in the 2016 election. In the presidential election, about a quarter of the eligible voters voted for Donald Trump. The turnout was about the same as the last election. Minority and youth turnout went down from past elections.
Dr. Romero's talk was part of the Aoki Center's excellent Fall 2017 Interdisciplinary Research Seminar Series. Professor Keith Aoki, our colleague who passed away a few years ago, for whom the Aoki Center is named, would have enjoyed the presentation.  He was an elections junkie and loved the political rough-and-tumble.
Next up in the series on Tuesday, September 26 is Professor and former California Supreme Court Justice (and civil rights legend) Professor Cruz Reynoso. See you there!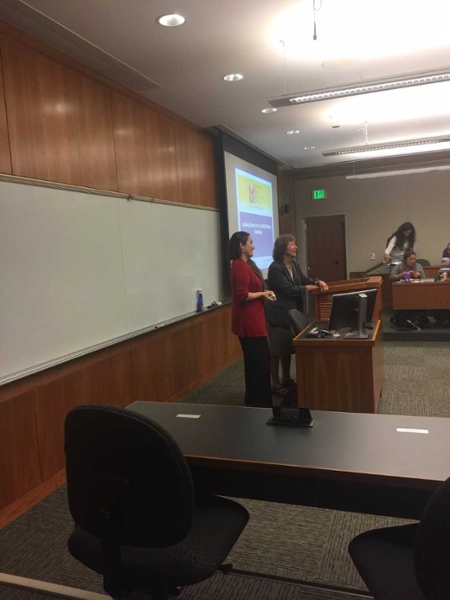 Dr. Mindy Romero and Professor Mary Louise Frampton, Director of the Aoki Center.