Class of 2017 Commencement: A Day of Celebration
Posted By Kevin R. Johnson, May 23, 2017
Saturday, May 20, was an incredible day for the King Hall community: the 49th commencement for JD students at UC Davis School of Law and the 20th such ceremony for a King Hall LLM class.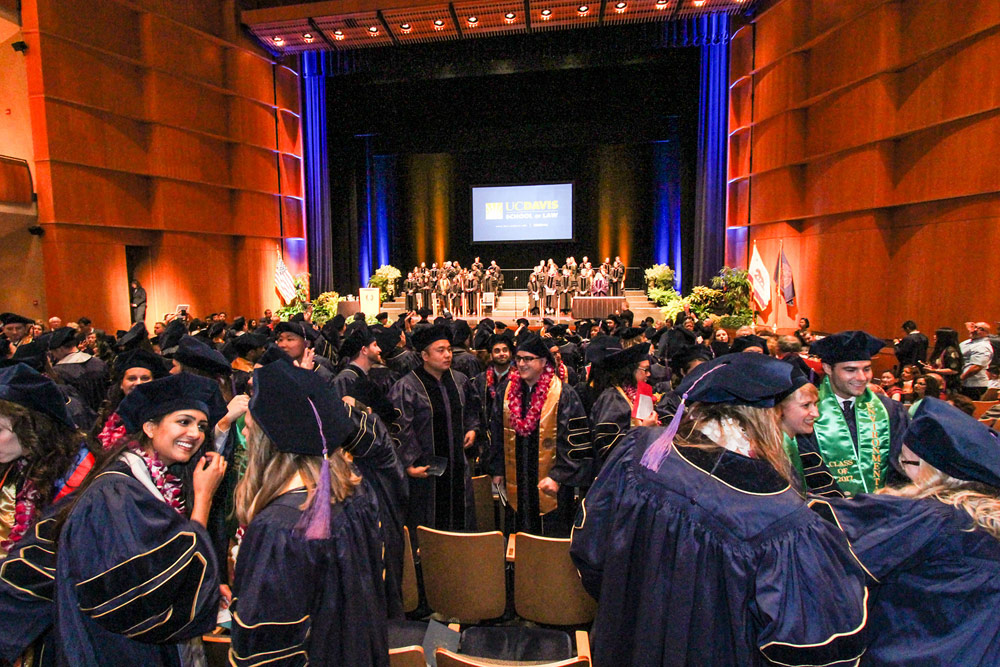 The commencement had great speeches from Class of 2017 member Rabia Reed, Professor Carlton Larson, and Sister Simone Campbell '77, Executive Director of NETWORK, a national Catholic social justice lobby. Rabia Reed '17, who was born in Norway and has lived in Brazil and Scotland, is set to join the international law firm Seyfarth Shaw this fall.  She spoke of the special nature of the King Hall community. Professor Larson offered valuable insights on the need for perseverance. Sister Simone, who has gained national attention for her advocacy for health care, immigration reform, and voting rights, offered an inspiring speech on how we need lawyers more than ever to fight for social justice.
In my brief remarks, I noted the Class of 2017's diverse interests and experiences, and praised the students for their commitment to public service. More than half of the class completed the Law School's Public Service Program.  As a whole, the Class of 2017 gave more than 35,000 hours to serve those who otherwise would not have equal access to justice. 
A celebration outside the Mondavi Center followed the ceremony. From there, I went to a special reception for the LLM graduates at the new UC Davis International Center on campus, where I met an amazing group of graduates and their families from around the world.  There were  students from China, Colombia, Egypt, Ethiopia, Germany, India, Italy, Japan, Philippines, Russia, Saudi Arabia, South Korea, Thailand, Turkey, and Vietnam. Associate Dean for International Programs Beth Greenwood, Professors Floyd Feeney and Bill Dodge, and I offered remarks to the group. Then three LLM graduates (Abdulharam Altaysan, Xingben Xi, and Kassahun Gebremariam) reflected on their time at UC Davis.
It was a warm and wonderful day of celebration at King Hall.